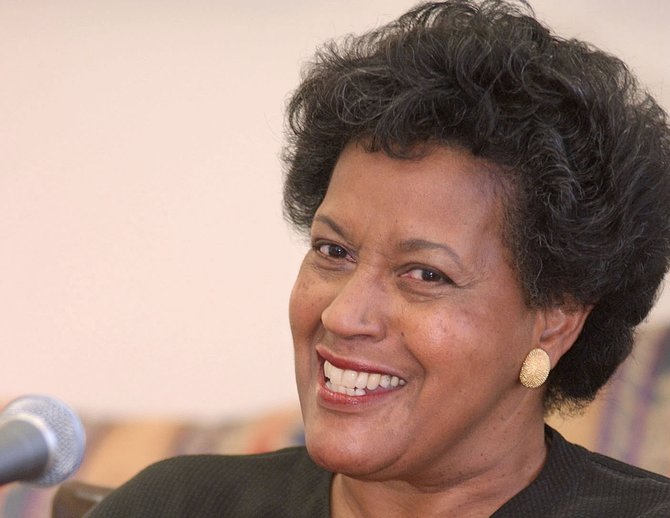 Myrlie Evers-Williams, widow of civil-rights activist Medgar Evers, delivered the invocation at President Obama's second inauguration today. She is the first woman and the first layperson ever to do so; ordained pastors or priests have always performed the invocation prior to Evers-Williams.
Evers-Williams said in an interview with BET that she doesn't feel that not being a member of the clergy makes her any less qualified for the role.
"I come from a deeply religious family, and I had a very religious grandmother and we learned the power of prayer," she said. "Does one have to be a clergyman to pray publicly? I don't think so. I would like to think that I have exemplified a persona that speaks to my faith."
Evers-Williams was born Myrlie Louise Beasley on March 17, 1933. She graduated from Magnolia High School in Vicksburg in 1950. Later that year she enrolled as an education major at Alcorn A&M College, one of the only colleges in the state that accepted African American students at that time. Evers-Williams became a member of the Delta Theta Sigma sorority.
During her first day on campus, Evers-Williams met Medgar Evers and the two immediately fell in love. They married on Christmas Eve 1951. The two moved to Mound Bayou and had three children, Darrell Kenyatta, Reena Denise and James Van Dyke. Evers-Williams took a job as a secretary at the Magnolia Mutual Life Insurance Company in Mound Bayou.
Evers-Williams worked with Medgar Evers when he became the Mississippi field secretary for the National Association for the Advancement of Colored People in 1954. Evers-Williams worked as his secretary and helped organize voter-registration drives and civil-rights demonstrations. Evers-Williams assisted Medgar Evers in his fight to desegregate the University of Mississippi.
The Evers' efforts made them the target of violence from white supremacist groups. Their home in Jackson was firebombed in 1962 in response to a boycott they organized against downtown Jackson's white merchants. On June 12, 1963, Byron De La Beckwith, a member of the White Citizens' Council and the Ku Klux Klan, shot and killed Medgar Evers in front of Evers' home. Evers-Williams fought for more than 30 years to see De La Beckwith brought to justice. He was finally convicted on Feb. 4, 1994.
Evers-Williams continued working as a civil-rights activist after her husband's death. She joined the board of the NAACP and later became its chairwoman in 1995. After leaving that post in 1998, Evers-Williams established the Medgar Evers Institute in Jackson, dedicated to getting young people involved in civic engagement. She is currently serving as a distinguished scholar-in-residence at Alcorn State University.
Following are excerpts from Evers-Williams' invocation:
"As we sing the words of belief, 'this is my country,' let us act upon the meaning that everyone is included. May the inherent dignity and inalienable rights of every woman, man, boy and girl be honored. May all your people, especially the least of these, flourish in our blessed nation. One hundred fifty years after Emancipation Proclamation and 50 years after the March on Washington, we celebrate the spirit of our ancestors, which has allowed us to move from a nation of unborn hopes and a history of disenfranchised [votes] to today's expression of a more perfect union. We ask, too, almighty that where our paths seem blanketed by [throngs] of oppression and riddle by pangs of despair we ask for your guidance toward the light of deliverance."
"We now stand beneath the shadow nation's Capitol whose golden dome reflects the unity and democracy of one nation, indivisible with liberty and justice for all. Approximately four miles from where we are assembled the hallowed remains of men and women rest in Arlington Cemetery. They who believed, fought and died for this country. May their spirit infuse our being to work together with respect, enabling us to continue to build this nation, and in so doing we send a message to the world that we are strong, fierce in our strength, and ever vigilant in our pursuit of freedom."
Support our reporting -- Follow the MFP.