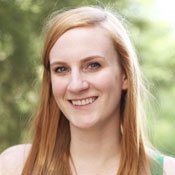 I love the Academy Awards—analyzing starlets' sartorial choices on the red-carpet pre-show (while trying to ignore the inane Ryan Seacrest-y questions, of course), attempting to predict the big winners and tearing up at the speeches.
This year was one of the best yet: The movie music theme was a big hit, all the live performances killed it, and whoever thought of using the "Jaws" theme for the "get off the stage" music is a hilarious evil genius.
Finally, at the end of a four-hour telecast, "Argo" won the grand prize of the night, Best Picture, and the cast and crew mounted the stage led by a trio of producers. ("The three sexiest producers alive," the nerdy Grant Heslov cracked, standing between George Clooney and Ben Affleck.) Heslov spoke and then introduced Affleck, who also directed the film.
When it was his turn to speak, Affleck delivered an amazing, manic, 100-word-a-minute speech that gave away his nervousness--in a way I found to be refreshingly real and adorable. He thanked "everyone in the movie, on the movie, worked on the movie, did anything with this movie." He hilariously thanked Canada. He thanked Iran.
Then the subject turned to his spouse, actress Jennifer Garner: "I want to thank my wife, who I don't usually associate with Iran. I want to thank you for working on our marriage for 10 Christmases. It's good. It is work, but it's the best kind of work, and there's no one I'd rather work (with)."
I found the whole thing touching--second only to Daniel Day-Lewis' extremely eloquent speech--but immediately, Twitter lit up with variations on the theme: "Oooh, Ben's going to be in the doghouse." The next morning, news sites and blogs mostly delivered the same message--that Affleck had somehow embarrassed his wife by calling their marriage "work," and that Jennifer Garner should be angry with him. Comments ranged from TMZ.com's speculative "Can He Recover... At Home??" to College Humor's spoof article, "Ben Affleck's Marriage-Ending Oscar Speech," which claimed to have an extended transcript of Affleck's speech, ending in him leaving his wife.
I don't get it.
Are all those tweeters and bloggers and journalists unmarried? Because if a married person tells you it isn't work, they are either lying to you or to themselves. (And that's beside the point that gleefully speculating on the demise of someone's marriage is just kind of pitiful.)
Compare Affleck's words with Anne Hathaway's husky, practiced "My husband. By far and away, the greatest moment of my life is the one when you walked into it. I love you so much."
Now, don't get me started on the magic that is "Les Miserables" (or my audible, shameless sobbing in the movie theater during Hathaway's "I Dreamed a Dream" solo), because we'll be here all day. I think her award is well deserved. And yes, her words to her husband are beautiful and, I'm sure, true. But her speech that night felt so rehearsed, so planned down to the last word that even though she technically said something more positive, I found it to be so much colder than Affleck's joyous, off-the-cuff ramblings.
Besides, when did we as a society decide that a marriage is failing if it isn't plastic-perfect? Relationships are messy, crazy, wonderfully nonsensical things--so why must we pretend they aren't? We extol the films that explore the true, raw nature of relationships but turn around and chastise the people that make those films for revealing equal truths about themselves.
I don't think it diminishes my relationship one iota to say that my marriage is work.
My husband and I got married almost exactly five years after becoming a couple. In that half-decade we shifted from being young adults to being real adults. We celebrated our 21st birthdays and several after that. We spent our college years together. We traveled to other countries together and spent Christmas together without our families. We survived a year of long distance. We survived fitting our lives back together after the long distance was over. We moved to a big city together. We lived together in a tiny apartment in Boston, where we shared responsibility and finances and a car and a cat.
After we got married, a lot of people asked if it felt different, and I always replied that the only difference was a new name and a piece of paper. We already lived like a married couple before.
Of course, that wasn't entirely true. A million things changed, a million tiny, almost imperceptible things, which meant at the end of the day we had changed. So had our lives--in the same month we married, we also moved 1,500 miles cross-country, got a Great Dane, I started a new job, and my husband started medical school. Just because we got married didn't mean that all of these big changes came easy. It takes work.
But you know? So did everything that happened in those five years before, "I do."
Every day we do things--small, large and gigantic--that we don't want to do, and we do them for each other. Whether it's getting out of bed to take our beast of a dog out to pee in the rain at 4 a.m., holding our tongues when we're ready to explode or dropping everything to be an emotional rock for the other, it's a lot of effort to have a successful marriage.
We have stressful jobs and school loads. We are swimming in debt from two master's programs. Our pets mean the house will never quite make it to spotless. All these things (and many more) mean that we have to wake up each day and put energy, strength, love and, yes, work, into being good spouses.
I know for a fact that being married to me is no walk in the park. I'm stubborn, overemotional and willing to let the dirty dishes sit in the sink just a little too long. My husband challenges me and infuriates me and makes me better. I want to honor him for being willing to work with me. I feel honored that he is willing to work with me. To take me as I am, as well as to push me to be a better partner.
And the result of it all--getting to spend every day with my best friend—is worth every bit. We'll continue fighting the good fight--it's the best kind of work.
Well said, Ben.
More stories by this author