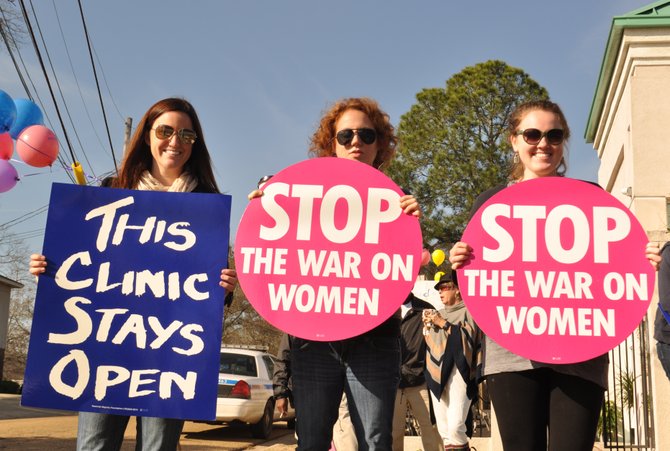 With Mississippi's only abortion facility facing permanent closure due to a law passed during the 2012 legislative session, other women's reproductive rights may be fairly safe during this year's session. Unlike last year's barrage of bills seeking to limit those rights, this year, only a handful of the usual suspects introduced the usual pro-life legislation. Most of the bills never made it out of committee.
One measure that is still kicking is Senate Bill 2795, which seeks to put restrictions on drugs used to induce first-trimester abortions. Doctors prescribe the drugs, mifepristone (formerly known as RU-486) and misoprostol, as late as nine weeks after a missed menstrual period; however, SB 2795 would shorten that window to seven weeks. In addition, the bill would force women taking the drugs to see their doctors at least four times, which opponents say will make their use prohibitively expensive, especially for uninsured women. It bars women from taking misoprostol at home, which is the current practice.
The bill also prevents doctors from prescribing the two medications for any use not approved by the U.S. Food and Drug Administration. "Off-label" prescribing is common and legal; the FDA has estimated doctors write up as many as one in five prescriptions for uses other than those officially approved.
The Mississippi chapter of the American Congress of Obstetricians and Gynecologists strongly objects to the bill.
"SB 2795 is a flagrant interference in the physician-patient relationship and in the practice of good medicine, which should alone be sufficient grounds for defeat of the bill," the organization stated in a release, adding that SB 2795 "confuses 'FDA approved' with accepted medical standard of care. The release lists several conditions for which doctors prescribe the drugs, including "postpartum hemorrhage, still a primary cause of death for women following childbirth."
HB 819 was among the pro-life bills that did not survive the Feb. 5 deadline for the Legislature to act on bills in the chambers where they originated. Rep. William Arnold, R-Booneville, introduced the much-maligned "Protection of the Human Person Act," which would have made it illegal to create a human-animal hybrid by outlawing the introduction of any non-human cells to a human egg during in-vitro fertilization.
The bill also sought to "provide protection for the inalienable right to life of every human being at every stage of development." The bill would have made abortion doctors felons, redefined zygotes and embryos as "pre-born" children, severely restricted in-vitro fertilization procedures and outlawed human cloning. It also sought to preclude abortions from any health-insurance plan sold in the state and outlawed using state funds for abortions.
This session's "heartbeat" bill also bit the legislative dust, as did its 2012 predecessor. HB 6 would have outlawed abortion of a fetus with a detectable heartbeat and would have made it mandatory to determine whether a heartbeat exists prior to an abortion. Doctors can detect a fetal heartbeat as early as six weeks into a woman's pregnancy (often before the woman knows she is pregnant) with invasive procedures such as a transvaginal ultrasound. The timing contradicts the landmark 1973 U.S. Supreme Court Roe v. Wade decision, which guarantees a woman's right to an abortion until the point of viability, about 23 or 24 weeks of pregnancy.
Rep. Andy Gipson, R-Braxton, who sponsored the heartbeat bill, also made another stab at personhood legislation this year, despite the state's voters having soundly rejected the concept in a ballot referendum. In November 2011, 58 percent of Mississippi voters said no to personhood, which seeks to amend the state's constitution to define human eggs as people from the moment of fertilization.
Despite the voters' rejection, Sen. Joey Fillingane, R-Sumrall, (who introduced SB 2795 this year) filed a bill to reintroduce personhood in the 2012 session, and Gipson sponsored a similar action this year. Neither bill made it to the chamber floor for a vote.
Comment at www.jfp.ms. Email Ronni Mott at [email protected]
More stories by this author
Support our reporting -- Become a JFP VIP.
The news business has changed dramatically in the past year, and we need your help more than ever to keep bringing you important stories about Jackson and the Metro. Become a JFP VIP with an annual membership or you can Sign up as a monthly supporter. Thanks for anything you can do to empower our journalism!