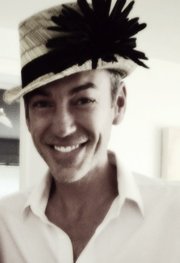 Watching the inauguration of President Barack H. Obama was bittersweet. I was proud to have advocated for my president, and I feel validated by his inclusion of the LGBT community and the diversity on display.
Looking back to last fall, though, my heart sinks at the thought of a relationship that has changed forever. I tried to influence one friend's vote, and in doing so, discovered that she has never condoned my "gay lifestyle." Rather, she had decided to love me and hate the sin. Not only had I unwittingly agreed to disagree for the past 20 years, but I had foolishly assumed she wanted equality for me and my partner of 10 years.
We haven't spoken since the end of October, and I've slowly worked through the five stages of grief.
On this past Martin Luther King Jr. Day, the fruits of the civil-rights struggle were on display for all to celebrate. Obama, sworn in on Abraham Lincoln's and King's Bibles, spoke eloquently about equality for all, mentioning "gay brothers and sisters" and Stonewall in his speech. And, as the nation listened with heads bowed, Rev. Luis Leon included gays in the benediction.
(Stonewall refers to a 1969 police raid of the Stonewall Inn in New York City's Greenwich Village that began several days of riots. It is seen as a pivotal event in the gay-rights movement.)
"Our journey is not complete until our gay brothers and sisters are treated like anyone else under the law," Obama said. "For if we are truly created equal, then surely the love we commit to one another must be equal as well."
Ten years ago, I had the privilege of standing next to a girlfriend as the man of honor in her wedding. It was to be a casual beach side service until a nor'easter blew in. Inside a tent, I experienced that "tears through laughter" emotion that Truvy in "Steel Magnolias" favored so.
Back then, I had no hope of ever having the chance to wed my partner, and I was ambivalent about my rights as an American. I am one of many who had decided I could be content "making pretty" and keeping my mouth shut.
Last December, I was honored again to stand beside another friend and witness her union. As Justin stood in back of yet another tent, I watched him and tried to imagine the two of us joining together in a room full of family and friends. There were tears, of course, but mostly there was joy. Joy from knowing with all my heart that our nation is moving quickly to extend equality to all.
In those 10 years, I've evolved, and so have my expectations. I'm no longer content with my place in this grand experiment, and I'm not afraid to stand up in my chair and holler.
As long as I live in a nation where I'm not allowed to have the same protections and benefits as heterosexual couples, as long as I can be fired just for being gay, as long as LGBT youth are four times more likely to attempt suicide than their heterosexual peers, I can't keep silent.
This time last year, I wrote a column in which I turned attention to the youth of our state. The Mississippi Youth Legislature had approved the recognition of same-sex unions from other states, if you'll recall.
These 18- to 24-year-old voters showed up at the polls last November and voiced their approval of President Obama's social policies. Not surprisingly, around the same time, the MYL voted to approve adoption for same-sex couples and, in a bold move, to change the name of the Ross Barnett Reservoir to James Meredith Reservoir to honor the civil-rights champion and the first black student admitted to the segregated University of Mississippi—instead of the governor who vowed to keep Meredith out. All of the proposals passed except for the adoption one.
On election night, ABC's George Will said, "To young people, being gay is like being left-handed; they don't get what the big deal is." It seems hope and change is inevitable as these young Americans come of age.
America's youth are less divided on social issues than the generations before them. In fact, national polls show that support for marriage equality among voters 18 to 34 stands near 70 percent.
Some speculate that the president's inaugural speech is a peek at the policies that are most important to him in his second term. As we wait to see if, and how, the U.S. Supreme Court will rule on marriage equality this coming June, clearly President Obama has the courage of his convictions. 
 The hope that he spoke of four years ago has taken root in the hearts and souls of so many Americans, and it will flourish as equality is achieved for everyone under the law.
"We, the people, declare today that the most evident of truths--that all of us are created equal—is the star that guides us still," he said, "just as it guided our forebears through Seneca Falls and Selma and Stonewall."
Eddie Outlaw is co-owner of the William Wallace Salon in Fondren and spends most of his time trying not to embarrass his sweet Delta mother on eddieoutlaw.com.
More like this story
More stories by this author
Like independent media outlets around the world, the Jackson Free Press works hard to produce important content on a limited budget. We'd love your help! Become a JFP VIP member today and/or donate to our journalism fund. Thanks for considering a JFP VIP membership or one-time support.