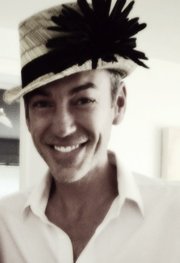 I've been in the beauty industry for 17 years. After laying hands on and listening to countless women, I know for a fact--as celebrity stylist Tabatha Coffey says--"It's not always about the hair."
Like a bartender, I've heard every story imaginable. From affairs to long-lasting marriages, sexual fantasies and naughty tastes in bed, racial comments, fortunes won and lost and everything in between. I listen--careful to keep those secrets--and, at the end of the day, swallow them down with a stiff vodka drink. My massage-therapist friends tell me that it's possible to absorb other people's good and bad energy. If that's true, it might explain why I keep the vodka people in business.
Don't get me wrong; I realize I'm not splitting atoms over here, but I do believe I help people feel better, however temporary. You see, I don't just work on women; I work for women (and a few men), and they've all had a hand in shaping my political views, whether they know it or not.
Lately, I've taken some heat for being "too caught up" in this year's presidential race. I'll admit that I've abandoned any efforts to be funny on social media and, if my blog were a child, I'd be in deep trouble with the Department of Human Services.
I'm unable to look away, especially when so much is at stake. I suppose my need to be vocal is a direct response to those I've heard say, "I don't see how my vote will count, one way or the other." I'm making up for lost time.
I hate to admit it, but four years ago I registered to vote for the first time. You see, I was as apathetic as anyone from my generation could be. Compounded by the fact that I'm gay, I viewed any influence I could have as null. But then, mid-summer, I caught Obama Fever. In this candidate I saw that "audacity of hope," and suddenly that spark was inside me. I was one of millions that put our first black president in office, and I'm proud of that still.
Four years later--two with a GOP obstructionist House--we've made steady progress, and the only argument the Republicans have is Obama wasn't fast enough with the "hope and change." Ole Bill Clinton was right when he spoke at the Democratic Convention: Republicans do want to go back instead of forward.
The GOP establishment would also have you believe that the Democrats are too focused on social issues rather than economic recovery. In my eyes--like so many from my generation--these issues are also economic.
Gov. Romney has stated that he means to repeal Obamacare. That hits seniors in the pocketbook first and affects millions of Americans right after. If you've never had to pick and choose which meds to fill, go talk to my mother. 
Romney also means to do away with Planned Parenthood, a program that helps millions of women in their efforts to control not only when and how they bring a child into the world, but also aid with cervical cancer screenings and mammograms. If you've never stared breast cancer in the face, go talk to my mother and her sister, Betty Jo.
Gov. Romney won't say he would've voted for the Lilly Ledbetter Fair Pay Act because it's not important to him. He doesn't live in a world where a woman can train the men who eventually move up the ladder to become her boss. This is the man that assumes everyone that can't afford health insurance lives in an apartment or takes an ambulance to the emergency room when they get the flu.
Lastly, Romney seeks an amendment to the U.S. Constitution that specifically bans marriage equality. It might shock you, given how much I've written about Justin and myself, but I'd like to see lesbians get married, too. These gals toe the line alongside me, and they deserve the economic protections and benefits awarded by the federal government for choosing to enter into a union of their choice. If you don't understand the privilege you have in your heterosexual marriage, go ask an accountant to spell it out for you, not your pastor.
After all these years it's been overwhelmingly the women in my life who've helped me understand that I am perfectly and wonderfully made. So this year, when I go to the polls, it will be for a multitude of reasons, not least of which is the women in my world.
Eddie Outlaw is co-owner of the William Wallace Salon in Fondren and spends most of his time trying not to embarrass his sweet Delta mother on eddieoutlaw.com.
More stories by this author
Support our reporting -- Become a JFP VIP.
The news business has changed dramatically in the past year, and we need your help more than ever to keep bringing you important stories about Jackson and the Metro. Become a JFP VIP with an annual membership or you can Sign up as a monthly supporter. Thanks for anything you can do to empower our journalism!