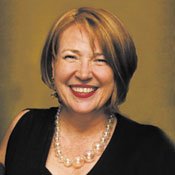 For a minute, we toyed with having debates back at Neshoba Central High School in the 1970s.
My homeroom teacher, either in 11th or 12th grade (I forget), also taught American history--but did pretty much anything except teach us much actual U.S. history. He kept a Bible on his desk, though, and used it to proselytize every chance he got.
But he wasn't preaching about all the love-and-help-the-needy stuff that the Bible implores us to do; he was using his Bible to push a certain amount of hatred and fear of "the other." And he really loved to wave it around to prove his point that (a) women weren't supposed to speak up in church and (b) that meant we shouldn't really speak up anywhere else, either.
This wasn't a new experience for me. At the country church where I chose to be baptized, we had a preacher for a while who used cherry-picked parts of his Bible to rail from the pulpit against his wife and punish her for not submitting to his wishes enough. One day, she ran out of the church crying, her hand covering her mouth.
I, on the other hand, liked to speak up and out, and I was a big fan of equality for women, people of color and pretty much any marginalized group, just as I am now.
What can I say? I believe that is my calling; I didn't choose that path; it chose me. I was so radical that I even wore pants to prayer meeting one Wednesday night, and they made me stay in the fellowship hall.
As a result of my sass, I annoyed this teacher mightily (my embrace of the Equal Rights Amendment, which was on the national agenda then, didn't help any). So one day, the teacher decided that we were going to have a "debate." He would pit me against a guy in the class who would argue against the ERA. I would argue in favor of it.
I started reading and studying. Meantime, it leaked out that the teacher was prepping my opponent with Bible verses to prove me wrong. And the teacher would be one of the judges, along with another teacher who liked to yell at me to "come back in 20 years, you'll change your mind about all that garbage!" (I haven't, of course.)
So, I realized, the debate was a setup.
It didn't matter how many actual facts I had at my disposal, or good arguments that women deserve equal rights under U.S. law, or that families would benefit, my teacher was setting me up to lose. He planned for me to face a lot of selective Bible waving proving that my gender was inferior (obviously not including Galatians 3:28, the passage that bigots and chauvinists have long loved to treat as a biblical outlier).
It didn't matter how calmly or powerfully I presented my case. I knew I would "lose" that debate. So I withdrew. The fix was in.
It was experiences like that one—often revolving around race and gender, respect and equality—that drove me to leave my state the day after I graduated from Mississippi State University in 1983. I didn't reject Mississippi back then; it rejected me.
I thought of my demoralizing "debate" experience for the first time in many years last week after watching the first presidential debate—and after listening to the mainstream media declare Mitt Romney the "winner" immediately afterward because, apparently, Romney was more aggressive than President Obama. And a roller-coaster political narrative helps ratings.
It was as if substance was the last thing on the pundits' minds, much like my teacher back in high school. He was bent on teaching us that debates are won by any means necessary, including abject bigotry or even lies. And last week, Romney "won" a debate with confounding statements that were both shocking and, in many cases, untrue. He even disputed his own earlier promises—in primary debates and in TV interviews—that he would lower taxes by 20 percent (which analysts projected would lead to the $5 trillion shortfall that he took such offense at in the debate). Now, he says, he won't lower taxes on the wealthy or raise them—which brings another level of unanswered questions of how he could lower the deficit while not reversing job gains or devastating the poor.
It seems Romney wants to create confusion about his plan more than anything—and that won the debate. Remarkable.
The most heartbreaking untruth, at least to me, was when Romney looked sick Americans in the eye and promised that his health-care plan would cover pre-existing conditions: a blatant lie designed to make worried voters feel better about his promise to repeal Obamacare on day one. Immediately after the debate, Romney's adviser walked back the promise. Romney actually meant, he said, that the states would have to work out a way to cover pre-existing conditions because that job would be passed down to them under a Romney administration.
In fact, if you listened (or read the transcript), Romney's remarks were soaked in promises to pass the burdens to the states—from education to health care. Like Massachusetts, the states can pass their own health-care plans, he said, and they can manage their education policy better.
Really? Sitting in one of the poorest states whose leadership won't "adequately" fund public education when it can afford to; opposes the birth-control pill or comprehensive sex education; wants a "personhood" amendment; and tries to gut Medicaid, I'm not buying it. And I'm amazed that close to half of America believes it—including those in extremely poor "red states" like Mississippi that would be hit the hardest by Romney's the-states-can-handle-it strategy.
We need to listen to what Romney says instead of obsessing over how he says it. He is offering very few specifics about how he would shrink federal government (which President Obama has actually done) other than put costs and burdens back on the states. Meantime, even though U.S. private-sector jobs have grown steadily in the last 40 or so months, we've seen big losses in government jobs. This may be great news for those who want to drown government in a bathtub, but what it means in states like Mississippi is immediate unemployment. We've already suffered the loss of manufacturing and other jobs to other nations; now we're losing the government jobs that help sustain us. And if the U.S. Chamber hadn't forced Congress to block the president's jobs bill last fall, American companies would be getting tax benefits for creating more jobs in the U.S. now.
Romney isn't even offering up a smart transition plan to steadily replace all those government jobs with private-sector jobs—or support for government stimulus to make it happen. He wanted to "Let Detroit Go Bankrupt," as he famously wrote in November 2008, but stimulus money ensured that it wouldn't, saving many jobs and state economies. Just this week, GM announced that it is hiring up to 10,000 computer professionals in four cities, including Detroit.
That is government (and business) at its more honorable: Figuring out how to invest wisely in our future success and stimulate the economy. That kind of government-business partnership is exactly how America was built and grew to its current strength: by supporting states' efforts to grow and overcome challenges, not by dumping on them.
Romney's cheeky recipe for abdicating federal responsibility may play well on some pundits' scorecards, but it is not going to continue America's recovery. No amount of fire and brimstone—or lies—will change that.
CORRECTION: A typo above—the year 2088 instead of 2008—has been corrected. We apologize for the error.
Support our reporting -- Follow the MFP.