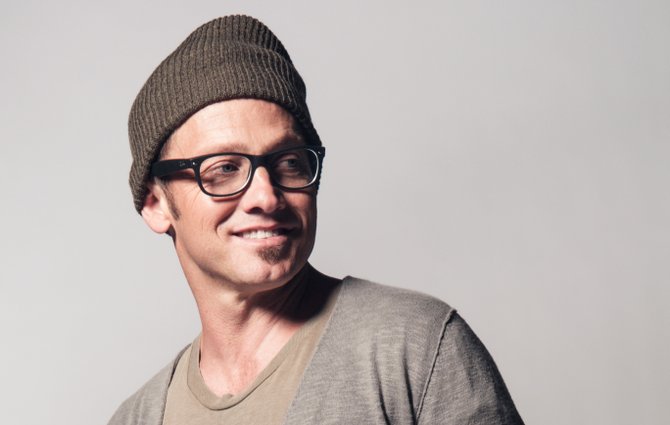 As a member of DC Talk in the '90s and early 2000s and a solo artist ever since, TobyMac has long known what it's like to be at the peak of the Christian music scene. With his latest album, he learned what it's like to be at the top of all music in the U.S.
Toby McKeehan, aka TobyMac, has sold 11 million albums and won five Grammy Awards, but the 48-year-old father of five has never known the success his latest album, "Eye On It," had in its first week. In September, "Eye On It" debuted at No. 1 on the Billboard 200 list with 69,000 copies sold in its first week. It was the first Christian-labeled album to reach No. 1 since 1997, and only the third ever.
The other Christian No. 1 hits both came in 1997: LeAnn Rimes' "You Light Up My Life" and Bob Carlisle's "Butterfly Kisses."
It's not hard to figure out why "Eye On It" was an immediate success. The music is largely made up of the ambient, simple keyboard riffs and heavy synth beats that dominate Top 40 radio stations today, which seem to assume their listeners spend their entire lives inside strobe-light-filled dance clubs.
TobyMac, who built his career mostly as a rapper, trades the rhymes layered over distorted guitars that made him famous during his years with DC Talk and early in his solo career for a soft-singing vocal approach over synth dance beats on much of "Eye On It." He certainly hasn't abandoned the hip-hop that he says will always be at his core, though, as songs such as the title track from the album feature TobyMac both singing and rapping.
The "Hits Deep Tour," featuring TobyMac and a host of artists from Gotee Records, which TobyMac owns, comes to the Mississippi Coliseum Saturday, Dec. 1, at 7 p.m. Tickets are available through Ticketmaster.
"Eye On It" debuted at No. 1 on the Billboard charts, the first Christian album to do that since 1997. What does that say about Christian music and Christian artists' ability to be relevant on the highest levels, and not just within the Christian market?
I think there's a lot of people out there connecting with this music. I don't think they're looking at it as it's in a little box called "Christian music." I think they're enjoying the music as well as the lyrics. I think sometimes people think Christian music has a sound, when really it's any style of music. It's really about life, normally. It's not just all worship music or hymns.
You know, I write my songs about the things I'm going through—the good, the bad (and) the ugly of my life—(with) my faith playing a role in all that. (I'm) just trying to look at things through that lens.
I think a lot more people relate to it than maybe in the past, because, I think, it's just spread out a little bit. People are realizing it's not just a small niche. It's not over there in that box, just for those people. It's open to everybody. I get people tweeting me all the time, saying, "I'm not even a Christian, but this song, 'Get Back Up' really helped me." I count that an honor, because I think that the messages I put in my music are for everybody.
Do you consciously think about that when you're writing songs, that you maybe want to stray away from things that would put the music in a box lyrically?
I try to write poetically. In terms of what I'm saying, I just try to write really what's going on in my life. I've found that when I venture away from what's really happening in my life, people don't connect with the songs as well. When I talk about my own struggle or the things that I'm able to overcome, and I write from my life experiences, I find that those are the songs that people really connect with and draw from.
To indirectly answer your question, I don't try to force things in and I don't try to force things out of my writing.
On the first single from the new album, "Me Without You," you look at your life through the lens of if God wasn't there. That theme has come up throughout your career. Why is that an important theme to you in your music?
I think it's just being thankful. I think to really appreciate something you have in your life, you might need to sort of take a look at where you'd be, or feel you'd be, without that thing or that person in your life. I don't know how many songs I've written just like that. I thought, for me, it was like looking at it versus just singing another song about what it's like to walk with God or have faith in God, I wanted to write a song about where I think I'd be without that faith, without that relationship to center me.
I kind of came to the conclusion that I'd be a mess. Then I began saying, "This is a song about being thankful for what you have."
Through your solo career, how has the music progressed from the rap-metal of "Momentum" (2001) to the power pop of "Eye On It?"

I think it's just (that) I've evolved over the years. Like the song "Unstoppable" or "Eye On It," other than just the sound sonically changing a little bit, those songs and the way I'm rapping on those songs could have easily been on the "Momentum" record.
(Rapping): "Everybody, everybody in the place to be," or "We keep it moving, this path is by our choosing." That's the same kind of rap. I feel like I'll lean to hip-hop. I'll always lean to rap. That's something I've always done and something I always will do.
I am stretching vocally. I think that's more what you're referencing. There's no doubt that I'm stretching vocally. My second record had the song, "Gone" on it. It was definitely a pop, kind of rock, track with a hip-hop beat. I still feel like that's kind of where I am. There's definitely more vocal-focused songs, but I think that's because, for me coming out of rap (and) being a rapper my whole life, stretching vocally is new territory. It's, "Can I sing like that? I don't know, let me try."
I really try, whatever I'm trying to say in a song, (ask) what vocal style within my arsenal of vocals best delivers that in a passionate way. If it's a song like "Forgiveness" that needs to be a little more tender, I might sing it with a smoother rap ... but if it's something intense like "Unstoppable," I'm going to scream it, rap it (and) get a female vocalist on it, which it much like the "Momentum" record.
TobyMac performs Dec. 1 at the Mississippi Coliseum (1207 Mississippi St., 601-961-4000) at 7 p.m. Brandon Heath, Mandisa, Jamie Grace, Chris August, Britt Nicole and Group 1 Crew also perform. Purchase tickets starting at $19 from ticketmaster.com. Visit tobymac.com for more details.
More stories by this author
Support our reporting -- Become a JFP VIP.
The news business has changed dramatically in the past two years, and we need your help more than ever to keep bringing you important stories about Jackson and the Metro. Become a JFP VIP with an annual membership or you can Sign up as a monthly supporter. Thanks for anything you can do to empower our journalism!