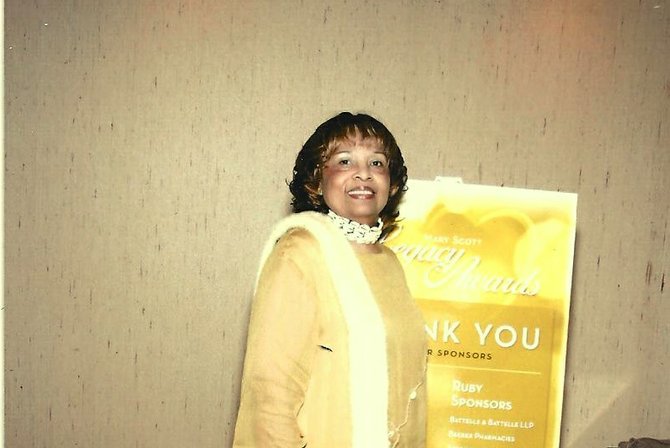 It wasn't so very long ago that voting was a right people fought and died for. Native Mississippian Flonzie Brown-Wright remembers those days clearly.
Brown-Wright was born in Farmhaven in 1942 to Little T. Dawson Brown and Frank Brown Sr. She grew up in Canton, attending a local Catholic grammar school in her younger years and Canton public schools in high school. Her parents sheltered her from the "raw, ugly racism" prevalent in those days, she says. Instead, her family provided the traditions of self-reliance and hard work.
Her grandfather, deafened by a case of mumps when he was 16, couldn't--by law--learn how to read and write. "He had 13 children," she says. "He was determined that not one of his 13 would be share croppers as he had been. What did he do to make a living? In the summertime, he made molasses. In the wintertime, he killed hogs. And year-round, he dug graves for $7. Every Monday morning, he'd put that shovel on his shoulder and walk for miles to see who had died. Just to dig a $7 grave."
Every one of those 13 children, including her father, had their own businesses. "They learned by doing," she says.
Brown-Wright's political awakening came after she attended Tougaloo College and lived a few years on the West Coast.
"I didn't understand the necessity of what was going on. ... When the Civil Rights Movement exploded in Mississippi, I was actually living in California," she says. She had moved west in 1958. She recalls watching TV reports in the early 1960s about the Freedom Riders, and she called her mother to find out why people in her home state were being jailed and tear gassed. She returned to the state in 1962, as yet politically uninvolved.
"When Medgar Evers was assassinated, June 12, 1963, was my deciding moment," she says. "I didn't understand how a man could just be shot down in the presence of his wife and children. ... When that happened, something inside of me said, 'You've got to get involved in this movement. You've got to get out there and learn and see what is really going on.'"
She returned to Canton, where, she says, "There were about 10,000 potential African American voters, but only about 100 were registered at that time."
Her own attempt to register in 1964 at the age of 22 was typical.
"Blacks ... were given a 21-item questionnaire," she says. "Some of the questions were as ludicrous as 'How many feathers on a chicken?' or 'How many bubbles in a bar of soap?' 'How many jelly beans in a jar of candy?' Whatever the registrar wanted to put on that questionnaire, he had the right to do that."
Whites only had to answer six questions, she says. They consisted of basic information: name, address, phone and so forth. Still, Brown-Wright answered the questions--including the ones that asked if she or her family were communists.
"When you got to item 17, you went to (the registrar's) desk and reached in a cigar box and pulled out a section of the Mississippi Constitution that he had typed," she says. "You had to interpret that section ... to his satisfaction. Keep in mind, he had the power to deny you if he didn't think that answer was correct." She doubts the registrar knew what some of the sections meant, she says, because "he only had an 8th-grade education."
The section she pulled from the box was about habeas corpus. "I had no idea what that meant," she says. She wrote something, though, hoping that the registrar wouldn't know the difference. All Brown-Wright wanted was for her name to go into the "big book," of registered voters. "That was really the apex of our being able to register, our being able to become a first-class citizen: to write your name in the big book. You talk about the cream of the crop--the cake and the ice cream--that was really our desire."
She handed the form to the registrar, who looked her up and down. Brown-Wright was already developing a reputation for being a troublemaker in Canton. "How did I do?" she asked.
"You didn't pass," the man replied.
"Sir," she said. "What was my mistake?"
"N*gger!" he yelled. "I told you: You didn't pass. Get the hell out of my office."
Brown-Wright says blacks attempted to register in those days were circumspect. The sheriff's office was across the hall from the registrar, and simply raising one's voice could get you arrested or "your head cracked." That day, she says, she resolved to one day to hold the registrar's position.
One of the people working in the movement at the time was activist Annie Devine, who befriended Brown-Wright, eventually persuading her to run for office. "You'll learn," Devine told her when Brown-Wright objected.
In 1968, she ran for and won the position of election commissioner for Madison County, making her the first black woman to hold office in Mississippi since Reconstruction. In her position, she set up and monitored elections that once she couldn't take part in. She trained poll workers. She also supervised registrars.
"I sued the Elections Board because they wouldn't qualify black candidates and certain black poll workers," she says. In all, she sued the board three times. "Now Canton's on its third African American mayor."
"I'd like to think my election in 1968 helped encourage other African American officials to run for office," she says.
From 1969 to 1973, Brown-Wright served as vice-president of the Institute of Politics at Millsaps College, where she taught "grass-roots organizing and campaign management" to a burgeoning African American citizenry empowered to vote and run for office. She also ran campaigns.
In 1994, Brown-Wright published a bestselling book, "Looking Back to Move Ahead." Today, she is CEO of FBW & Associates, a marketing consulting firm, and founder of The Flonzie B. Wright Scholarship Fund, a fund designed to help students stay in school.
Brown-Wright advises organizers to use today's technology to stay connected. Use the technology to get out the word where "we had to go door-to-door," she says.
The efforts of people back in the 1960s and '70s, she reminds us, "got us to a Barack Obama. It got us to a Joe Biden, who is compassionate, who has used his education and his experiences to help the common person. That's what we must have: compassion, education and patience. And be willing to work. "There's nothing wrong with hard work," she says. "You've got to make your own way."
She encourages everyone to get involved in his or her community. "We don't need to leave it like we found it," she says. "We need to leave it better. Each one of us can make a difference."
More stories by this author
Support our reporting -- Follow the MFP.