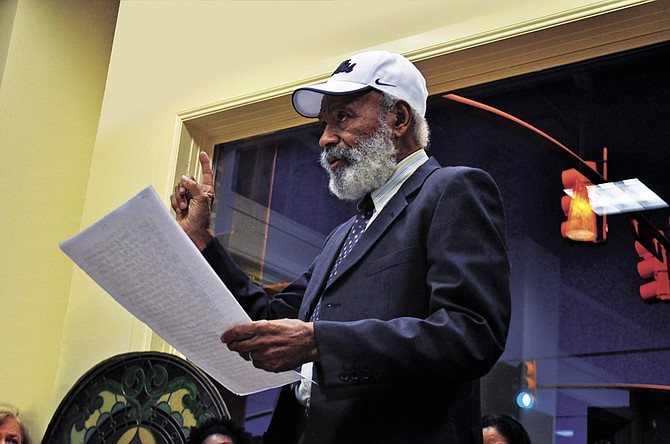 JACKSON — Four years after his admittance to the University of Mississippi, civil-rights activist James Meredith started to walk the 220 miles from Memphis, Tenn., to Jackson, Miss., on June 5, 1966. For Meredith, the march was a demonstration against the persistent racism in Mississippi and a way to encourage African Americans to register to vote.
Then, on June 6, 1966, Aubrey James Norvell, a white man from Memphis, shot Meredith three times. An ambulance rushed Meredith to a local hospital, where doctors saved his life. After hearing of the shooting, civil-rights leaders such as Martin Luther King Jr., Stokely Carmichael and Floyd McKissick, and organizations including the Mississippi Freedom Democratic Party and the Medical Committee for Human Rights decided to continue his march. Meredith rejoined the "March Against Fear" on June 25, and on the following day, nearly 20,000 marchers entered the city of Jackson.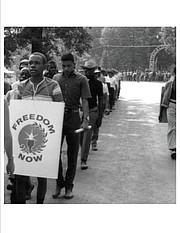 Sunday, June 26, 2016, marks 50 years since the March Against Fear concluded in Jackson. To commemorate the milestone, Pamela Junior, the museum manager for the Smith Robertson Museum and Cultural Center, and Cynthia Goodloe Palmer, the executive director for Veterans of the Mississippi Civil Rights Movement, have organized a special series of events for Thursday, June 23, Saturday, June 25, and Sunday, June 26.
Junior says events like these are important for educating the next generation of Mississippians.
"Children of all nationalities don't know the history of Mississippi; they don't know the history of African Americans," she says. "This is a teaching tool. This is letting people know that we always have to march for good; we always have to march for what is right. That is our right as citizens here and any state that we live in. In order to know about your past, (you) need to be a part of it."
Both Junior and Palmer are members of the generation that came directly after the Civil Rights Movement, but both say the movement had a tremendous effect on their lives.
"It's humbling to stand shoulder to shoulder with these giants, people that almost lost their lives for the freedom that I enjoy today," Palmer says.
The events for today, June 23, commemorate the 50th anniversary and also highlight the role Canton, Miss., played in the 1966 march. Before the March Against Fear made it to Tougaloo College and Jackson, the participants held a rally in the courthouse square in Canton. After the marchers tried to set up tents on school grounds, the Mississippi State Police attacked and tear-gassed them.
This morning's event began with a march from Southern Hills Missionary Baptist Church (1419 Highway 16, Canton) to the Madison County Courthouse began at 9 a.m. An opening program followed at 10 a.m., and at noon, officials unveiled a new Mississippi Freedom Trail Marker at the Historic Canton Courthouse on the Square. Attendees included such prestigious figures as Arthur Tate, the first African American state senator, and Flonzie Brown-Wright, the first African American woman to serve in public office following Reconstruction.
From 1 p.m. to 5 p.m., there will be lunch on the courtyard, tours of the Canton Multicultural Museum and the Freedom House Canton Museum, and a civil-rights driving tour. The last program of the day begins at 6 p.m. at Mt. Zion Missionary Baptist Church with the 50th Commemoration Program, where Meredith will speak and sign books, along with Canton Mayor Arnel Bolden.
"It's important that the history be recognized, especially those persons that are still alive that actually made the history," Palmer says. "Local people really made the history, and a lot of times you just hear about, you know, Martin Luther King (Jr.) and a lot of the larger personalities, but ... local people joined the March Against Fear. It means a lot that we recognize these local people."
She says many locals who were involved are still activists today, including Frankye Adams-Johnson and Hollis Watkins, a co-founder and chairman of Veterans of the Mississippi Civil Rights Movement.
The commemoration events continue Saturday, June 25, from 10 a.m. to 5 p.m. at Tougaloo College (500 W. County Line Road, Tougaloo), an institution that opened its doors to 1966 marchers to provide shelter, food and showers. Events will include conversations with some of the marchers, a book fair, poetry slam, author's roundtable, an intergenerational dialogue and a voter registration drive, as well as music from the Student Nonviolent Coordinating Committee Freedom Singers.
On Sunday, June 26, the Smith Robertson Museum and Cultural Center (528 Bloom St.) will open at 2 p.m. so participants can view the museum's exhibit on Meredith, "Am I or Am I Not a Citizen?", which recognizes his accomplishments during both the UM integration and the March Against Fear. There will also be a reception.
The Walk for Good & Right begins at 4 p.m. at the museum and ends at the Mississippi State Capitol, where Meredith will be the featured speaker. The James Meredith Institute for Citizenship and Responsible Action sponsors the event, and the Smith Robertson Museum and Cultural Center, Women for Progress, the Fannie Lou Hamer Institute at the Council of Federated Organizations and the Veterans of the Mississippi Civil Rights Movement are the coordinating sponsors. Nissan serves as the corporate sponsor for the event series.
Junior says it's important to commemorate events such as the March Against Fear. While she says she isn't anticipating the 20,000 attendees of the original march, the 50-year anniversary is still an important marker for those who weren't part of the original movement.
"This is a historic march for people like myself and others who weren't a part of that march, that we can be a part of walking with James Meredith to the capitol, where he'll be able to give us all words of encouragement, and maybe to give us light to why he decided to go out on that walk.," she says.
For more information on the events, visit http://www.jsums.edu/hamerinstitute/.
More stories by this author
Support our reporting -- Become a JFP VIP.
The news business has changed dramatically in the past year, and we need your help more than ever to keep bringing you important stories about Jackson and the Metro. Become a JFP VIP with an annual membership or you can Sign up as a monthly supporter. Thanks for anything you can do to empower our journalism!