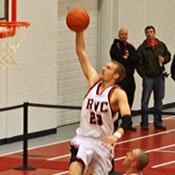 I sat in the Mississippi Basketball and Athletics center watching Jackson's new American Basketball Association team hold its first tryouts with a nice turnout of about 18 to 20 players on March 24. All hoped to continue their basketball careers and become an inaugural member of the Jackson Showboats.
Watching the young men run drills, I noticed some talent—even though it seems that following through on a jump shot or following your shots are nearly lost fundamentals.
It was hard to keep my eyes off 6-feet-3-inch, long and lanky Dan Foley, who seemed to be everywhere. He was diving on the floor, showing off quick hands, poking at the ball and taking charge in his tryout. His pure jump shot and great defensive stance pulled everyone's attention to him.
Foley was a little different in another way from the rest of the young men hoping the make the team: He was the only white player on the floor.
Spectators murmured appreciatively when Foley drove to the basket. Another player tried to play tight defense on him, and he laid down a thundering dunk. I heard whispers when he pulled up to take a long three-point shot; his defender decided to play off of him and gave him space.
Foley's path to Mississippi began after he finished his career at Division II Roberts Wesleyan College in Rochester, N.Y. The sandy-blonde shooting guard with a sly smile and laid-back demeanor started his college career in track; he walked on to the basketball team in his 2009-2010 year.
A growth spurt during his freshman year stretched Foley from 5 feet 11 inches to 6 feet 3 inches, and he blossomed as a basketball player.
He had two tryouts for the NBA's D-League: one in Philadelphia and the other in South Dakota.
"I really felt like I was close in South Dakota," Foley says. "They took a player with a similar game like mine, but he was just a little stronger."
When the new Mississippi team offered him a spot, Foley jumped on the opportunity. He had to play in the tryouts, but he had the spot all but locked in.
Foley was on his way to Mississippi after spending his whole life in Irondequoit, N.Y., a suburb of Rochester. In February, his family threw him a good-bye party, and he left his long-time girlfriend behind to chase his dream of playing professional basketball.
"My family has been so supportive of me," Foley says. "I couldn't do this without that support."
Back at the tryouts, I watched Foley chase a loose ball with near super-human hustle, and the whispers started up again. It seemed that nearly every time Foley made a play, the people around me whispered about the white guy who can play basketball.
"It's true," he says later with a sigh. "People look at me differently and, sometimes, being white (in basketball) has an unfair perception. But I can earn respect fast because of the way I play."
"Every player has to work hard to separate themselves from the others," Foley continues. "When it comes to winning games and 'can you play ball,' race doesn't matter anymore."
At 24, Foley says he needs to add strength to his 185-pound frame. He believes his conditioning is good, but it needs to be a little better before the season starts. Looking ahead, he says his next step is the NBA Development League or overseas.
Right now, though, Foley is looking forward to a good season with the Jackson Showboats, being a good teammate to other guys who want to win.
"I want to do it the right way," he says. "It says a lot about your character that you want to win and not just move to the next level. ... I am going to keep try to keep improving."
Foley is as likeable off the court as he is tenuous on it. He is soft spoken but quick to smile, and he has quickly taken to the city of Jackson.
"Jackson is great, and it is a lot like home in size and people," he says. "The people here have been so good to me and have made me feel like family."
He has another dream besides chasing the NBA. Foley hopes to one day visit Ireland, where his ancestors left when they came to America.
The Jackson Showboats are still looking for a coach and will be building up for the season this summer. Foley believes the team will gel this month and next. We'll find out in the fall.
Mississippi Basketball and Athletics (2240 Westbrook Road, 601-957-7373) will be home court for the Jackson Showboats when the season starts in November.
For more information on the team, visit http://showboatstimes.wordpress.com.
Follow Bryan Flynn at http://www.jfpsports.com, Facebook and @jfpsports.
More stories by this author
Support our reporting -- Follow the MFP.