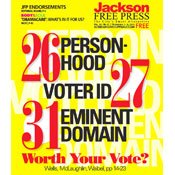 The Jackson Free Press got amazing news from Detroit Friday afternoon when we learned the Association of Alternative Newsmedia was presenting us a coveted first-place public-service award for our team coverage of the personhood effort last fall. The team members were Valerie Wells, Elizabeth Waibel, Lacey McLaughlin, Donna Ladd and columns by several anti-personhood "mamas": Lori Garrott, Stacey Spiehler, Funmi Franklin and Shannon Barbour.
The JFP also won second place for Tom Head's political columns and second place in innovation for the GOOD Ideas issue on crime (flip through it at http://www.jfp.ms/crime).
These awards marked 25 from AAN, an association of papers in the United States and Canada, since 2004. Our syndicated cartoonist Jen Sorensen (page 4) won first place for cartoons.
The JFP has won three previous public-service awards from AAN: 1st place for our investigation that helped put Klansman James Ford Seale in prison; second place for our Two Lakes investigation; and honorable mention for our domestic-violence reporting.
This year, the JFP is also winning three Society of Professional Journalists Green Eyeshades Awards, including another public-service award for Personhood coverage (which also includes work by R.L. Nave and Adam Lynch), a feature-writing award for Valerie Wells and a serious commentary award for Donna Ladd. We find out final placement Friday, June 15. SPJ has awarded the JFP nine awards in the last three years, including a public-service award for Two Lakes coverage.
Congratulations to the staff and our guest columnists!
Support our reporting -- Follow the MFP.