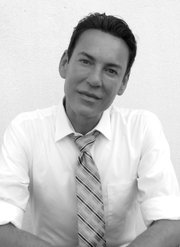 Since my "coming out" 20 years ago, my understanding of who and what I am has evolved—not unlike our president. I wrestled mightily with what I was taught as a youngster in my small Baptist church in the Mississippi Delta. I readily admit it's a source of aggravation for me.
Like being born an American, most of us are born into a particular religious denomination. We are conditioned to accept without question the tenets of that faith, and precious few dig any deeper. My struggle with faith is mired in the fact that I'm gay and the Bible says that's wrong. Oddly enough, my evolution started in the required Old Testament class my freshman year at Mississippi College.
That first day, I was certain I was in for endless hours of minutiae on the ancient text. Imagine my surprise when the professor said, "We have no idea how much of the Bible is actually the 'word of God' or what man would have us believe." And just like that, I began to question.
Twenty years later, I've concluded it is important for me to affirm that I am a Christian. You may wonder how a gay man with a potty-mouth and an affinity for vodka can justify that declaration. I've boiled it all down to this: God made me; God loves me; and Jesus never said anything about gays. I threw everything else out the window, and have been a much gay-er person since.
As the marriage-equality debate stays in the forefront of the media and both sides attempt to sway public opinion, the inflammatory rhetoric from the far right continues to ramp up. While Americans are ever more accepting of gay rights, these snake-handlers continue to whip up their base with lies and fear-mongering. One such "handler" resides in Mississippi and gets national recognition for his openly hateful views on the so-called "homosexual-rights movement."
The website for the sleepy town of Tupelo touts it as Elvis' birthplace and throws in a little history about DeSoto County and the Chickasaw Indians. What isn't proudly displayed is Tupelo's "dirty little secret": the American Family Association.
The AFA put down roots in this northeast Mississippi town, and it's not budging. For those of you unfamiliar with it, AFA is a non-profit organization that promotes conservative, fundamentalist Christian values—especially in public policy. The Southern Poverty Law Center listed AFA as a hate group in November 2010 for the "propagation of known falsehoods" about homosexuality. It also employs a man many consider a headstrong bully, Bryan Fischer.
The New Yorker magazine recently ran a profile of Fischer, director of issues analysis for American Family Radio. Fischer complained that the story, "Bully Pulpit," was unfair and slanted. He holds an undergraduate degree in philosophy from Stanford University and a graduate degree in theology from Dallas Theological Seminary, apparently making him an expert on all subjects: women's vaginas, American politics, foreign relations and The Queers.
Here are a few of his most insidious quotes about homosexuals:
"Homosexuality gave us Adolf Hitler, and homosexuals in the military gave us the Brown Shirts, the Nazi war machine and 6 million dead Jews."
"Homosexuals are rarely monogamous and have as many as 300 to 1,000 sexual partners over the course of a lifetime. ... [T]he risk of sexual abuse in a homosexual household is much greater than in a heterosexual household."
"To adopt kids into a same-sex environment is a form of child abuse."
This guy sounds like he ripped a few pages out of Rush Limbaugh's playbook instead of modeling his platform after The Sermon on the Mount. (Can I get an Amen?) He spouts debunked theories regarding homosexuality and child rearing. Daily, he spews unfounded suppositions while passing judgment on others based on a handful of scriptures from the Old Testament—and maybe a little horse-hockey from a Google search—pieced together with duct tape and spit. 
If evangelical Christianity is based on spreading the gospel and winning souls for Christ, it's overwhelmingly clear that Fischer misses the mark. I believe, as do a great number of Christians, that our goal should be as Jesus instructed: "Love your neighbor as yourself." I'm confident this business of bearing false witness against homosexuals is not what Christ wants his church to do with an annual budget of $14 million. I imagine, with that amount of money, you could do as Christ instructed in Matthew 4:19: "Follow me, and I will make you fishers of men."
Instead, Fischer seems hell-bent on creating a fissure in the figurative heart of the most fundamental belief in the Declaration of Independence: that all men are created equal.
Gays are a creative, loving, dynamic and necessary part of this "grand experiment" we call the United States of America. If we hold fast to the original idea, we'll see that no one is persecuted for the fundamental right to the pursuit of happiness. Happiness meaning gay—as in extremely queer—in this case. So please, Bryan, have a mimosa and some quiche and settle down.
Eddie Outlaw is co-owner of the William Wallace Salon in Fondren. Read his new Outlaw blog at http://www.jfp.ms/outlaw.
More stories by this author
Support our reporting -- Follow the MFP.