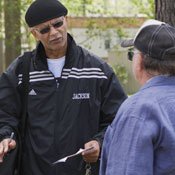 Jackson has an opportunity to form a new culture--the sum total of its people's lives--that covers not just music and history, but economic development and political goals, Ward 2 City Councilman Chokwe Lumumba said this morning at Koinonia Coffee House's Friday Forum. Lumumba said Jackson is undergoing a cultural change driven by changing demographics, as the city gains a higher percentage of black, progressive white, Hispanic and Indian residents.
"A new culture is needed; the old culture will not do," he said.
Some people in the state aren't looking for a new culture, however, and would rather preserve a white-supremacist culture, Lumumba said, although today white supremacists who wear Klan robes and use the n-word are in the minority.
"White supremacy has to do with the economic order," he said, referring to the belief that whites must govern society and Jackson must solve its problems by becoming predominately white.
While he said Jackson needs economic development, the councilman cautioned against gentrification--development that only benefits wealthy sectors of the population--and said Jackson needs more than cosmetic changes or moving blight from one part of the city to another.
"Let's make sure that the benefit of these (development projects) goes to all the people and that we're spreading the power," he said.
Jackson's good bond rating makes it one of the best places to invest, Lumumba said. The city's bond rating was one of the reasons prospective convention center hotel developers asked the city to back bonds for the project. To speed economic-development projects like those on Farish Street along when developers are looking for city funding, Lumumba said council members need to be involved throughout the funding process so they have enough time to get all their questions answered and have intelligent discussions about the best way to proceed.
"We need more of a collective leadership," he said.
One audience member asked Lumumba what he thought about the 200-plus pardons outgoing Gov. Haley Barbour handed out earlier this week.
"First of all, he didn't (pardon) the Scott sisters. I'm pissed about that," he said. Lumumba, who is Jamie and Gladys Scott's lawyer, said yesterday he intends to ask current Gov. Phil Bryant to give the sisters a full pardon.
While he cautioned against rushing to judgment before thoroughly studying the list, Lumumba said Barbour's actions may have been an abuse of power in the way pardons are handed out.
"The power of pardon, which all executives have--at least here in America--is a very arbitrary power, and this governor is not the only one to use it arbitrarily," he said.
Lumumba is helping to organize a National Conference for Justice in Jackson April 2-4 to talk about crime prevention, injustice in the criminal justice system and a possible pardon for the Scott sisters.
For ongoing coverage of Barbour's pardons, visit barbourwatch.com.
Previous Comments
ID

165772

Comment

Lumumba will run for mayor, book it. How many of Chokwe's clients were pardoned? Who at the JFP went to the governor's inauguration? I heard it was a snooze. Would love to hear BOOMJxn's thoughts about the evils of gentrification. I'd hate to have wealthy devils like David Watkins itching to develop new and exciting venues for all types of people to enjoy, thereby increasing the quality of life and raising tax revenues which again would be partially used to benefit society and partially used to fund council members' salaries.

Author

jbreland

Date

2012-01-17T05:38:08-06:00
More stories by this author
Support our reporting -- Follow the MFP.