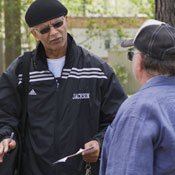 Jackson's Ward 2 Councilman Chokwe Lumumba's motion to add exclusive raises for some city employees was the only budget motion passed at yesterday's special meeting.
Stories this photo appears in:
Development
Jackson has an opportunity to form a new culture--the sum total of its people's lives--that covers not just music and history, but economic development and political goals, Ward 2 City ...
Jackson City Council members may have voiced concerns over their role in crafting the city's budget for fiscal year 2012, but yesterday's special meeting to add amendments to the budget ...
Industry Fears City Zone Change
Ratliff Fabricating Co. owner Spincer Harrell says his business may not fare well under a proposed zone change slated for North Jackson's Clay Street.
Politics
Ward 2 Councilman Chokwe Lumumba wants all Jackson City Council members present before he makes a motion to vote on conducting an investigation into Council President Frank Bluntson's alleged use ...
The Jackson City Council will likely adopt a new ordinance tomorrow that will change requirements for residents to rename city streets and municipal buildings for the third time this year.
Politics
Ward 2 Councilman Chokwe Lumumba said he voted with a majority of the council to remove a controversial petition requirement for the renaming of city streets or facilities because he ...