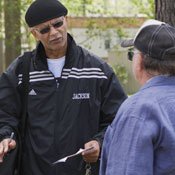 Ward 2 Councilman Chokwe Lumumba said he voted with a majority of the council to remove a controversial petition requirement for the renaming of city streets or facilities because he felt city residents deserved a "more fair system" for changing street and place names.
Prior to the April 20 meeting, city ordinances required petition approval from 75 percent of residents and property owners within 150 feet of a public facility or street to approve changing the street or facility's name. Lumumba agreed to side with Councilmen Kenneth Stokes, Charles Tillman and Council President Frank Bluntson to approve the city ordinance removing the petition requirement, but only after assuring the council that he would help put together a new ordinance creating a petition requiring only 51 percent approval from local residents.
"There's no doubt in my mind that the petition exists to keep things as they are," Lumumba told the Jackson Free Press during the April 20 council meeting that eliminated the petition requirement. "The face of the city has changed, but there are plenty of places in the area that still bear the names of people who didn't always embrace the needs of the kind of people who now live here."
Lumumba then referred to many of the current names on city streets as products of racism. Lamar Street, in downtown Jackson, bears the name of Confederate officer, plantation owner and Associate Justice Sen. Lucius Quintus Cincinnatus Lamar, for example.
"A lot of the people were getting streets named after them a long time ago, when nobody with darker pigmentation were sitting up here on the council, and we did not have a black mayor, and it was a quite different city—and in many respects a very racist city. To lock us into a 75 percent petition requirement is not good," Lumumba added.
Author Todd Sanders, who wrote the book "Jackson's North State Street," said many places in Jackson commonly got their names from people who lived around them, but that many of the more controversial names currently on city signs typically arrived prior to the 1930s—well within the age when segregation was required by state law.
"The majority of them were only named for people who lived around them, or developed it or had property there," Sanders said. "This was a different time when segregation wasn't recognized as bad (by whites)."
The entire issue stemmed from Councilman Kenneth Stokes' continuing crusade to name streets and city facilities after community figures from the last three decades, many of whom are black. Stokes succeeded in leading an effort to name a library on Northside Drive (which was not in his ward) after Jackson Advocate Publisher Charles Tisdale. Opponents of the Tisdale name on the building argued that Tisdale was not a book author, as requested by the Hinds County Library Commission, and frequently referred to black leaders as Uncle Tom.
The issue strikes home with Jackson resident Ineva May Pittman, who campaigned hard for naming the city airport after slain civil-rights activist Medgar Evers, and for re-naming a library on Northside Drive.
"I feel offended by some names on city streets and buildings," Pittman said, referencing the name of Sen. James Eastland, a Mississippi segregationist, on the federal courthouse in downtown Jackson. "I even took offense at the name of Lynch Street near JSU, until the council clarified the name as John R. Lynch Street, a prominent black historian."
Stokes pressed the issue last week to rename two Jackson streets after Jackson resident Dr. Robert Smith and former Jim Hill High School coach Fred Harris before the Jim Hill senior class graduates May 30. Stokes said he needed to remove the time-consuming 75 percent petition to do this.
The petition removal could also facilitate the renaming of streets after more contentious personalities, however. Stokes seeks to name a section of Pascagoula Street after controversial former Jackson Mayor Frank Melton. The city's legal department is still attempting to settle a lawsuit over Melton's 2006 illegal demolition of a home on Ridgeway Street. Members of the council who oppose the removal of the petition claimed at the last council meeting that removing the petition requirement was a strike against democracy. Ward 6 Councilman Tony Yarber, in particular, warned that removing the petition requirement entirely would anger Jackson residents who want more influence over the street and facility re-naming process.
After Lumumba voted for changing the ordinance, Mayor Harvey Johnson Jr. pointed out that the petition removal would not take affect for another 30 days unless the council voted unanimously on the issue. Bluntson offered to revisit the issue in the same meeting in hopes of garnering unanimous council support, but the remaining council members who formed the opposing minority refused to revisit the issue, leaving the city without a petition requirement for now.
Previous Comments
ID

157576

Comment

Ok, these name changes are starting to get ridiculous! Just in case some of you don't know (Ms. Pittman) the city of Jackson was named after Andrew Jackson. A slaveowner and supporter of slavery. If you are going to get offended by streets named after "racists" go ahead and just change the name of the Capital city.

Author

js1976

Date

2010-05-03T10:23:40-06:00
ID

157578

Comment

JS: That's a talk radio point, not an argument. There's no logic to the assertion that because Jackson is named after Andrew Jackson, it's therefore inappropriate for someone to take offense at streets or buildings named after 20th century segregationists inside the city of Jackson. Otherwise you're arguing that some improvement is no improvement at all.

Author

Todd Stauffer

Date

2010-05-03T11:49:39-06:00
ID

157594

Comment

Todd just because you don't see the logic in my post doesn't mean there isn't any. My point is it is ridiculous to assume that Jackson should start changing the names of streets because they don't represent the people anymore. I singled out Ms Pittman for obvious reasons. Lumumba and Stokes should start spending time focused on more effective measures of improving the quality of life in the capital city!

Author

js1976

Date

2010-05-04T08:23:09-06:00
ID

157597

Comment

Lumumba and Stokes should start spending time focused on more effective measures of improving the quality of life in the capital city! Now that you've amended it, it makes more sense. If you think the council members (or other citizens) should spend their time on something else, say that. But saying that you can't change the name of a city street because of the name of the city is an emotional argument, not a logical one.

Author

Todd Stauffer

Date

2010-05-04T09:18:40-06:00
ID

157599

Comment

My statements regarding city council don't retract my original post. I still think it's ridiculous to assume that because the demographics of an area has changed the names of streets should start changing. How is that not a logical argument?

Author

js1976

Date

2010-05-04T09:41:57-06:00
ID

157600

Comment

The problem with your original argument is that you suggested there is no point in changing any name unless you change all names. But there is no reason why we can't consider these issues on a case-by-case basis, taking into account such factors as how onerous it would be to make a change. You also misdescribe the issue in your latest comment. The issue is not whether we should change names based on demographic changes. The issue is whether people who live in a community have a right to change names that implicitly celebrate racism. Considering that African Americans were denied participation in government for so long, a strong case can be made that the original naming process was undemocratic and thus illegitimate. What's the problem with a democratic majority renaming streets?

Author

Brian C Johnson

Date

2010-05-04T10:01:05-06:00
ID

157603

Comment

"What's the problem with a democratic majority renaming streets?" I don't recall a democratic majority naming the airport!

Author

js1976

Date

2010-05-04T10:18:59-06:00
ID

157604

Comment

I keep trying to submit and only now and then am I able to get a post through. Is anyone else having that problem?

Author

justjess

Date

2010-05-04T10:33:07-06:00
ID

157607

Comment

The City Council voted 6-0 to rename the airport. How is that not democratic? But even if the airport was renamed by executive fiat, the fact that some institutions might be renamed in an inappropriate way would in no way support the implication that no institution should ever be renamed even in an appropriate way. That's an example of an illogical argument.

Author

Brian C Johnson

Date

2010-05-04T11:58:29-06:00
ID

157608

Comment

Brian, 6 votes isn't exactly what I would call a democratic majority! Regardless of how the airport was named, it's just an example of how institutions are changed inappropriatly and I think it's safe to assume that they will follow the same format. Sorry if all of you fail to see the logic in my argument! Thought this was a channel to express ones opinions not a Star Trek convention!

Author

js1976

Date

2010-05-04T12:11:32-06:00
ID

157610

Comment

What streets in this town are named after 20th century segregationists?

Author

QB

Date

2010-05-04T12:36:20-06:00
ID

157612

Comment

JS, a 6-0 vote in a democratically elected body is the very essence of a democratic majority. If Congress votes 435 to 0 in support of a bill, is that not democratic? Do you not accept that representative governments are democratic? Must everything be settled by plebiscite in your view? No offense, but you're just talking nonsense. Your argument on the airport is illogical because it's a non sequitur. Let's say that a group of us can't agree on where to go for dinner. You suggest that we vote. I respond by saying, "We didn't vote on where to get dinner on June 6, 2006!" You might appropriately respond, "So what? The fact that we didn't vote in the past is not a good argument against voting now." Obviously, your argument would be even weaker if we did vote on where to get dinner on June 6, 2006, which is what happened with the airport renaming. How is it "safe to assume" that requiring 51 percent of residents to approve of a name change will "follow the same format" as a City Council vote in 2006? They're explicitly not the same format. Offering your opinions is one thing, but you're just throwing out non sequiturs and straw-man arguments.

Author

Brian C Johnson

Date

2010-05-04T14:04:29-06:00
ID

157613

Comment

Sorry if all of you fail to see the logic in my argument! Thought this was a channel to express ones opinions not a Star Trek convention! You can totally express your opinion as long as it's done in a non-demeaning way. It's just that your opinion may be challenged if it isn't logical.

Author

Todd Stauffer

Date

2010-05-04T14:15:06-06:00
ID

157615

Comment

Logical or illogical as it may be (kind of sick of this terminology) I have problems with the idea that we should start changing the names of city streets, parks, library's, airports, whatever for no apparent reason. Lamar street was named after a Confederate officer, so what? Mississippi was a Confederate state correct?

Author

js1976

Date

2010-05-04T14:34:42-06:00
ID

157617

Comment

Renaming a street is easy. Fixing the deep-seated social and economic problems that plague a street is much harder. Easy to see why certain politicians will be gung-ho to support policies that follow the path of least resistance for political gain.

Author

Jeff Lucas

Date

2010-05-04T15:43:55-06:00
ID

157621

Comment

Brian you must be from the state of the great liberator, John Brown. You're brilliant and should run for POTUS. You and Obama would get us back on track. Sorry to skip Biden this way but he'd probably say he doesn't give a ___k.

Author

Walt

Date

2010-05-04T16:41:46-06:00
ID

157624

Comment

JS, now we've come to the crux of the argument. Obviously, it doesn't matter to you whether a street honors Confederates and Segregationists. It obviously does matter to other people. If 51 percent of residents sign a petition, that is a clear sign that the issue matters to them. Part of the genius of democracy is that it lets us negotiate together what matters and what does not. I say all of this having sat through more of Councilman Stokes' renaming proposals than I care to recall. Most of those had nothing to do with race, and some of the changes seemed trivial to me. But I don't see the harm in letting the people in a community decide for themselves what a street should be named. Why is there such resistance to giving African Americans a say in naming things? People can always read about Confederates and Segregationists in the history books, where they belong. We can and should teach our history without celebrating truly evil men.

Author

Brian C Johnson

Date

2010-05-04T17:13:23-06:00
ID

157625

Comment

Walt, I won't have you skipping Biden. I'm sure he would say it's a big f___ deal.

Author

Brian C Johnson

Date

2010-05-04T17:15:57-06:00
ID

157626

Comment

Consider for example Theodore G. Bilbo, a governor of Mississippi in the '20s and a senator in the '30s. Bilbo was a disgusting racist and Segregationist, whose statue graces the Capitol. Among his other accomplishments, Sen. Bilbo filibustered a bill designed to punish lynching, at a time when hundreds of blacks were being murdered in town squares. He said: If you succeed in the passage of this bill, you will open the floodgates of hell in the South. Raping, mobbing, lynching, race riots, and crime will be increased a thousandfold; and upon your garments and the garments of those who are responsible for the passage of the measure will be the blood of the raped and outraged daughters of Dixie, as well as the blood of the perpetrators of these crimes that the red-blooded Anglo-Saxon White Southern men will not tolerate. I don't know about you, but if I lived on Bilbo Street, I would want to change the name.

Author

Brian C Johnson

Date

2010-05-04T18:29:56-06:00
ID

157632

Comment

No one answered my question. What streets in this town are named after 20th century segregationists? I could not find a Bilbo Street in Jackson. I, for one, would hate to have to change all my subscriptions, bank accounts, checks, etc. to reflect a new street name merely because a city councilman wanted to rename it.

Author

QB

Date

2010-05-05T08:31:21-06:00
ID

157633

Comment

Great point, Jeff Lucas. "Fixing the deep-seated economic and social problems that plague the streets of the City" SHOULD be the focus.

Author

justjess

Date

2010-05-05T08:38:08-06:00
ID

157634

Comment

QB, It's much to easy for everyone else to follow the lambs. So far I have yet to see a "true" reason for wanting to change the names of streets, public buildings, etc. So far it has been people like Ms Pittman that take offense to names that she doesn't even know the true meaning of. Brian, you can't honestly tell me that African Americans don't have a say in naming things. Tell me this, how many areas in the United States have you been without a street named after MLK?

Author

js1976

Date

2010-05-05T08:43:54-06:00
ID

157635

Comment

So far as I know, there is no Bilbo Street in Jackson, though there are such streets in Pascagoula, Granada, Poplarville, and Tylertown. Also, there's that damned statue. But how about Vardaman St., just off Woodrow Wilson? I believe it is named after former governor and senator James K. Vardaman, also known as the "Great White Chief." He described the African American as a "lazy, lying, lustful animal, which no amount of training can transform into a tolerable citizen." He once declared, "If it is necessary every Negro in the state will be lynched; it will be done to maintain white supremacy." If I lived on Vardaman Street, I would certainly sign a petition to change the name, even if it subjected QB to the incalculable inconvenience and existential horror of having to change his subscriptions, bank accounts, etc.

Author

Brian C Johnson

Date

2010-05-05T08:57:10-06:00
ID

157636

Comment

I know Vardaman Street because Cedric Willis lived there when I interviewed him in 2006. In an astonishing irony, Willis was imprisoned for crimes he did not commit at Parchman State Prison. Gov. Vardaman opened Parchman "Farm" in 1904. It was essentially a plantation with the big-house replaced by a prison. Willis described hellish conditions at Parchman. For more on Vardaman and Parchman, I highly recommend Worse than Slavery by David Oshinsky. Now are you going to tell me that Cedric Willis should have to live on a street named after a racist monster like James Vardaman? I'll leave you with a final Vardaman quote from Oshinksy's book. The following is Vardaman's reaction to a vicious lynching: "I sometimes think that one could look upon a scene of that kind and suffer no more moral deterioration than he would by looking upon the burning of an Orangoutang (sic) that had stolen a baby or a viper that had stung an unsuspecting child to death."

Author

Brian C Johnson

Date

2010-05-05T09:16:16-06:00
ID

157637

Comment

Is Vardaman Street named after him? Or is it a misconception like John R. Lynch Street in the above article? I don't know. I have no problem with the 51% requirement, but I don't want the ability to rename streets to be in the hands of the Council alone - the residents and businesses on that street must have a say.

Author

QB

Date

2010-05-05T09:19:44-06:00
ID

157638

Comment

QB, I really think your last statment sums up my thoughts on this whole matter! If the majority of residents had a "legitimate" reason for change then it's a different story. I have a problem with people like Stokes, Lumumba, or Ms Pittman wanting to changes the names of the streets, buildings, etc. just because they think it's a good idea. From reading this article, it appears that Kenny Stokes is the ringleader when it comes to these changes and all they are trying to do with this new ordinance is to make it much easier for him to have his wish!

Author

js1976

Date

2010-05-05T09:30:00-06:00
ID

157639

Comment

I wonder if a poll were taken among residents of Vardaman Street, how many of them are aware of the origin of the street name. Or would even care.

Author

Jeff Lucas

Date

2010-05-05T10:04:02-06:00
ID

157652

Comment

Jeff, I'm with you and Vardaman. Surely these decendents of ex slave products don't have the capacity to learn, so of course lets's keep them ignorant; a truly bissful state of mind for oranga's. Cut that state education funding to the barest of bones. You, Vardman and I would probably also agree to say "keep em barefoot" too, but us less than wealthy supreme white folks need them Federal transfer payment plantation dollars to fund our businesses and slum housing enterprises. This Federal transfer payment harvesting is a lot easier than raisin' cotton. Shucks, while we're at it let's see what we can agree on to do about keepin' them po' white trash folks in line too! Different tree, but he same grove!

Author

FrankMickens

Date

2010-05-05T19:08:53-06:00
ID

157655

Comment

Frank your sarcasm is duly noted...

Author

Jeff Lucas

Date

2010-05-06T08:03:18-06:00
ID

157658

Comment

Later for the streets: We can get to that issue down the road. The thing that makes my stomach hurt is having to walk into a building with the Confederate flag waving over my head. This is the mission that needs accomplishing. Where are Stokes, Lumumba and others on the State flag? It is hard to believe that a flag that had not been ratified and a State among other Southern states that loss the war, continues to wave VICTORY for the Confederacy! By the way, I had dinner @ the King Edwards before the play, The Color Puple. When I saw the Confederate flag flying on the building, my first thought was to turn and walk away. The King Edwards is not a State building. Grant it, there is much racist history.

Author

justjess

Date

2010-05-06T08:28:49-06:00
ID

157660

Comment

Justjess, Stokes and Lumumba don't have a say when it comes to the state flag. That was settled in 2001 by a vote of almost 2 to 1. I don't think that southern states hold on to Confederate history to wave "victory". I feel that it's just part of our past that should be remembered. That's part of my gripe with city council wanting to change names based on their objections to the Confederacy.

Author

js1976

Date

2010-05-06T08:40:19-06:00
ID

157662

Comment

I beg to differ with you js1976. Stokes and Lamumba are both African-Americans. They are the sons of former slaves and can give testimony to the painful, racist, harmful history of your flag. Perhaps this can serve as a teachable moment: Never tell a black person that they have no input about trying to have the confederate flag pulled from the poles. ...and you think that it is a "part of our past that should be remembered?" I think that it is a part of your past that should have a space in a museum. The sad thing is that this is not your past: For far too many, it continues to be your past, your present and with little hope for change in the future. This flag is a reminder of the disassembly of the black family; the rape of our mothers and daughters; the unfair, unequal and unjust post slavery treatment of black folks here in this state. So, don't humor me today with your gripes today about this symbolic piece of crap that represents so much pain for so many. The South lost the war. The End. All of the reinactments, artifacts, wishes and dreams will not change that fact.

Author

justjess

Date

2010-05-06T10:13:36-06:00
ID

157665

Comment

Jess- Are you sure Stokes and Lamumba are sons of former slaves? Maybe grandchildren of former slaves? Cause Lamumba was born in 1947 and slavery end in 1865 so his parents would have to been almost 90 yrs old when he was born to have been slaves and I pretty sure Stokes is younger than him.

Author

BubbaT

Date

2010-05-06T12:07:58-06:00
ID

157666

Comment

justjess, they have no say! The State of Mississippi decided that in 2001! Stokes and Lumumba need to direct their attention to more pressing matters. Now how do you figure that the Confederacy is not part of my past??? I'm from the South, so it's safe to assume it's part of my past. Don't take it personally, but I really don't care if I humor you or not! This article was never about the flag, but about street names.

Author

js1976

Date

2010-05-06T13:04:39-06:00
ID

157667

Comment

Son, pardon me, BubbaT, I'm sure that your comment on Stokes and Lamumba being son's of slaves was designed to discredit my account. The numerical exactness in you arithmetic dates of birth is impressive; however, not befitting for this discussion. "Sons and Daughters" are used symbolically. Just as Sue Ellen and Lucy Sue are "Daughters of the American Revolution" and Ike and Mike are sons of the Confederacy; Lumumba and Stokes are sons of slaves. Their bodies contain the ancestral DNA and the residuals of slavery continue to linger, socially, economically and any other "cally" you can think of. Is it any other part of that blog that you take issue with?

Author

justjess

Date

2010-05-06T13:04:53-06:00
ID

157668

Comment

Jess- wasn't trying to discredit your post just your math. :) I didn't know there was a "Sons of Slaves" organization.

Author

BubbaT

Date

2010-05-06T13:34:48-06:00
ID

157670

Comment

There is a difference between learning our history and celebrating symbols of racism. For instance, I think one of the reasons people can be cavalier about dismissing 20th century segregationists is that they have never learned about men like Bilbo and Vardaman. They don't realize that these men openly, militantly advocated the public murder of African Americans. But learning about these men is different than naming streets after them or erecting statues in their honor. That is celebrating and honoring monstrous men. I am sure we can all appreciate the difference. People should learn about the Nazis, but I wouldn't want to live on Hitler Street.

Author

Brian C Johnson

Date

2010-05-06T14:03:54-06:00
ID

157671

Comment

As for the rebel flag, there is no doubt in my mind that in time, the people of Mississippi will see the folly and immorality of adopting such a symbol. It might take another 20 years or longer, but the time will come. JS spoke of a 2-to-1 vote, but it is striking to me that the percentage of the electorate who voted against the rebel flag is almost exactly equal to the percentage of African Americans in Mississippi, namely 35 percent. I have heard many people claim that most blacks voted to keep the flag, but I have never seen evidence to support this claim. Given the demographics, it seems extremely unlikely. In Hinds County, for example, the vote was 2-to-1 against the rebel flag. I would also like to point out that the rebel flag was adopted as a state symbol in 1894, long after the end of Reconstruction. What was the purpose of adopting the symbol at that time? It was a period when racists were on the march. The 1890 Mississippi Constitution made it impossible for blacks to vote and served as a model for other states. In 1892, a record 230 people were lynched. In 1896, Plessey v. Ferguson affirmed Jim Crow laws. The flag has always been a symbol of intolerance.

Author

Brian C Johnson

Date

2010-05-06T14:18:38-06:00
ID

157673

Comment

Brian, since you bring it up, the vote for the state flag was a true "democratic majority" vote. Unlike our discussion concerning Jackson International Airport. If you want to see the results by county they can be found at the Secretary of State's website. In regards to Hinds county, the vote was heavily in favor of the new flag.

Author

js1976

Date

2010-05-06T14:32:41-06:00
ID

157675

Comment

Maybe its my long-held disdain for naming buildings and roads after people that shapes my opinion on street renaming, but I do understand the argument for changing a name like Vardaman Street. If the residents and the community see it as an issue that needs to be addressed, then government should be responsive to the desires of its constituents. Frankly, from all the years my cousin and I drove up and down that little street there was nothing obvious about it that would suggest it honored Gov. Vardaman beyond bearing his last name. And while changing the name might ease some peoples minds about one less racist prick being honored, it still does nothing to improve the quality of life or opportunities for the residents living along it, which is why I hold my belief that its more of a distraction and tool for political grandstanding than a priority. As for the flag, frankly I would love to see the rebel symbol removed from the state flag and all government buildings. Seeing it doesn't make my blood boil as much as it does other people, but I think it would be great if the State would put it in a museum where it belongs, and come up with a much more unifying symbol.

Author

Jeff Lucas

Date

2010-05-06T14:53:28-06:00
ID

157676

Comment

js1976, you keep bringing up the airport. Should we assume you are against it having Medgar Evers' name in it? If so, could you explain why?

Author

DonnaLadd

Date

2010-05-06T15:00:58-06:00
ID

157679

Comment

Since there where several million European and Christian people( both my ancestors) capture by Barbary pirates and sold into slavery in Africa.(Long before there were slaves in the U.S.) I want everything that might remind me of Africa,Blacks,Islamics and anything that can be in the remotest be traced to Africa removed from all history books,streets,buildings,and against the law to even talk about. It offends me and causes me to remember the pain and suffering my ancestors suffered at their hands. While we're at it, I want reparations from England and Italy(Roman Empire) for enslaving my ancestors in Scotland too.

Author

BubbaT

Date

2010-05-06T15:28:31-06:00
ID

157680

Comment

Donna, I've brought up the airport as a rebuttle to Brians statement regarding a democratic majority. As I stated in an earlier post, if the majority of residents and business owners come together and decide to change something, they should have that right. The problem I have is the city council or a select few making these decisions for all of us. Especially when there is no legitmate reason to do so. According to the article it this is exaclty how any future changes will continue to take place.

Author

js1976

Date

2010-05-06T15:29:27-06:00
ID

157681

Comment

The problem I have is the city council or a select few making these decisions for all of us. Especially when there is no legitmate reason to do so. OK, js, let's hone in on the bolded part of your statement. Are you saying there was no reason to name the airport after Medgar Evers, one of the greatest heroes this city has ever known? Could you explain your reasoning there?

Author

DonnaLadd

Date

2010-05-06T16:40:57-06:00
ID

157682

Comment

Bubba, that comment is ridiculous, if you understand anything about the history of our nation. And it's embarrassing. It's statements like that that tell the world that Mississippians have no clue.

Author

DonnaLadd

Date

2010-05-06T16:42:57-06:00
ID

157683

Comment

Bubba I thought you had stopped using that shit. You can't stay off crack if you choose to sleep in the crackhouse. When you come down from the stuff you're on maybe you will telll us what hell you're talking about. Have you been reading Barrett's memoirs or history books of late? I know y'all tried to brainwash and hide the truth from us, but now I'm wondering whether y'all brinwashed you too. Obama ain't got but seven more years, and if you're lucky you may be able to get another Ronald Reagan-like fellow to make your race and sex the chief calling card again, and you and your buddies can all feel high and quite special again. A name change for Jackson is next, Bubba. We're already working secretly toward that end. Once ill Weill is off the City Council we're going for it unanimously. Damn skippy Councilperson Barrett is on board!

Author

Walt

Date

2010-05-06T16:45:58-06:00
ID

157684

Comment

I hear you, Jeff, on the efficacy of spending time changing symbols vs. doing the real work that the symbols, well, symbolize. It's why the JFP hasn't exactly started a campaign to change the flag, etc.; there's too much else to do. But, that sure doesn't mean we can't talk about how disgusting it is. Here's my guess, as more of the racist pricks, uh, move on, and things continue to change in Mississippi, we will have a sudden tipping point. The climate will have changed so much that all of a sudden the majority of people will shudder at the thought that the state hadn't changed the flag, etc., already, the old fools. (And they will be right). They'll change it almost overnight, rolling their eyes at how blind and racist the state used to be. Of course, the more we keep talking about it now, the quicker that time will come. And every statement a diverse group of people, such as on this website, makes about how back-ass all those racist symbols are, and challenge back-ass thinking like Bubba's and Js', the more the rest of the world will see that we're not (all) like we used to be. So, keep on talkin', all. But Bubba and JS, please do not devolve too deep into offensiveness on your attempts to tell justify slavery by saying it happened to your people, too, for instance. We'll give you some leeway to communicate the apologists' side, but if it turns into blatant racism, we'll have to show you to the door. Because this ain't that kind of site.

Author

DonnaLadd

Date

2010-05-06T16:50:06-06:00
ID

157685

Comment

Donna- I understand the history of our nation very well. Why is my statement ridiculous? Why can't I be offend by what Africans did to my ancestors, but Black people can be offend by what was done to them by whites? They aren't the only people who were ever slaves, what makes them so special? How is stating whites were enslaved by blacks in Africa racist or offesive. It's the truth. Only blacks are allow to whine and cry "we were slaves"?

Author

BubbaT

Date

2010-05-06T17:10:14-06:00
ID

157688

Comment

Bubba, we're talking about the actions of specific individuals, not groups of people. If you can name an African who held one of your white ancestors in bondage here in the state of Mississippi within the last two hundred years, we'll name all the streets after you, just to celebrate the miracle. Within the last fifty years, the state of Mississippi was explicitly racist against black citizens. The fact that white people have also been oppressed in different places in the past is completely beside the point. Because we're talking about Mississippi, not Morocco. Move on to a real argument. I have to believe this one is disingenuous, because you can't possibly be as dumb as this argument.

Author

Brian C Johnson

Date

2010-05-06T19:46:31-06:00
ID

157689

Comment

Donna, where in ANY of my posts have I displayed "blatant racism"? Personally I don't care how "back-ass" you believe my thinking is. In reference to the state flag, I'm not alone. Now you can attempt to pick apart my arguments and make an attempt to paint me as a "blatant racist", but I wouldn't waste my time if I were you! I have a problem with the select few making choices for everybody! Why must I offer an explanation for wanting something in this city recognized for someone other than a civil rights activist? Is this all Mississippi is known for?

Author

js1976

Date

2010-05-07T08:23:00-06:00
ID

157690

Comment

You're avoiding my bolded question for you up above, js1976. You seem to be saying that there was "no legitimate reason" to name the airport about Medgar Evers. Can you explain that, please? Why must I offer an explanation for wanting something in this city recognized for someone other than a civil rights activist? Is this all Mississippi is known for? Actually js1976, Mississippi is known for being the most violent, entrenched racist state in the nation. Many of us believe in showing a different side of ourselves that is more representative. Naming the airport after the city's best-known civil-rights activist, who took a bullet standing under his own carport in front of his kids for his work to help the state become something other than a hotbed of bigotry and race violence, seems as "legitimate" a reason to name anything after anyone that I can think of. Unfortunately, though, most of the world thinks this state is filled with people who think like you do, and that is what many Mississippians are trying to change. Attitudes like yours haven't done us any favors, regardless of our race.

Author

DonnaLadd

Date

2010-05-07T08:37:01-06:00
ID

157691

Comment

"Unfortunately, though, most of the world thinks this state is filled with people who think like you do, and that is what many Mississippians are trying to change. Attitudes like yours haven't done us any favors, regardless of our race." I'm sorry you and the world feel that this state if filled with people that have an opinion! We will never agree on everything, so who is wrong? Since my opinion differs from yours, I'm labled the bad-guy whose attitude is bad for our state. Actually I thought Mississippi was know for it's southern hospitality, cotton, and catfish. Oh well, guess I don't know this state very well.

Author

js1976

Date

2010-05-07T09:20:37-06:00
ID

157693

Comment

js1976, it is sad and unfortunate that you are too close to your racism protecting sentiments to recognize them and change for the better. We need you to see the horror associated with your position of discounting the legitimacy of claims aimed at healing our environment by removing insultful reminders of people and times and symbols that take us back to a place when the controlling sentiment of White people sought even scriptural sanctity for mob violence mentality that viewed human beings as bugs to be squashed with no empathy or feeling for the destroyed souls and the implicatons of such public displays where a Black man and woman were suspended from a tree, at the end of a rope, with foul smells of burning flesh sharing the air with visions of tormenting screams and ripped body parts amusing onlookers (who were surely White--shouldn't they have been horrified?....if not, that's scary. Its scarier still to think that that sentiment could possibly live in the hearts of people who posit as you do). Are these the kind of people (names) and mentalities you want to identify with and us to parade and "HANG" (emphasis intended) in our space and adorn our environment? If you need a more sobering vision of this terroristic horror visited on us by the people and signs you add your name to protect, please go to the library and check out and listen to a copy of Billy Holiday's (and Nina Simone's)song "Strange Fruit Hanging From A Poplar Tree!" "....blood on the leaves, blood at the root....black bodies swaying in the southern breeze....strange fruit hanging from the Poplar tree"

Author

doctor daddy

Date

2010-05-07T09:41:07-06:00
ID

157694

Comment

Cotton, js1976? Yes, it is known for our cotton. And it is known for how our state treated the people who planted and harvested that cotton ... for free. It is also known for the fact that our state didn't let go of segregation and subjugation until 1970, officially. (And many would argue haven't still, considering the way our "corrections" system is run, and how it imprisons more black and for longer than it does whites for lesser crimes). You still didn't answer my question about why there is "no legitimate reason" to name the airport after Medgar Evers.

Author

DonnaLadd

Date

2010-05-07T10:25:20-06:00
ID

157697

Comment

All this said, js1976, may I suggest that you spend some time reading (non-apologist) history texts about slavery, Black Codes, Jim Crow and even the colonization of Africa. I know that many people with your views have only been taught a limited version of history because our parents, grandparents and ancestors did not want us to know the full story. I always say that people don't know what they don't know, or haven't been taught, and there is no shame in that. There is shame, however, in refusing to look at the entire history because it doesn't fit your paradigm. I don't mean to be condescending; I am truly making this suggestion with all the respect I can muster. I, too, had to be told that I didn't know everything and needed to go read, study, consider. Bracing yourself and reading the real history can be very freeing and make one a much happier person, because it helps you let go of anger toward people who have come from a very different tradition -- especially people who come from a history of subjugation and are the victims of the white supremacist framework that shapes your arguments. That doesn't mean you intend to be a white supremacist, but you are repeating the excuses and arguments, clearly without even seeing it (the "cotton" comment, for instance). I can feel compassion for people who have no idea they are doing that, and have met many in my life. Many are otherwise kind souls. So please take this how it is meant. Also, should be you a practitioner of the faith that many on this site share, you can easily find biblical support for the idea that it's always good to look at others with compassion first and try to understand their circumstances before declaring that they ought to just get with your program. It is the epitome of white privilege to argue that someone of color should not care about something race-related just because you don't. It doesn't ultimately matter whether you care about it or not if enough others do -- and that is *exactly* what white supremacists and demagogues tried so long in our state to do: make someone with my skin color hate black people, so that we wouldn't get together, love each other and work together to make the state a better place that benefits more than the few at the top (or the companies they lobby for). As I like to say so eloquently: screw 'em. A diverse coalition of people is working together to change this state for the better whether the apologists like it or not. We invite you to join us.

Author

DonnaLadd

Date

2010-05-07T10:41:40-06:00
ID

157698

Comment

BTW, reading Mississippi's Articles of Secession is always helpful in these conversations.

Author

DonnaLadd

Date

2010-05-07T10:47:57-06:00
ID

157700

Comment

Donna, why do you equate recognizing that people other than Africans have been enslaved with justifying that particular instance of slavery? I sure don't see how they are equivalent. Nothing justifies slavery, in any instance, by any group, to any other group. The question (airport names aside) is whether it's feasible to attempt to redress historical wrongs by monetarily compensating the modern day descendants of the aggrieved party. So many question leap to the mind -- what's the statute of limitations on justice for these historical wrongs? Do we stop at the last 200 years? 500 years? 1000 years? How do we properly identify those would deserve compensation? How do we properly identify those from whom compensation ought to come? For example, I'm a middle-class, Protestant white male living in Jackson, MS. By nearly every sociological standard, I "owe" something to the black community for what "my" ancestors did to their ancestors. But the truth of the matter is that my father is an immigrant and my mother is a first generation American. There's not a single trace of my family in Mississippi, in the South, or even in the United States until after 1920 or later (not exact on that date, I'm fuzzy on when my maternal grandfather emigrated from Glasgow to the United States). I do have significant Huguenot heritage in my family, so maybe I ought to be seeking reparations from the RCC for their 17th century persecution of the Huguenots.

Author

Mark Geoffriau

Date

2010-05-07T11:25:18-06:00
ID

157701

Comment

Donna, since you have chosen to beat my comment to death, using the term "no legitimate reason" was probably a poor choice of words. However it doesn't change the fact that I feel the airport is not representing me. Read into that comment however you like. Uneducated, refusing to see both sides, etc. I really don't care anymore, because no matter what I say to defend myself you will still hold the same opinion of me. It was never my intention to direct this thread towards a discussion about the airport. It was about the city council and the decisions that they make. As far as the comment about cotton, am I to assume that some are too thin skinned to recognize Mississippi as one of the largest producers of cotton in the nation? There was no underlying message in that comment.

Author

js1976

Date

2010-05-07T11:56:18-06:00
ID

157704

Comment

Great. I just lost my whole response to the last two comments. I'll try again quickly: Mark, I do not "equate" those things. Again, you are skimming the surface in order to refute and not even grokking what I am saying. I was actually talking to Bubba, I believe, about slavery, calling out some "equating" he was doing that doesn't make sense if you are actually having a conversation about the American slavery institution and attempts to use law and habits like red-lining to prolong white supremacy until just a few years back. Your Huguenot heritage is irrelevant to this conversation about slavery here; everything isn't about you white boys. Sorry. I'm sure "my" people had some people do them wrong back in the old country as well, before they came over and used slaves to help develop the tobacco industry, but that fact has little if anything to do with this conversation. Thanks for trying to derail it with juvenile defensiveness, however. You'll note that I wasn't debating reparations one way or the other, just calling out the misuse of history in a defensiveness way. It's a complicated issue, and I'm not on record supporting you writing a check to a black person to make up for the past (nor are most intelligent people who discuss reparations seriously). However, there are ways to "repair" the fact that black families could not get a home loan or move into certain n'hoods just because they were black until recent years, or have access to the same government assistance as while people, thus disabling them from building the same wealth. There is also a conversation to be had about institutions of wealth build on slave labor, as well as communities destroyed by government-enforced white supremacy in the *20th* century, and how that can best be repaired short of making you write a check yourself. Of course, many of you don't want to have the conversation because you don't care what your/our ancestors gained over an entire race of people because of state law and "tradition," nor do you want to participate in some way in leveling the playing field. The same logic, btw, made sure that "40 acres and a mule" never happened. Just because your family immigrated here later and never owned slaves, btw, doesn't mean you haven't benefited from white supremacy. But don't worry, no one is asking you to get out your personal checkbook. If you want to talk about reparations, at least figure out what it really means, for God's sake.

Author

DonnaLadd

Date

2010-05-07T13:51:33-06:00
ID

157705

Comment

The airport doesn't *represent* you, JS1976!? Why in hell not? Because it's now named after an "integrationist" who gave his life to stop law-enforced segregation and Klan activity in our state? I'm speechless at that remark; it's worse than the first one. And by the same logic, the state flag should come down right away because it doesn't represent so many people in the state, myself included. As for the cotton comment, I'm sure, say, New Jersey has an industry they're known for, but what twisted logic would say they or we should turn around and name an airport for King Cotton instead of a great civil rights leader?! Do you think the Civil Rights Movement was about black people, js1976? Or just for their benefit? The underlying message of the comment was that you are naive about what saying that would mean to so many people in this state. And then you turn around and blame others because *you* don't know or seem to give a damn about hawking the white-privilege line without caring how it comes across. To crib the famous political phrase: It's about the privilege, stupid! It's the privilege and the lack of caring about what people unlike you have experienced and feel now that *is* the problem. In other words, it's not the damn flag, etc., that is so offensive; it's the people who sit here and defend it, believing that other white people are automatically agree with you. If you didn't have at least a toe firmly implanted in the past, you wouldn't get so bothered about keeping the symbols. And the sad part is that everybody but you folks who talk this way know it. Thus, my compassion for you. You don't even know what you're missing on the other side of the race divide. BTW, the race divide isn't about black and white anymore. It's about people who won't to hold onto the past and those who want to create a different future. You're living in the past if you think the government should in any way endorse symbols of white supremacy. And that IS what we're talking about. Confederate flags, etc., belong in museums, not as symbols endorsed by government. Huge difference. And you're living in a special kind of hell if you're so beaten up about the airport because it doesn't represent you. I wonder if you even realize who you're placing yourself in the company of.

Author

DonnaLadd

Date

2010-05-07T14:00:44-06:00
ID

157706

Comment

Mark, the problem is that these comparisons trivialize American slavery. It's fine and well to muse on the Huguenots, but we're talking about the recent history of Mississippi, not the pre-revolutionary history of France. It would be hard for anyone to argue that your Huguenot heritage has any adverse impact on you today. But through the 1960s, the heritage of African Americans was used to prevent them from voting and exercising other civil rights. It was used to exclude them from higher education and access to capital. It was used to justify ruthless acts of terrorism. When the Klan shows up on your lawn and burns a cross to protest your Huguenot heritage, your comparison will make some sense. Until then, it's not a valid comparison. As for reparations, no one else has discussed that issue. We are discussing whether or not it is appropriate to change the names of streets. And the airport.

Author

Brian C Johnson

Date

2010-05-07T14:08:00-06:00
ID

157707

Comment

JS, it's not beating a comment to death to insist that someone answer a question. Based on what you've said, you seem to see politics as a tribal zero-sum game. That is, any recognition of African Americans means a loss for your tribe, the white guys. It's a peculiar way of looking at things. Do you really take no pride in the heroic bravery of someone like Medgar Evers, who gave his life to improve Mississippi? Evers helped both black and white people by contributing to a more just and law-abiding society, which benefits everyone. Both black and white people are better off not having to live in a segregationist, white supremacist state. I share Donna's bafflement and disappointment that you don't feel he represents you. I also remain puzzled by your view of democracy. Somehow, elected officials voting unanimously is some kind of coup in your view. But of course, most of those duly elected officials are black, so maybe you don't feel that they represent you.

Author

Brian C Johnson

Date

2010-05-07T14:22:28-06:00
ID

157708

Comment

No Brian, I've actually just gotten irritated with all of Donna's assumptions about me and my character! My whole gripe was with the information contained within this article. As I have stated over and over again, the airport was as example of something the city coucil changed for no reason. Was it named after a racist? No, how many streets is the city council planning to change just because they can? I think citizens should have more involvment. Never have I stated that we should live in a segregationist state nor do I wish for one. My comments have been twisted to the point that it is useless to defend myself. Study my comments and the assumptions made about me. Then you decide.

Author

js1976

Date

2010-05-07T14:30:40-06:00
ID

157709

Comment

I've actually just gotten irritated with all of Donna's assumptions about me and my character! js1976, this isn't about me. I'm saying the same thing that multitudes of people, of various races, who are going to read your comments exactly as I did, would say. If you don't want to come cross this way, how about some self-reflection on what you're saying. They are *your* words; take responsibility for them. Even in this comment, you do it again: As I have stated over and over again, the airport was as example of something the city coucil changed for no reason. "No reason." Really? Why not work a little harder here? Just ask yourself what reasons there could be for naming the Jackson airport for a Jacksonian killed under his Jackson carport in front of his Jackson children and wife in order to make Jackson a more integrated, less violent place? Seriously, you're not here under your name; take a minute and pretend you're me or Walt or sombody, and post a couple reasons that we might want the airport renamed for Medgar. I truly believe you can come at up with at least one. (Others are welcome to add to the list as well.) Ready, set, go.

Author

DonnaLadd

Date

2010-05-07T14:38:57-06:00
ID

157710

Comment

As I have stated over and over again, the airport was as example of something the city coucil changed for no reason. Was it named after a racist? The airport was previously named for Allen C. Thompson, mayor of Jackson in the 40s and 50s, who made a name for himself by using the "Thompson Tank" to arrest civil rights protestors and turning water-hoses or marchers. There was very good reason to rename the airport. Its name was changed to the Jackson International Airport in the 1990s, and then in the early 2000s "-Evers" was added in honor of one of the great martyrs of the civil rights movement in the United States. The civil rights movement was the beginning of (hopefully) the end of the greatest structural issue this country has faced since its founded -- that, despite the core principle that "All Men Are Created Equal," this country had yet to live up to the creed well into the latter half of the 20th century... remaining, in fact, one of arguably three nations with a legal apartheid regime. We name things for heroes. Medger Evers was one of them. No, how many streets is the city council planning to change just because they can? I think citizens should have more involvment. The story says they want to change from 75% of an areas citizens agreeing on changes to 51%. This is not council fiat -- it's exactly democratic -- unless I'm missing something.

Author

Todd Stauffer

Date

2010-05-07T14:50:58-06:00
ID

157711

Comment

Somebody just sent me this in e-mail, and it bears posting: Will somebody please tall those two Xxxxxx that yes other people have been enslaved over various periods of time, but it wasn't done on the basis of color or race alone and it wasn't sanctioned and condoned by all facets of the law and government. Similarly, those other slaves weren't treated as barbaric as Africans or Negroes were treated, and a person could work them out of slavery after a period of time. In other words, slavery didn't become as inhumane until Europeans decided to enslave Africans starting with Lisbon, Germany, France, Britian, et al.

Author

DonnaLadd

Date

2010-05-07T14:51:44-06:00
ID

157712

Comment

It bears posting as what, a compilation of misinformation? That's about as blatant a case of historical tunnel-vision as I've seen.

Author

Mark Geoffriau

Date

2010-05-07T14:53:56-06:00
ID

157713

Comment

Edited out ad hominem, btw. Sorry.

Author

DonnaLadd

Date

2010-05-07T15:08:07-06:00
ID

157714

Comment

It bears posting to show that there are dramatically different perspectives on slavery, Mark. Why don't y'all put aside pre-conceived notions and talk *to* each other. Try a little understanding and outreach, instead of your own version of tunnel-vision proclamations from on high.

Author

DonnaLadd

Date

2010-05-07T15:10:28-06:00
ID

157715

Comment

Y'all should pick up Tim Wise's book, "White Like Me": From Publishers Weekly Activist, lecturer and director of the new Association for White Anti-Racist Education (AWARE), Wise works from anecdote rather than academic argument to recount his path to greater cultural awareness in a colloquial, matter-of-fact quasi-memoir that urges white people to fight racism "for our own sake." Sparing neither family nor self, Wise recalls a racist rant his antiracist mother once delivered, racial epithets uttered by his Alzheimer's-afflicted grandmother and the "conditioning" that leads him to wonder, for a split-second, if people of color are truly qualified for their jobs. He considers how the deck has always been stacked in his and other white people's favor: his grandmother's house, which served as collateral for a loan he needed for college, for instance, was in a neighborhood that had formerly barred blacks. Resistance to racism, Wise declares, requires support (it's better for a group to speak out against racial tracking than for one "crazy radical" to do it), and that's presumably part of what this volume means to provide. And while Wise sometimes falls victim to sweeping judgments—the act of debating racial profiling, he declares, is "white-identified," because only whites have the luxury to look at life or death issues as a battle of wits—his candor is invigorating.

Author

DonnaLadd

Date

2010-05-07T15:28:28-06:00
ID

157716

Comment

The only accounts I've heard of Africans enslaving white people or Asians occurred as a result of the Whites and Asians encroaching on Africa richest soil areas and then trying to cause division and take the land, which got some of them killed and others enslaved. It is clear that Africans and Native Americans were good people who tried to accomodate Europeans and others as brothers and sisters, and the Europeans and others usually thanked them by trying to slaughter and take their lands. They achieved this to great success in America and arguably with equal success in Africa and many other places. Yet clueless and racist Americans and Europeans frequently ask why Africans live in such desolate and unfertile lands? Many people argue that Asia has robbed Africa to even a greater extent than Europeans. African women even married and had children with white and Asians men to see many of the children turn against them and choose their father's ancestry to the detriment of Africans. This was often a slick attempt to divide from within that worked like clockwork. I have read lots of Wise's writings. He does a great job. I haven't bought any of his books yet though, but I will. Mark, how is the emailer that sent Donna the email wrong? I note your empty comments, but where is the beef or proof to the contrary? We'd like to see that!

Author

Walt

Date

2010-05-07T16:43:11-06:00
ID

157717

Comment

For those interested in actually looking at a more comprehensive history of slavery, I'd recommend Thomas Sowell's works, particularly "Black Rednecks and White Liberals", "Conquests and Cultures", and "Race and Culture". Can't wait to see the Uncle Tom accusations tossed in Sowell's direction.

Author

Mark Geoffriau

Date

2010-05-07T17:08:43-06:00
ID

157718

Comment

Can't wait to see the Uncle Tom accusations tossed in Sowell's direction. A classic troll line if ever there was one. I haven't read the book; I'll check it out and get back to you. If anyone else has (Tom Head?) I'd love to hear an honest opinion.

Author

Todd Stauffer

Date

2010-05-07T17:33:53-06:00
ID

157719

Comment

[quote]A classic troll line if ever there was one. [/quote] Not trying to troll, just wouldn't be surprised, since I've seen it directed at Clarence Thomas, Alan Keyes, Michael Steele, and basically any African-American who publicly disagrees with the Democratic party line.

Author

Mark Geoffriau

Date

2010-05-07T17:36:44-06:00
ID

157720

Comment

Donna- I hope you pointed out to your emailer that they need to do a litte more research on slavery, because what they are talking about is indentured servants not slaves. Slavery wasn't inhumane till whites did it to blacks? Are they really that stupid? Slavery is inhumane period, no matter what race is doing it to another.

Author

BubbaT

Date

2010-05-07T19:28:04-06:00
ID

157721

Comment

Obviously, slavery is inhumane, Bubba. But have you read *your* earlier comments about U.S. slavery? You need to do your own literature search, and not just on apologist sites. With due respect.

Author

DonnaLadd

Date

2010-05-08T09:16:29-06:00
ID

157722

Comment

@BubbaT "While we're at it, I want reparations from England and Italy(Roman Empire) for enslaving my ancestors in Scotland too." You might have a case, except that you aren't currently a citizen of either the Roman Empire or Great Britain. I'm sure Great Britain owes a lot of people money. They enslaved about 4 different sets of my ancestors, as my genetic code is derived from AT LEAST 10 different nationalities.

Author

DrumminD21311

Date

2010-05-08T20:25:24-06:00
ID

157723

Comment

Mark, it's cheap to suggest that we are automatically guilty of something that you've "seen directed" at someone somewhere. I've certainly never called anyone an Uncle Tom on this site, and I know Donna and Todd have not either. I don't know Sowell, though from his profile he seems more a political philosopher than a historian. Perhaps you could explain his relevance. I am amused by his vicious caricature of white southern "redneck" culture, unfair as it is. But how does Sowell's perspective bear on what we're discussing here? Does he argue against renaming streets?

Author

Brian C Johnson

Date

2010-05-08T20:29:48-06:00
ID

157724

Comment

@Mark Uncle Tom

Author

DrumminD21311

Date

2010-05-08T20:56:08-06:00
ID

157728

Comment

It appears now that Donna Ladd's words were prophetic, as the First Lady Michelle Obama used the same phrase this morning in a message to the nation as she wished all women a happy Mother's Day, noting that the President is attempting to "level the playing field," for women who have been treated unfairly when it comes to employment. The first bill the President signed into law was the Lilly Ledbetter Fair Pay Act to ensure that no woman face the same discrimination and injustices that Lilly did after 20 years on the job. When women make less money than men for the same work, families have to work harder just to get by. It appears that the idea of straightening out some disparities that exist in our nation is "also" the order of the day for the administration. For our present focus that includes the same type of 'correction" needed here, when it comes to repairing damages done by slavery, especially the ones that keep us Mississippian's from embracing each other in a greater fashion. Without that "elephant in the room," the world would be startled by the level and degree of creativity that is prevalent in us. So it appears that we are on the right track when we "air" our differences and examine the things that stand in the way of an unencumbered spiritual connection that is already closer here than anywhere else in the nation, as far as my travels across the country reveal. When we get the enslavement caused damages to our people (traumatic scars on both sides of the track)"repaired" and out of the way, watch Mississippi rise like the burning Sphinx in "Mississippi on the Rise." Anyone who attended the Power APAC Ballet Performance at Millsaps last night, or experienced the Mississippi Alliance for Arts Education forum Friday in Meridian (a presentation of MS Arts schools creativity and leadership awards ceremony) is aware of the competitive depth of talent in our children, and the quality of teachers that we are blessed with here in Mississippi, in the arts. Obviously evident in the classical form of creativity produced by our arts schools, when we clean up acts and put our "issues" in order, our children will soar across the nation and abroad with ease in unprecedented numbers. In our case, when we achieve a "level playing field" as our First Lady of News called it, before our First lady of the Nation did, we will be unstoppable and move from the bottom of academic ranking to the top, and in all other demographics that matter as well.

Author

doctor daddy

Date

2010-05-09T19:47:11-06:00
ID

157730

Comment

We're never dull, are we, darlin'? (smile) Happy last 45 minutes of mama's day all. I had a lovely, if bittersweet, one.

Author

DonnaLadd

Date

2010-05-09T22:13:53-06:00
ID

157731

Comment

Well I know who Thomas Sowell is, and yes it is an insult to suggest any right thinking person of any race or affiliation other than a repubican would take anything seriously he says on any topic other than economic, which he supposedly is skilled in. He's as anti-black and unprogressive as Mark, Bubba and their buddies are although he's black. I've never heard Sowell say anything praiseworthy about blacks. Sowell is not unlike Jessie Lewis Peterson, a hired gun and nut, although he's supposedly smarter than Peterson. An uncle tom pretneds to be one of us, lives with or around us, gives nonthreatening lip service to our causes, and the black community accidentally gets some benefit from them as long as the black community keeps the uncle toms out of important meetings or gatherings, else the toms, who are by the way loved dearly by republicans, goes back and tell the republicans black folks' plans toward reaching equality and freedom. Freedom, equality and progress aren't things to be achieved or realized if the republicans can help it. There is a very distinct difference between an indentured servant and a slave, and many people, other than blacks, were once slaves and escaped it after a period of time due to contract, work fullfillment, and other consequences and conditions. Slavery wasn't a permanent status for certain individuals and their offsprings based on race alone and violently inhumane and sanctioned by law, and so-called natural and biblical principles until Bubba nem got involved and took it to a level not yet gone before, with black folks as their new and intended to be permanent slaves. All my good education at some of the country's finest institutions confirms the emailer's claims. We all know Bubba is the one who needs some scholarly uplifting. R.Barrett's, R. Lee's or J. Davis memoirs don't count here, Bubba. The republican party is the modern day slaveholder which is why I've always said Obama needs to stop trying to negotiate and make deals with them. Undoubtedly they're the devils of present day society since they come to steal, kill and destroy. One only has to look to their record of the last 3 times they ran the country if there is any doubt left. Obama should keep his foot pouncing on their behinds. Yes they will cry indignation, foul and error, even righteousness to the gullible, but many of us know clearly who they are by now, and if it was left up to me they would be crying and complaining with a sore asses and much fear.

Author

Walt

Date

2010-05-10T00:23:38-06:00
ID

157732

Comment

Passion is great, emotional responses need o be tempered, alytical positions should be backed by sound arguments and reliable information and research data, but there is no place in a serious conversation and honest debate for nonsensicle retorts. So please miss me and don't burden these "post conversations" with the emotionally charged, prejudicial, "take no blame" and see "no claim" reactions to legitimate causes for Reparations now! Everything that we are discussing about responses to slavery insensitivity, unrepresentative flags, and inappropriate signs on the streets predominantly composed of people (whether they realize it or not) who are offended by certain names placed on the signs in their immediate environment is all related to the issue that will go a long way in repairing damages and healing our community state and nation--Reparations. I am sorry that some don't agree and see this as the most important issue standing in the way of our good health as a whole Mississippi, but I have yet to see anyone present sound logical objective arguments to dispute this claim that needs due process right now!

Author

doctor daddy

Date

2010-05-10T08:05:33-06:00
ID

157733

Comment

"Walt....um sked uh you!" ...you is a bad mutha "shetchomouf!"

Author

doctor daddy

Date

2010-05-10T08:15:30-06:00
ID

157734

Comment

WAlt, you haven't heard Sowell say anything positive about blacks and you won't. Sowell, like Thomas and Keys, is an African-American who has not forgiven his parents for his being born BLACK, POOR and without PRIVILEGE. Sowell was a high school drop out. He went to night school (Federal Socal Program) to earn his High School Diploma. He went to the military. Sowell enrolled in Howard University on a GI Bill (Federal Social Program). Once he realized that he could earn brownie points by dogging out HCBU's he transferred to Harvard. Sowell is known for his "Pull yourself up by your own bootstrings." The laws of physics clearly disproves this ignorant directive from him. The more negative his talk against black folks, the higher his stock went up with certain whites, i,e., Forbes. Thanks Doctor Daddy for your mention of the APAC Dance Recital at Milsaps on Sat. My neice was one of the performers. She has also received many scolarships from all over the country for both dance and academics. Your point is not only very well taken, but, actualized.

Author

justjess

Date

2010-05-10T09:51:37-06:00
ID

157735

Comment

And thank you justjess... and Walt for breaking the truth down so that it is clear for all to see and understand, enabling us to make solid judgements about where we should be directing our focus in this controvesy and in our daily lives. We must direct our attention on/to what it is going to take to move us up off this bottom; I am sick and tired of receiving the butt of injustice and seeing my children slighted and misused and their talents go unrecognized for its genius because of enslavement stigmas, psychological trauma residuals and continuums, and, feelings of racism and supremacy (my 4.o Penn State grad school daughter reports that regardless of how she performs, she is still seen as a Mississippi Hick by too many of her peer because of stereotypical images reinforced by these same sentiments expressed by some of those posting in opposition to changing hurtful signs and offensiive images and straightening out the affects of slavery). We have long been involved with nonprofit efforts to heal our community with viable holistic options and we have identified a plan to help parents influence their children to achieve excellence in academic performance and we have received a plan of action to spread this technology across our state (the very same plan that my wife and I have followed that allows our children to compete on a national academic level in the 90 percentile and above). Yet, such efforts have not received support enough to allow growth and greater public involvement. When my prayers for repair are answered then we will be able to carry out these "restoration to good condition" efforts for Mississippians in a smoother freer manner.

Author

doctor daddy

Date

2010-05-10T10:48:11-06:00
ID

157737

Comment

Conservative (adjective): "resistant to change; reluctant to accept change and new ideas; tending or disposed to maintain existing views, conditions or institutions." From my perspective – and I am white and male – it is an irrefragable statement that our culture is – to this day – one of white dominance and white privilege. I invite anybody who disagrees with this statement to read White Like Me. I doubt seriously I will get much disagreement from most people of color. Given, then, a culture of white dominance and white privilege, "conservative" appears to be, by definition, racist. I lived through the sixties – overtly Jim Crow years. I lived through the seventies – overtly white supremacist years. I lived through the eighties – Ronald Reagan years (see definition above). And much more recently, a vast majority of white people voting in 2001 chose a state flag that represents slavery (and before you argue about what that flag represents, please read the Mississippi Articles of Secession). So, I'm confused. What, exactly, is there to conserve in Mississippi culture that isn't based on white dominance and white privilege? If we're talking about conserving anti-racial activism, right on. But, ironically, it seems to me that anti-racist activism is also driven by white dominance and white privilege – without the latter there'd be much less need for the former. So, I'm asking for real: what is there to conserve in Mississippi culture that's not based on white dominance and white privilege - i.e., racism?

Author

Jack Blasingame

Date

2010-05-10T13:16:05-06:00
ID

157739

Comment

Walt- I have been doing some scholarly uplifting. In my research I have found that, most slaves (no matter what race) brought to the Colonies were freed after a time,like you said, but the establishment of slavery as permanent for any race in the Colonies was not established until a black man Anthony Johnson who went to court to keep his indentured servant, John Castor also black, from being transfer to a white man. He told the court he "hee had ye Negro for his life". The court upheld his claim. That established slavery as permanent and made Anthony Johnson the first legal slave owner in the Colonies. Oh by the way I have never read Ross Barrett's, Robert E. Lee's or Jeff Davis memoirs. :)

Author

BubbaT

Date

2010-05-10T14:31:09-06:00
ID

157740

Comment

BubbaT, ....and your point is?

Author

justjess

Date

2010-05-10T14:36:54-06:00
ID

157741

Comment

Bubba's point apparently is that black people are responsible for slavery, not white people. It's y'alls fault. You blacks should be mad at your own people, not white people, hey, we were just following the precedent you guys set, right? We were perfectly fine bringing you guys over introducing you to the love of Jesus and letting you go to live happy free lives, and then some evil Negro had to enslave you!! We wanted to let you go, but hey, this black guy made it mandatory for use to keep you as slaves and beat you for the rest of your lives. White people were victims here. It's actually us that are owed reparations from blacks, not vice versa. Don't let the liberal left-wing communist socialist fascist terrorist-coddling Jesus hating Muhammed loving radical left tell you otherwise. Btw, justjess are you single? What's your age? Married? Children? :)

Author

DrumminD21311

Date

2010-05-10T14:53:43-06:00
ID

157742

Comment

Jess- Well, Walt said in his post that slavery wasn't a permanent until "Bubba nem" got involved which I took to him mean whites, when actually a black man was the one who went to court and estabilshed slavery as permanent. So in the spirit of scholarly upliftment I thought that was an interesting bit of info. Wouldn't want to blame the wrong people for establishing slavery as permanent, would we?

Author

BubbaT

Date

2010-05-10T14:54:37-06:00
ID

157744

Comment

Drummin- no actually the Babylonians are responsible for slavery. The first recorded mention of slavery is in the Code of Hammurabi from 1790 B.C. from ancient Babylon. Just noticed your other questions were for Jess...LOL

Author

BubbaT

Date

2010-05-10T15:02:17-06:00
ID

157746

Comment

Drummin- I take that back, it would be wrong to blame just the Babylonians for slavery, they just had the first laws concerning slavery . I don't see how anybody can blame slavery on any certain race. Since most evidence says modern man orginated in Africa 200,000yrs ago and slavery most likely started there, you could put the responsible on every race since we all started there.

Author

BubbaT

Date

2010-05-10T15:45:40-06:00
ID

157748

Comment

I can't talk to Duan directly, so would someone please thank him for pointing out my error and assure him it won't happen again. I momentarily slipped, but assure him that he's dead to me once again. (smile)

Author

DonnaLadd

Date

2010-05-10T16:04:20-06:00
ID

157749

Comment

Bubba, I don't know whether to feel sorry for you or kick you off the site for being so offensive and naive about slavery. You're lucky I'm in a compassionate mood -- and am enjoying watching you being a pinata at this party. I swear people are going to think you're a plant, what with your name and all. (half-smile)

Author

DonnaLadd

Date

2010-05-10T16:06:12-06:00
ID

157753

Comment

Y'all...BubbaT is solid in his position and his beliefs, and no matter what you say he is not moved or offended (outwardly)...in fact I think he is having a good time. But for someone reeling from the aftermath of the worst example and most recent form of chattel slavery in history, resolving this issue of slave damages and repair is a serious matter that stands in the way of our wellbeing. Being in possession of facts and data means little if you analyze them from a prejudicial, erroneous point of view, or if you use that research information for the purpose of filabuster and in an attempt to divert dialogue carried on for the honorable intent of affecting change for the better.

Author

doctor daddy

Date

2010-05-10T16:47:14-06:00
ID

157754

Comment

Doctor D.- I always have a good time here, that's why I come and Nothing any one has said has offended (inwardly or outwardly) or moved me. The only person I pay attention to is Donna,anyway. :)

Author

BubbaT

Date

2010-05-10T17:28:37-06:00
ID

157755

Comment

The only person I pay attention to is Donna,anyway. Not even *I* would advise that, Bubba. I wish we could learn you some more empathy, though. I hate that you feel like you always have to defend the white race against real and recent history that all us white people need to face. I know they raise us white folks to be defensive about it all, but it really is higher ground from which we acknowledge others' pain and try to do what we can to help. And it takes a whole lot less energy than constantly defending some really awful stuff that actually happened and still, sadly, benefits white people after people of color. White supremacy is an awful, ugly nut to crack, but we can once we move past the denial stage. Put another way, the slave trade in the U.S. and Mississippi and the Black Codes and Jim Crow laws, and the redlining and discrimination, are our burdens to bear. The real shame is in denying that fact, and looking for excuses when others try to talk about their pain.

Author

DonnaLadd

Date

2010-05-10T17:32:35-06:00
ID

157758

Comment

@Duan Now I'm lumped in with Bubba? How you feel about that Bubba?

Author

DrumminD21311

Date

2010-05-10T22:32:44-06:00
ID

157759

Comment

@justjess I wasn't joking. I'm lonely :(

Author

DrumminD21311

Date

2010-05-10T22:34:25-06:00
ID

157761

Comment

Racist Names, Offensive Images and Accountability for Slavery For the sake of clarity concerning my intentions in posting on this JFP site, let me state emphatically that I do it not for the purpose of ignoring the many blessings God has bestowed upon me and my family, nor for the purpose of whining about and drawing attention to so called problems I may have in my (our) life here in Mississippi; neither is it my intention to use these e-conversations and e-debates as a means for entertaining myself in an attempt to "show off" and disrespect anyone's 1st Amendment rights to an opinion with my writing and debating skills, or as a means of releasing frustrations and seeking "empathy" for wrongs I feel have been done to me and my kind. I come to these heart felt talks with honesty and a serious intent to uncover the factors I sincerely believe have to be dealt with in order for us Mississippians to heal and take our place, not as last, but as first in the Nation. To be sure, I am passionate about Holistic Healing, about writing, about art creativity, and about justice. So, I am caught up in these issues under scrutiny, and compelled to read posted comments, react positively to righteous responses, research topics, and respond to what I believe to be errant positions regarding the nature of reality we face in the aftermath of chattel slavery in our state; a post enslavement reality that dictates a course (for me a holistic one) of action needed to correct the problems caused by injustices of the past (and present) that survive and continue to affect our quality of living here in Mississippi, including the manner in which we are perceived by the rest of the nation. Pursuant to my graduate studies as an Urban Fellow in Public Law, including legal training as result of being a student aid to and researching the controversial rulings of Judge George W. Crockett Jr. in Recorder's Court of the City of Detroit, I bring case history study and legal clause understanding to these discussions that force me to take these considerations seriously, and pray that my deliberations are regarded as such, and that together we can come up with solutions that will help us change for the better. I have always loved Mississippi despite the horrible acts of inhumanity against the slave that the nation colors their opinion of us with, because of nostalgic memories of Grandma's house back in those woods of Prentiss, MS, (and here in Jackson) where we were taught the true meaning of southern hospitality (which we took with us to the north when I was nine), whereby your company gets your bed and you sleep on the floor, while you share watermelon and other healing sustenance from your garden with them, until their visit has ended. This kind of closeness and love for family and friends needs to be preserved and is the humanity that separates us from most of the rest of the country. So, be it known forevermore that it is my intention and mission to be a catalyst to help change the conditions of mind and body that stand in the way of our greatness as we identify things we need to do to soar, including especially, an accountability for slavery, and an employment of Holistic Healing Technology to solve Mississippi health problems.

Author

doctor daddy

Date

2010-05-11T06:27:59-06:00
ID

157762

Comment

This is ridiculous! If the street names offends some people, then fine, change them. But change them to A Street, B Street, C street, Avenue 1, Avenue 2, etc. so there will be NO possibility of offending anyone...and no wasteful, resource consuming, long drawn out debate (which you know there will be) about what to rename the streets! The Council needs to worry about fixing the pot holes in the street, and stop wasting the tax payer's time and money on silly pet projects that have no benifit other than fodder for their reelection campaigns.

Author

The Eskimo

Date

2010-05-11T10:57:18-06:00
ID

157764

Comment

@Duan Half of the time I'm not being honest, just joking, but I was honest about the whole dreamz thing. I get real nervous going to clubs, white or black, as I have problems with social anxiety, but I still go and try to make friends (aka meet girls). I've had a lot of bad encounters at such establishments, fights, verbal altercations, getting bones broken, breaking other peoples bones, getting kicked out, getting physically dragged out, being led off in a stretcher to the hospital out, so I'm always hyper-aware of my surroundings, be it Dreamz or anywhere else. Having a segregated club where race become yet another layer of myself that I have to be cognizant of and paranoid of the repercussions makes my life that much more difficult, so that's why I like to bash "black" clubs on whether or not they allow white people in, because I don't want to be the token one if I go. Just another guard that I would have to put up. I'm about done with Jackson clubs altogether. I'm too old for this as Danny Glover says.

Author

DrumminD21311

Date

2010-05-11T11:07:18-06:00
ID

157770

Comment

Bubba, we are not discussing the phenomenology of slavery. No one is claiming that white people invented slavery, and it is beside the point in any case. Some here have drawn distinctions between indentured servants and African American slaves. However, for the purposes of this discussion, the core issue is the actual, recent history of Mississippi. That is, we are discussing the history of African American slaves, not events from ancient Babylon. Your repeated attempts to trivialize slavery are both ugly and irrelevant. I am skeptical that a black man established permanent slavery, as the story sounds a little too cute. But either way, it doesn't matter because white people established slavery as a major institution. White people imported slaves by the millions. White people established a segregationist, white supremacist state in Mississippi. These facts matter not because they prove that white people are uniquely evil. They matter because they are essential to understanding what we owe to our neighbors. At a minimum, I think we owe black people deference. If an African American finds a street name offensive, we should make a serious effort to hear and understand. I don't know whether to laugh or weep as I watch you apologists scramble from one pile of manure to another. The Babylonians invented it. Everyone does it. Black people started it. Huguenots! Why is it so important for you to explain away the importance of what black people went through in America? Apparently, you still have a lot to lose in facing our history.

Author

Brian C Johnson

Date

2010-05-11T14:48:55-06:00
ID

157771

Comment

Your repeated attempts to trivialize slavery are both ugly and irrelevant. and I don't know whether to laugh or weep as I watch you apologists scramble from one pile of manure to another. Amen, Brian. You always sweep in and say *exactly* what needs to be said. Cheers.

Author

DonnaLadd

Date

2010-05-11T14:52:55-06:00
ID

157773

Comment

DrumminD...if you come to my book signing on the 15th, this coming Saturday, at 404 Mitchell St., at 3pm (until 6pm), please wear a straight jacket,..we'll have none of that crazy brawling sh.. from you..."ha ha ha ha;"...and BubbaT, I don't know about you coming; not recognizing the terroristic tactics of the KKK (there I said it)and the deep traumatic scars they have left in our psyche is almost as scary as a cross burning in your yard in the dead of night, yet not nearly as horrible and terrifying as having your loved one dragged off never to be seen alive again! Are you moved yet?!

Author

doctor daddy

Date

2010-05-11T15:27:46-06:00
ID

157775

Comment

Brian- What history am I not facing? Have I said slavery didn't happen in the U.S.? Nope. Do I think that blacks being slaves here 150yrs ago is any different than Christians being slaves in Rome thousands of years ago? Nope. Neither are important to me because I wasn't even born when they happen.I didn't have anything to do with either. Slavery of blacks in America, It happened, it was bad,it ended 150yrs ago. If you want to talk about actual,recent slavery then let's talk about slavery going on in Africa,the Middle East, and South Asia today, or we could talk about the 7 cases of slavery of Mexicans in Florida in the last 15yrs.

Author

BubbaT

Date

2010-05-11T15:46:29-06:00
ID

157776

Comment

"Slavery of blacks in America, It happened, it was bad,it ended 150yrs ago." But it didn't. It has never really ended. Only when the black population is socioeconomically equal to the white population will I concede that point. By that time though, Bubba will be living deep in a bunker with his guns in the wilderness. BubbaT does make a good point about Mexicans. They are the modern day slaves. I bet at some point in the future they will be calling for reparations, and they will make a louder case than you have black folks because there will be a lot more of them. Hmm, never thought about that did you black people.

Author

DrumminD21311

Date

2010-05-11T16:17:54-06:00
ID

157778

Comment

Brian you have far too much sense to waste it on a Bubba, for the Bubbas of the world, especially a Bubba from the Mississippi Delta, favorite song is not Dixie. Dixie is their second most favorite song. Their all time favorite song is "Make It Like It Wuz." You can't get them to criticize or acknowledge honestly or completely the evils and wrongs of "wuz" because they know that the only thing wrong with wuz is that wuz is no more, and that kills them. Bubba said in his own words, he now only listened to Donna. We know that even that is a lie for Donna has told his bubba-headed behind more times than I can count to stop acting like a Bubba. He used to listen to Ironghost until he took his tired and worn out horse somewhere else. A Bubba is a Bubba for a reason. I know many of them and they're all just alike. Yes, they carry a dome on top of their necks and it appears an elevator and stairs are encased, but there isn't. And in the unlikely event there are those items in existence, they don't work. Bubbas start and end at the same place. This is why I don't waste much of my time with them. I already knew Bubba didn't listen to Blacks! That ain't allowed in the Mississippi Delta where he hailed from. That's why you saw so little justice up there when they ruled. Brian you're an outsider, and the Mississippi teaching of denial and resistance doesn't make any exceptions for an outsider like you either. Some Delta whites get with the times on their own and despite so much teaching to the contrary. I can name you one great female who has done just that. She's not the only one, though.

Author

Walt

Date

2010-05-11T16:33:54-06:00
ID

157782

Comment

Walt- My favorite song is "Hells Bells" :)

Author

BubbaT

Date

2010-05-11T18:50:32-06:00
ID

157786

Comment

"No one can make you feel inferior without your consent." ~ Eleanor Roosevelt

Author

Gadget73156

Date

2010-05-11T22:26:52-06:00
More like this story
More stories by this author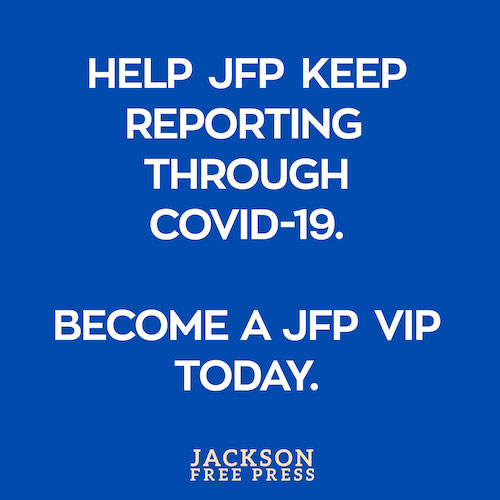 COVID-19 has closed down the main sources of the JFP's revenue -- concerts, festivals, fundraisers, restaurants and bars. If everyone reading this article gives $5 or more, we should be able to continue publishing through the crisis. Please pay what you can to keep us reporting and publishing.