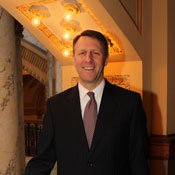 After years of unsuccessfully trying to pass legislation favorable to charter schools, the new Republican majority in the Mississippi Legislature looks poised to get at least one of its bills passed this year.
A bill by Sen. Gray Tollison, R-Oxford, is now in the House after the Senate passed it last week. Tollison's bill would allow for "open-enrollment charter schools," or schools that do not start from an existing public school.
Republicans have tried unsuccessfully to pass similar legislation in years past, but right now, Mississippi only allows schools to get charters if they are rated low performing or lower for three consecutive years. Then, at least half of the parents at the school must petition the state Board of Education to create a charter school.
Proponents of charter schools, like Tollison, say they clear the way for innovation needed to revive America's educational system, such as longer school days and greater freedom in hiring teachers. Tollison, who is also the chairman of the Senate Education Committee, said although the state does offer schools and districts quite a bit of freedom under the current laws, charter schools would be more likely to make needed reforms quickly.
"Any large system like our public-school system is slow to adopt change, whereas a smaller system with this charter concept is quicker to adopt change," he said. "If a teaching method's not working, they go back and figure out what does work."
At a conference last week, Marian Wright Edelman, founder and president of the Children's Defense Fund, said charter schools are not the one solution that will fix the public-school system.
"I'm for high-quality public schools, whether they're charters or traditional public schools," she said. She also said that charter schools should serve children who are already in the public-school system, rather than becoming a publicly funded replacement for private schools.
"I'm not against charters as a 10-percent solution to provide competition for the public schools, where most of the children are always going to be. ... But (we're going to) have to be very, very careful to make sure that the charter legislation is not a back-door way of getting public funds to private, segregated academies."
Oleta Fitzgerald, director of CDF's Southern Regional Office, said she is working with several groups, such as the NAACP, that want to limit charter schools to those that are converted from low-performing public schools, rather than allowing outside entities to get charters to start new schools.
"There's been a sea change in the Capitol, and we don't have a lot of influence in some quarters," she said.
Fitzgerald is also unhappy about the makeup of the education committees in the Legislature, where she said some of the most experienced lawmakers lost their chairmanships under new Republican leadership.
"We have people now making policy that don't know what they're talking about," she said.
Tollison said he based his bill on model legislation from the National Alliance for Charter Schools and tried to take the best practices from different states around the country. He also said that if charter schools don't have support and buy-in from the community, charters won't be able to locate there.
"You have to have community buy-in. The whole concept is, you're educating students in that community," he said. "If parents don't want a charter school in their community, it's not coming. It's not like they're going to go set up in a place they're not wanted."
More stories by this author
Support our reporting -- Follow the MFP.