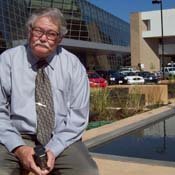 Sept. 30, 2011
Robert Poore, one of the landscape architects for the Art Garden at the Mississippi Museum of Art, pointed to the reflection of the new green space in the glass walls of the Jackson Convention Complex. Although the earliest plans for the garden didn't take the huge virtual mirrors across the street into account, much of the planning did consider refracting light. "It's all about light and from all different directions," he told the Jackson Free Press this morning.
At today's ribbon cutting for the public green space, Poore stood back, almost unnoticed. The play of light bouncing around the Art Garden was part of noted landscape architect Ed Blake's vision for the new Mississippi landmark, Poore said. Blake died last year, but Poore, 62, had worked with him before, picking out species of trees and particular plants for Blake's vision. Poore, who had also sat in the original charrette sessions, knew how to carry this vision out.
"Ed was the intellectual, I tell my wife. I was the groundhog," Poore said.
Poore said Blake liked an iconic element. The tray garden and the terracing in the Art Garden are both Blake signatures. As for Poore, he thinks carrying out Blake's big-picture ideas is his signature. He explained how he and his crew made sure the trays along the western border of the green space each have different colored plants.
"Design is in the details," Poore said.
Poore's landscape business is based in Flora. He's been working from there for 40 years. His father was a tree surgeon, but when Poore went to college at Georgia Tech, he wanted to be an architect of buildings. That turned out not to be what he wanted after all, so he dropped out and worked in landscaping just as he had growing up. In 1986, he decided to go back to school. He went to Mississippi State University to study landscape architecture.
Poore is quick to make sure other people are getting the proper credit. He names Jason Buckley, a landscape architect with JBHM Architects, as an important part of the Art Garden's realization. He also pointed out the various contractors involved, including one who, just minutes before the ribbon-cutting ceremony began, took a bag of mulch and covered up a spot under a new tree.
"Lots of people worked on this," Poore said. "More than just two people made this happen."
Read Engineering Whimsy for more about the Art Garden.
More stories by this author
Support our reporting -- Follow the MFP.