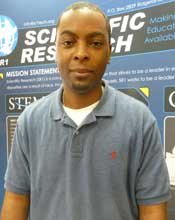 Sept. 21, 2011
Tamu ("sweet" in Swahili) Green speaks with enthusiasm and conviction about his vision for Mississippi. Like a proud parent of a star athlete showing off his trophies, he walks between unopened boxes in his new office in Ridgeland. He describes how the computer equipment and robotics gear will be used for young people.
"It's all about opportunities," he says. "Did you ever think about why there aren't very many Olympic skiers from Mississippi? Opportunity."
After a pilot program in Jackson Public Schools this summer, Green's nonprofit organization, Scientific Research, or SR1, started Sept. 20. It targets more than 24,000 students who qualify for a free or reduced meal program. SR1's staff will mentor students from Murrah, Callaway, Bailey Magnet, Provine and Jim Hill high schools. Also, the staff will host a middle-school program at Brinkley. The objective is to eliminate disparities in health, education and technology.
SR1 tutors and mentors kids before and after school in core subjects such as math and in critical thinking and collaboration skills. SR1 also offers resources for families who want to help a child learn and thrive. This is how Green is bridging the disparity gap.
Green grew up in nearby Forest in a single-parent household headed by his schoolteacher mother. The Forest High School and Mississippi State University graduate is 40 and father of two sons, Rafel, 14, and Keziah, 11, and is unmarried. He coaches Keziah's basketball team of 11- and 12-year-olds for a local league. He graduated from MSU in 1993 with a degree in information systems, and in 1994 he earned his master's degree. Green then worked as an information-technology professional and computer programmer for state agencies including the Mississippi Department of Health and the Mississippi Development Authority.
His approach to changing the world is holistic and one child at a time. With Mississippi at the bottom of many lists, he says, "It will take a whole crusade to turn this ship around, but you have to start somewhere."
SR1 exposes students to STEM activities--science, technology, engineering and mathematics--because Green believes those disciplines are critical to compete in the global economy. He starts with parents and encourages them to get kids to read, eat healthy and get enough sleep. He then looks at the school and finally to the student.
Green says he's staying in Mississippi. "The place where you grow up you should help first," he says. He adds that the most important concept he wants to convey to students: "It is not about smarts," he says. "It is about hard work."
More stories by this author
Support our reporting -- Follow the MFP.