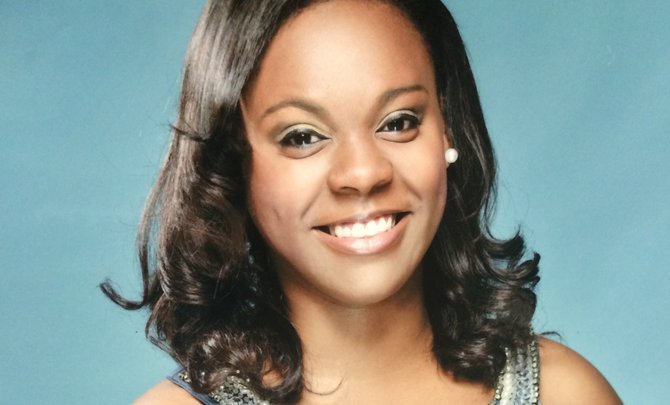 Arekia S. Bennett
by Maya Miller
Senior physics major Arekia S. Bennett is a strong advocate for human rights. The 20-year-old Jackson native is a full-time student at Jackson State University, and in her spare time spends her days fighting for the rights of Jacksonians. Bennett is a member of many campus organizations including the Pre-Law Society, Student Government Association, the Society of Physicists and the Student Health Advisory Council. She's also the president of Spectrum, a gay-straight alliance on Jackson State's campus. She was recently crowned Miss Black Mississippi Coed—a humbling experience. "It still hasn't hit me, yet," she said.
As an activist, Bennett enjoys mentoring young people and actively communicating with state lawmakers and legislators. She believes awareness, education and patience are key to making changes in the community. "You may not be concerned with politics," she said, "but politics are concerned with you."
Antron McKay-West
by Emma McNeel
Antron McKay-West works with Upgrade Mississippi to help voters register and obtain a photo ID. He and two others led a workshop entitled "Voter ID in the 'Sip / My Vote, My V.O.I.C.E." June 24 at the Mississippi Freedom Summer 50th Anniversary Conference.
The 24-year-old was born and reared in Tunica in the Mississippi Delta. He moved to Jackson to Tougaloo College and graduated in 2014. He says he was "born into activism," and his parents and grandfather were involved with the community. Both he and his family have worked with Southern Echo, an organization that develops grassroots leadership in African American communities in Mississippi, and strives to end the school-to-prison pipeline.
McKay-West has interned at Southern Echo and at the American Civil Liberties Union of Mississippi, which protects, supports and extends civil liberties to Mississippians. He wants to improve public education because, he says, "Knowledge is power." He believes it is an essential part of life.
Tamu Green
by Deja Harris
Tamu Green is the president, founder and CEO of Scientific Research (SR1), a nonprofit organization dedicated to helping kids develop the knowledge they need for college access and success.
Green, a Forest native, founded SR1 in 2005. Green said that seeing what people go through every day motivated him to develop the Scientific Research program. Green, 43, is a graduate of Mississippi State University where he obtained his master's degree in business administration.
The organization's programs help kids and their parents excel in areas such as health, education and technology. They give the kids exposure and social skills that they may not have gotten anywhere else. SR1 also teaches parents how to get their children ready for college. Green says that many kids will fail in academics because of social reasons.
"Sometimes you don't know how to respond to certain situations or people, and we want to teach them how to balance academics and social skills," Green said.
When he is not working. He coaches a traveling basketball team for 15-year-old boys, which also is designed to prepare them for college. Green does not see himself as activist.  "I believe in treating people right, correctly and fairly, and it starts at home," Green said.
Jed Oppenheim
by Mary Kate McGowan
Jed Oppenheim's father schooled him at labor rallies in Los Angeles, his hometown and the basis of his activism. The 1992 Rodney King riots and his parents' activism work played a large part in his realization of power inequalities.
"It made me ask a lot of questions about systems of power, and systems of control and oppression. Jumping ahead, I probably didn't realize how dynamic it was to my upbringing until I was a little bit older when my own consciousness took it to a more serious level," Oppenheim said.
Oppenheim, 34, relocated to Mississippi in 2008 after working on President Obama's campaign to work at the Southern Poverty Law Center. He moved to the ACLU this past February, where he serves as advocacy coordinator. He is also a member of the Jackson Public Schools Board of Trustees and vice chair of the high school committee for Alignment Jackson. Oppenheim also worked in Rwanda and Ghana, focusing on education and human rights. This summer, Oppenheim was a Freedom Summer Youth Congress co-organizer.
Patrick Weems
by Mary Kate McGowan
Patrick Weems knew he had to do something when he looked around the University of Mississippi's campus in 2005. "I saw that our campus was really segregated. That bothered me in many ways," he said.
Weems, 28, started talking with his friends and ended up creating Respect Mississippi, which focuses on diversity and inequality. Then, Weems discovered the William Winter Institute of Racial Reconciliation. He began working there in 2006.
Graduating in 2009 with a philosophy degree, Weems worked at the William Winter Institute until 2012. Sumner, Miss., was one of the first communities Weems worked with.
During this time, Sumner was forming the Emmett Till Memorial Commission, which aimed to create racial harmony and reconciliation. Now, he is the director of the Emmett Till Interpretive Center in Sumner, the location of Till's murderers' trials.
Weems said the center uses story telling to explore the story of Till during tours.
"Our main mission is to tell the truth, to give young people a chance to know their history and to use the arts as a way to engage the past," Weems said.
The first story the center tells is of the letter the people of Sumner wrote to apologize for Till's murder and the miscarriage of justice. Weems said it is a "way to acknowledge where we've been but also take responsibility for where we're going."
Then, the center asks the participants to tell the story of the first time they realized race existed. The tour finishes with the story of Emmett Till.
George "Chuck" Patterson
by Jared L. Boyd
The legacy of Freedom Summer doesn't end with its 50th anniversary celebration. Once all the festivities end, one thing that remains is the hard work of those, like George "Chuck" Patterson, 34, who carry the banner of sacrifice that civil rights leaders once carried before him.
The Mobile, Ala., native began organizing events for voter education and engagement as a student at Tougaloo College in preparation for the 2004 presidential election. He and his friends began Mississippi Move to convince 18-to-35 year-olds to take an active role in statewide politics.
Today, he serves as director of campus life and community outreach on the Tougaloo campus. His work is dedicated to melding the college-student experience with that of non-college students. Through projects like Mississippi Greek Weekend, which promote awareness for blood disease in the black community and TC2 Wellness, a health initiative at the college, Patterson's deeds have redefined the culture of involvement at Tougaloo.
Recently, Patterson recruited Albert Sykes of the Young People's Project to handle media for the Freedom Summer Youth Congress. Patterson runs the Congress' social-media accounts and designs its marketing materials.
"One person can only do so much, but if you get some people that believe in the same thing that you believe in, then you can create change, and you can shape things how you, as a community, feel they should be," Patterson said.
Albert Sykes
by Achaia Moore
Albert Sykes is the director of policy and advocacy for the Young People's Project, formed to help eliminate institutional obstacles for students, and also assisted Bob Moses and others with organizing the Algebra Project. The Algebra Project aims to help students improve and succeed in mathematics and leadership skills. The children learn how to work and strategize from a community level. The focus is mainly on educational policy and encourages kids to read their student handbook and recognize how policies their school environment. The program also focuses on statewide educational policies such as standardized testing. It helps children organize their ideas to challenge and create new policies.
Sykes is also co-chair of the Freedom Summer Youth Congress, which addresses issues that people normally overlook. More than 700 kids from across the country are discussing issues such protecting the rights of young minority and LGBT people.
The main topics are education, voters' rights, workers' rights, the minimum wage and the criminalization of people of color in our country. Despite the difference he is making in the community, Sykes remains humble. He doesn't feel like a leader but a person who's a part of a bigger picture.
Fun Fact
On Oct. 14, 1979, an estimated 75,000 people participated in the National March on Washington for Lesbian and Gay Rights.
Support our reporting -- Become a JFP VIP.
The news business has changed dramatically in the past year, and we need your help more than ever to keep bringing you important stories about Jackson and the Metro. Become a JFP VIP with an annual membership or you can Sign up as a monthly supporter. Thanks for anything you can do to empower our journalism!