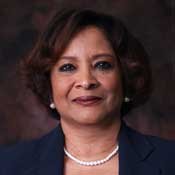 Sept. 19, 2011
Hinds County wants help dealing with a rising population of incarcerated prisoners who suffer from substance abuse and mental health issues. The board of supervisors passed a resolution today formally asking legislators to support the development of a "behavioral health treatment court collaborative" in the 2012 session.
"Jails are becoming mental-health crisis centers," Peggy Hobson Calhoun, supervisor for District 3, said at this morning's meeting. Jails are not equipped to provide necessary health care for drug abusers, alcoholics and the mentally ill, she said, but counties carry the burden of providing that care.
"This is a good opportunity to request help," she said.
County Administrator Carmen Davis read the resolution, citing a backlog of cases plus overcrowding as serious issues. Financially, the county has seen an increase in medical costs for prisoners over the past two decades. The resolution also refers to an increase of prisoners who are HIV-positive.
While more correctional facilities can help the overcrowding, that won't make up for the lack of proper medical and mental-health care, Davis said.
Sen. David Blount of Hinds County told the JFP this morning the issue is definitely a concern, but it is too early for him to comment substantially. He has met with the county once about the collaborative concept and plans to look more into the subject before the next legislative session convenes in January.
Mississippi Rep. Credell Calhoun, D-District 68, who is Supervisor Calhoun's husband, said he had also attended a meeting on the idea.
"I think it's appropriate. Hopefully, we can get something done," he said. "We are not just talking about Hinds County."
Calhoun said he didn't know off hand how much money might be involved with developing the treatment collaborative, but he did say it would be significant. "It would be worth it," he said.
Rep. Bill Denny, R-District 64, said he was too busy campaigning door-to-door, sun-up to sundown, to talk about the issue. "We are right in the middle of a campaign," he told the Jackson Free Press this morning. "I don't want to get in the middle of anything."
In a previous story, JFP reported that it is not easy for the mentally ill to get help immediately. Kathy Denton, public relations director at Mississippi State Hospital, said that residents must first go to a regional health facility before coming to the state hospital. In Hinds County, residents can seek treatment at Hinds Behavioral Health Services, and staff will then decide if the patient should seek long-term treatment at the state facility. It often takes a family member or friend to bring in someone they are concerned about and continue taking them to appointments.
Previous Comments
ID

164992

Comment

It is my hope that this ball will not be dropped. It's about time that the Board of Supervisors and other officials of this State take seriously the issue of the need for mental health access and treatment for the populations stated in the article. There seems to be a real disconnect between the agency responsible for the development and implementation of services to those who have the greatest need: the poor. This State can and must do better in providing services. Jails are not equipped with the things necessary for mental health services delivery. Police officers/jailers are not trained to provide therapeutic services. They are without the skills to do clinical assessments with recommendations for referral to the proper level of treatment. Come on Mississippi. Let's get this situation under control!

Author

justjess

Date

2011-09-19T17:43:42-06:00
ID

164993

Comment

For whatever reason, the number of inpatient beds at our state psychiatric and mental retardation facilities continue to shrink. Our state actually had the highest per capita number of psych beds in the nation in 2005. The "community based treatment" fad has resulted in a cut in inpatient services, while dumping vulnerable citizens into communities poorly equipped to serve them, depleting local budgets and exposing localities to federal charges of civil rights violations when incarcerated prisoners are not adequately treated. The solution? More state funded inpatient facilities and stopping the closure of inpatient beds. Will this actually happen? Doubtful. Check out this report if interested: http://www.treatmentadvocacycenter.org/index.php?option=com_content&task=view&id=81&Itemid=247

Author

Psyclist

Date

2011-09-19T19:40:28-06:00
ID

164995

Comment

I predicted this months ago when the state passed the budget and cut DMH's budget to astronomical levels. But it all goes back to what I've been preaching, why should any of us be surprised when the majority of the citizenry continues to elect politicians that past this kind of legislation?

Author

Duan C.

Date

2011-09-20T07:59:37-06:00
More stories by this author
Support our reporting -- Follow the MFP.