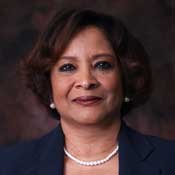 Stories this photo appears in:
Hinds County has received $1.2 million from the Federal Highway Administration to develop the Byram-Clinton Corridor, Hinds County District 3 Supervisor Peggy Calhoun announced yesterday.
Hinds County wants help dealing with a rising population of incarcerated prisoners who suffer from substance abuse and mental health issues. The board of supervisors passed a resolution today formally ...
Candidate
Peggy Hobson-Calhoun is quick to talk about her accomplishments over the last 19 years as a Hinds County supervisor. She began her term as the county's first elected female supervisor ...