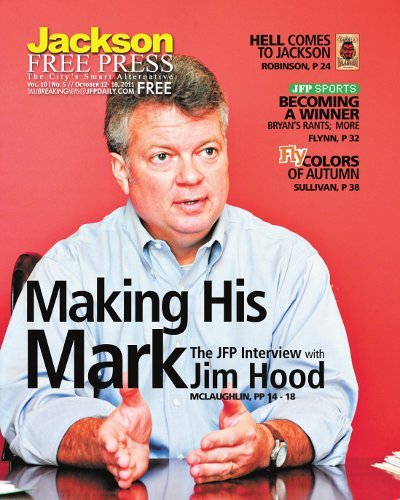 Attorney General Jim Hood appears to be a natural prosecutor, although it was a career path he initially resisted. His father was a Chickasaw County attorney and prosecutor.
In 1977, Hood's cousin, Glenn Ford, was murdered outside a restaurant in Leake County, and Hood attended the murder trial. He says that experience fueled his desire to seek justice and provide services for victims of violence and domestic abuse.
Being a prosecutor didn't exactly help his father make friends, and so the younger Hood was determined to steer clear of the same career path even after he received his law degree from Ole Miss in 1988. Hood's career, however, started in the attorney general's office under former Attorney General Mike Moore where he served as special assistant attorney for five years. In 1995, voters elected him as district attorney for the Third Circuit Court District in north Mississippi where he served for eight years.
In 2003, Hood began his first term as Mississippi's attorney general, and he is currently seeking his third term in office, running against former Department of Public Safety Commissioner Steven Simpson. On Monday, Oct. 3, the two opponents participated in their first and only debate at the Stennis-Capitol Institute Press Luncheon in Jackson. Simpson launched repeated attacks against his opponent. Hood, however, was clearly more interested in talking about his record, telling reporters he wasn't going to engage in a "mud fight."
Since he was elected in 2003, Hood, 45, has established a cyber-crime unit, a domestic-violence unit a victims-services section, venerable adults unit and identity theft unit.
Why are you seeking re-election for AG?
I have a lot of unfinished business, especially in the area of policing the Internet. There is no federal agency that polices the Internet, and it's all up to the AGs. It's a really interesting time to be at the (forefront) of how we police it. I'm co-chair of the National Association of Attorney General's Technology Committee. ... Technology is moving at light speed, and we have to move the law along with it. ... I've got young kids, and I am worried about the dangers of Internet texting and sexting.
The other component is intellectual-property theft—music, movies, software. Also, the counterfeit drugs being sold on the Internet. It's good to be able to be at the position where you can make a difference in how you can protect our children. The Internet has been described as the crime scene of the 21st century, and so it's fun to be able to be at the table and be the co-chair and sit there and work with these companies for how we can better police the Internet.
Another issue deals with our elderly. Baby boomers are getting older. We are having more retiring. This economy is making people take advantage of our elderly—relatives are taking their money and getting powers of attorney. That's a group we have a lot to do, yet, to protect.
Domestic violence is another issue. It really shocked me when I found out about four years ago that Mississippi was the fifth worst state in the nation in issues of domestic homicide, in which a husband kills his wife. We got a grant to establish the domestic-violence unit. ... There is still a lot to do. There needs to be a one-stop shopping situation where (victims) go to one court, and they are able to take care of not just a protective order but also child custody. At some point, we want to make it easier to get help, separate the family and cool them down. ... We have gone from number-five worst in the nation to number 22 in instances of domestic homicide.
One of the changes we need to make in the laws is to make domestic abusers go to counseling, and you'll see that on our next legislative agenda. There are still other changes we have to do, but it's encouraging to see some things work.
When you were younger, your cousin was murdered, and you said you sat through that trial. How did that experience help shape your career as a prosecutor? My first cousin, (whom) I hunted with all the time, he was murdered in 1976. He and his wife were coming out of a restaurant/bar—he was holding her hand, and she was pregnant. Some guy sitting outside with a shotgun shot him in the back of the head with buckshot and killed him. It was premeditated murder. They had been into it about something before.
The guy was charged with murder, but he claimed somehow it was self-defense. When you claim self-defense, you are able to get in testimony about the victim's character. My cousin was rough. He wasn't a criminal, but was rough and would fight and stuff like that.
It was about 1978. I was old enough to understand how victims feel. They convicted (his killer) of manslaughter, and he served seven years in the pen for cold-blooded murder. I understood then how victims feel, and that's why I have been a strong victim's advocate. I had never planned to be a DA. I never intended to be in politics. My dad was a prosecutor in the early '70s. He was a county attorney. ... At that time, the DA didn't have any assistance, and the county attorney served as assistant DA who viewed all the indictments and took all the heat in the county if he prosecuted somebody.
Our county was real bad. It had gambling, and it was a dry county, and marijuana was coming in. We got a new sheriff, and he started prosecuting people, and Dad was who got the heat for it. We had a lot of threats. We had to leave home several times. Our home burned in 1973, and the local crooks took credit for it. We had to leave home a lot of nights and ended up living in a trailer outside our house for a year or two. Then we moved to Houston, where I went to high school.
It was a bad experience being the son of a prosecutor. I rebelled from it. I wasn't about to do anything like that. Even when I got out of law school, I was going to do oil and gas work. ... I interned at the AG's office after college and got to know Mike Moore. He got this unit started, and I started doing narcotics work, and I guess it was kind of in my blood.
Did you question why the murderer got such a shortened sentence?
My dad was the county prosecutor so we knew the DA. ... We knew more about what was going on. probably, than 99.9 percent of the other victims. That's always been tough for me. We were close. He was like my big brother.
How did you view the justice system after that?
It made me realize that it wasn't fair for a victim who got murdered to go on trial. It wasn't fair for a victim to be raked over the coals, and they are dead and can't defend themselves. When I got to be DA, I always kept victims at the front. We never made any recommendations on cases without first running it by victims and the law-enforcement officers.
I wrote a federal grant when I was DA, between trying cases, and got an additional victims assistance coordinator. Dealing with victims is the most rewarding part of the work. That's what I miss about being DA—you hug a victim's neck, and you leave court, and you have accomplished something.
What is it like being the only Democrat in statewide office?
I haven't really thought that much about it. People call our state a red state, but what the difference is, how I see it, is that we are one-third Republican, one third Democratic and a third of people in the middle. (People in the middle) are a swing vote and will vote for a Democrat or a Republican if they are doing the things they appreciate. That was clearly shown by last year's election cycle. There were eight statewide election officials, and I got more votes than the other seven Republicans.
The problem we are encountering now—especially with Citizens United, the horrible decision by the U.S. Supreme Court that allows corporations to buy political offices—what we are seeing now, the difference is the money. ... I've been outspent twice by $1 million each time in my last two races for AG. But if you have the Democratic message of taking care of who Jesus taught us to take care of—widows, orphans and elderly—the party label doesn't matter that much to people. The problem is getting out that message. If you are drowned out by lots of money or nasty mail-outs, that's a major impediment for getting Democrats elected.
Last year, you spoke out against a bill that would require a pathologist in Mississippi to hold an American Board of Pathology certification saying it threatened cases involving Steve Hayne. Can you explain your position?
There has been a misconception, and (JFP managing editor) Ronni Mott did this. ... She didn't listen to what I had told her as well as that other guy who writes for the paper (freelancer and then-Reason magazine columnist Radley Balko). Dr. (Michael) West is someone we have investigated, and I don't support him in any matter. It's not that I have supported Steven Hayne in any matter. What I have said are the facts: When I was a DA, he testified against me in criminal cases. I always found him to do a good job. By saying that, they assume I am just supporting him all the way, which is absolutely not true.
What I have done is form a task force with people from University of Mississippi Medical Center, the presidents of the Mississippi Coroner's Association, the district attorney's association and the sheriff's association and chiefs of police. We went to Arkansas and Alabama and visited their medical examiner's office. We found that Arkansas has 100,000 fewer people than we do and less crime than Mississippi, and they have nine full-time pathologists in the medical examiner's office there. ... Our task force came up with the method to fund nine full-time medical examiners. It didn't matter if it was Steven Hayne or who they hired. We wouldn't have been hiring them; it would have been whoever is over the Department of Public Safety. We took it to the Legislature, and it passed out of the House. We were going to fund it with an additional $13 fee for every citation issued in this state. We knew the Legislature wasn't going to be able to take care of it.
My opponent (Steve Simpson) came over there and said, 'We don't need it.' The result is that we never got the medical examiners office that we needed. ... As far as the legislation goes, what I was saying was if Dr. Hayne has done all these examinations, and say it was several years before—and you know it takes two or three years sometimes before a case goes to trial—then when he goes to take the witness stand, and the statute passes, they are going to be hammering him with the law. And trying to keep him on and qualified in a murder case that occurred before we passed the law will be difficult. ... The second thing about a pathologist is that very seldom do they make or break a case. All they say is the manner of death and cause of death, and that's about it.
Your opponent has criticized you for waiting to file suit against BP (despite Barbour's request not to file). How do you respond to that?
I have filed a suit against BP's administrative process and (claims administrator) Kenneth Feinberg. My concentration has been on our consumers and whether they are being compensated fairly and how that fund is operating. After Katrina, I learned that you have to have a compensation system that works quickly outside the court system. The reason we hadn't filed a suit is that we don't have our evidence. Every good lawyer knows that you have to gather your evidence first. We had all these state agencies that are determining the environmental impact as well as the economic impact. So these are long-term studies. You are talking about a three-year period before you begin to get an idea on our environmental damages. ... For (Simpson) to insinuate that it had something to do with campaign contributions is just ludicrous. Those lawyers don't want me to file a suit; they want me in the middle of it.
Why?
It's called a plaintiff steering committee. It's the lawyers the court appoints to handle class-action litigation. Texas hasn't sued, Florida hasn't sued, and we haven't. Alabama sued initially over the former AG that got beat over there. Louisiana filed a suit just asking for some paperwork and got sucked into it. ... Environmental damages are really long term. You take the (Exxon Valdez oil spill) in Alaska. They settled it two years out. The federal government bullied them into settling. Guess what happened in the third year? Guess who had to pay for it when the herring population died? The state taxpayers of Alaska, because they got rushed into something.
That shows that any good prosecutor gets their facts right before they start throwing out wild allegations. Simpson (acts) as if he is above the law. He has done a lot of things for his personal benefit. There is a difference between personal benefit and campaign contributions, and he doesn't have any proof and just falsely accuses me of. ... He gets this L1 contract and million-dollar deal with this kiosk thing (see Reader's Guide). He doesn't tell anyone about it, doesn't file anything on his report to show that he has signed a contract. There are probably other contracts out there.
Your opponent has also criticized you for not joining a multi-state lawsuit against the Affordable Care and Patient Protection Act. You said earlier this week that Barbour's request to join the lawsuit was "political" and the state shouldn't bear the burden of that cost. How much would it have cost the state to join the suit?
He hired outside counsel—Mike Wallace. I haven't seen the bills lately, but we tried to tell them that we have to keep them down. If we had done it in-house, it would be hard to estimate. I can go back and look to see how many hours Wallace has spent and what we would have actually paid. ... Our rate for the state, what we charge another agency, ... I think its $65 an hour. A lot of these outside lawyers (charge the AG's office) $250 to $125 (per hour). We have to pay more with outside counsel.
It's nothing but a 'me too' political statement, and the law is such that federal courts have that kind of reach into state matters. I don't agree with it. A similar case is that there was a case in the '50s or '40s where this pig farmer wanted to feed his own hogs the wheat he harvested, and the federal government said, 'No, you can't do that. You feeding your own hogs affects interstate commerce.' If feeding your own hogs your own wheat has some impact and draws the authority of the federal government, then don't you think the health-care system, with its cost to our federal government, would be the same? The point is: The law is there for the federal government to do this unless the U.S. Supreme Court changes it.
[Editor's note: Wallace said last year that he would take on the case at no additional cost to the state.]

Do you think that the act is constitutional?
As it is now, yes, because of the Kansas wheat-farmer case. If the federal government has reached into telling a farmer he can't feed hogs wheat from his own land, they have reach into whether you have to have insurance and things like that. ... This is a political thing and will be something that the U.S. Supreme Court should look long and hard at before they go change it. ... I don't know what the court will do, but I wasn't interested in putting our taxpayer money in it. Politically, it would have been easier for me to join it and file a "me too" brief. But I don't see the need of wasting our time and money when it doesn't (make) one bit of difference. The Supreme Court doesn't care whether the attorney general filed it or if the governor filed it.
Your opponent has criticized you for not prosecuting Robbie Bell in the domestic-homicide murder of Heather Spencer. At the time there was no evidence or law to prosecute her under. Explain why that is.
Heather's roommate was also a kidnapping victim, and her mother taught in one of my children's schools and asked my wife to call her and get involved with the case. I was running for AG in September, and I went to the crime scene to make sure we had all the evidence gathered. I was involved, but there wasn't a political announcement. I just did it low key. We were in it to handle the kidnapping part of it.
What was happening is that Faye Peterson was running that fall for DA and got beat, but she went and indicted on the kidnapping and the murder. And she indicted the defendant's mother, Robbie. The only case I had was the murder and the kidnapping. We were going to handle that case, and we did. George Bell pled guilty and got life without parole plus 30 years on the kidnapping.
The (incoming) DA (Robert Shuler Smith) was going to dismiss the charges against the mother. I said, 'Wait. Let our folks work the case. Let's see if we can find any evidence.' His people looked at it, and in order to commit the crime of an accessory after the fact, you have to do something to conceal or assist the person in the crime, which we didn't have any proof that she had done at that point. We started subpoenaing her bank records to see when he left that house to kidnap (Heather's) roommate whether or not he stopped to get money to flee with. We looked at her phone lines to see if she had tried to help him any way whatsoever, like calling the airline. Our folks scrubbed it as hard as they could. The deans of criminal law are over there in my building.
I have supported a bill since I was DA that would have made it a crime for someone to witness a felony and not report it. I have been advocating it every year since I was DA to have a Good Samaritan law. The pushback was, what about some little old lady who sees a dope dealer in her yard and doesn't report it? Are you going to put her jail? We introduced a Good Samaritan bill the year after (Spencer) was murdered. We made it where it would be required under murders and rapes and more heinous crimes.
The problem was we had to follow the law. I didn't like it, but if we went to court, the judge would have dismissed the case. We are going to keep introducing it until we get it passed.
If an attorney donates to your campaign, your opponent has suggested that they will receive a contract with your office. Is that true?
Absolutely not. The media has covered this for years going back to Mike Moore. We have recovered $500 million for the state, and it hasn't cost taxpayers a dime. We have done research of every AG's office in the nation to determine if there is a better system we can have—for an example, a bidding-type system. But what we found is that ours is the fairest and most transparent in the nation. We are the only AG that posts our contracts on our website. ... We have it set up where the people who want to file suit on behalf of the state have to email or contact my chief of staff, and we have a list of who calls first on cases, and that person gets a case. ...
Someone has got to hire the lawyers. That's why our constitution says the AG's office handles all legal affairs of the state. Corporations give money to these politicians who go out and try to stop AGs from filing suits. It's been going on for years. If someone has stolen from people, I swore I would follow the law and enforce it. I have a duty to go get it. If I don't have the lawyers to do it, I have to go hire some who can. We have nine lawyers in the civil-litigation division. They have 3,400 cases right now. They are covered up. If the Legislature wants to give me $4 million or $5 million a year to hire some lawyers, we'll do it. But they don't need to. If this was a Republican idea, they would call it privatization.
Why do we have to hire outside counsel?
Most of these are in-state lawyers that are doing them. Every single one of them has to have an associate and in-state lawyer. The ones I suppose my opponent is thinking about is those securities cases where someone stole from the Public Employees Retirement System, and we filed a suit to try and get our money back. A securities law firm that specializes in that is the one that has to handle those types of cases, because there is not one in Mississippi that does security practices.
Your office has brought in $500 million to the state. Where exactly does that money go, and what is it used for?
Well, like the WorldCom case, that was $100 million, and the check went straight to the General Fund, and $50 million was given to PERS by the Legislature. All this goes to the General Fund. We have the authority to—if it's a Medicaid-fraud case, or different from the type of wholesale litigation—we can keep a percentage of that to pay for our grant to keep the Medicaid-fraud unit going. This is about $1 million a year we have to pay for it, and the Legislature doesn't have to appropriate anything for it.
Your opponent said if he were elected he would form a committee to review who gets contracts and who doesn't.
We looked into that. Some state AG offices, they kind of bid it out and give a percentage to someone who gave them the idea. It's kind of like intellectual property: If you are a lawyer and you bring an idea to a state, you get first dibs at handling the case. But in other states, they have a weighting system.
There are two problems with that system. One is that you are always going to have politics involved, and someone is always going to be able to put their thumb on the scale. In the end, there is only one person who makes that decision, and there has to be trust that that one person will do right. The other problem is if you start bidding out that you are going to file a suit—sue some big company based wherever—if you start bidding it out and say, 'We are going to sue this company,' you don't want the other side to know you are about to sue them. What they will do is run in their court and sue you in their state, and say, 'We want a declaratory judgment.'
There is a reason you don't disclose your strategy, at least initially.
Ballot initiatives were a big topic at the debate on Monday. Don't you have to defend ballot initiatives from challenges because you are the attorney for the state? How much does it matter if you are personally for it or against it?
Those were rabbit trails people went down because that's what the opponent wanted to talk about. It had nothing to do with the AG. State statute requires you to defend laws that are passed. That's insignificant. I think the issues are about, 'What are you going to do; what's your track record?' And it went off on this debate issue. There has been an ongoing debate with me for eight years. What is important are the issues and what you have done.
You drew criticism for posting a statement on Facebook in support of the Personhood Amendment. Can you explain what happened?
I don't operate that account. I didn't intend for us to be putting up statements. It's not like a badge of courage. Whoever is promoting that wanted to know our position, and our campaign manager was going to send a letter, and somehow it got posted on Facebook. It's not that I am ashamed of it, but it's just not an issue in this race. Who believes what about abortion isn't an issue for the attorney general because you have to defend whatever is out there.
If you had to pick one thing that you are most proud of in your career, what would it be?
I haven't' gotten there, yet, but the work we are doing on cyber crime and protecting our children. When I look back on our services as AG, I want to look back and know that I have made my mark. That's probably the largest accomplishment that I hope to achieve.
Related Links
Ronni Mott Responds to Hood on Hayne
Reader's Guide : Wickard v. Filburn
More stories by this author
Support our reporting -- Become a JFP VIP.
The news business has changed dramatically in the past year, and we need your help more than ever to keep bringing you important stories about Jackson and the Metro. Become a JFP VIP with an annual membership or you can Sign up as a monthly supporter. Thanks for anything you can do to empower our journalism!