How old are you?
I'm 36.
Are you married?
No marriage.
Got any kids?
Yes.
How many?
Two.
Give me some names or ages, then.
Well, I'd rather not name them.
Well, alright, how about their age? Are you the haggard owner of a 3-year-old, or the financially defunct owner of a teenager?
Well, I'm only 36. But family stuff ... I'd just ... well, I can give you educational background.
Alright. Where'd you go to high school?
I went to Forest Hill High school.
Where'd you go to college?
I went to Tougaloo College. Then I went to the St. Louis University School of Law, right after college. After I left St. Louis, I came back to Jackson.
You lived elsewhere for a while, didn't you?
No, I came back to Jackson after St. Louis.
What kept you in Jackson? Why Jackson?
My grandfather had always wanted to be an attorney, and he'd wanted to start a law firm at his—what used to be the grocery store. There were actually a few law firms here before. Some of the lawyers that are now judges or former judges, like Reuben Anderson, Fred Banks, they were located in the same office space that I'm in right now. ... I've always been interested in social and economics change through justice and the legal system. I have a real passion for Civil Rights and continuing the social economics development of diverse communities and a diverse business community in a racially polarized section of the country.
... There were many times that I wanted to leave Jackson for other cities because it seemed like progress was very difficult here socially and economically. Most of my friends who were here during college ... could not wait to leave, which is unfortunate, because they would have contributed much to Jackson. A good friend of mine ... wanted to come back, did come back for a while, but the environment did not seem to provide the kind of—well, it was not conducive for the progressive thinking ideas that he had. He stayed here for about two years. He stayed as long as he could. He was a professor who felt that this area did not have enough research capabilities. ...
You're clearly intimate with the area around JSU. After desegregation, it seemed like a lot of profitable people in the community moved on. Got an opinion on that?
I think pathological complexes were so instilled in the black community that it was only natural to seek better services, so to speak, or services that had been denied. Same thing with schools. If you're aware that a particular school is not as prominent and well funded as another school you're going to want to desire the school that's well funded. It's only natural for the black community to want better.
I hate the result of this was the decay around the JSU area.
Yeah. That depresses me, too.
Tell me about your family. I understand you have some relatives who factored heavily during the Civil Rights Era.
Both my grandfathers were ministers. The one involved in Civil Rights was Robert L.T. Smith. He was very active in state politics and the Civil Rights Movement. He was one of the first litigants against WLBT when he ran for congress in 1964. That's when the station would not air his television ads and he petitioned the Civil Rights Commission in Washington and provided proof that he was discriminated against and he filed suit and the FCC took the license away from WLBT. That's when the ownership changed hands.
What unique talent are you bringing to the DA's office?
My unique talent is both prosecutorial and defense experience. I have tried most felony cases in state court and a number of cases in federal court. I was involved in a case (in 2004) that was very meaningful to me, in Tunica... This was a white female with an employment issue with the Grand Casino. We won, and the Supreme Court reversed that case, but it was still meaningful because the jury gave us a verdict.
Under whose auspices were you working as a prosecutor?
The person that hired me was Terry Stone. He was the city attorney under Kane Ditto. I was there less than a year. ... When I first came back to Jackson I went to a guy named Tom Fortner, who had a great reputation as a public defender. A position came at the prosecutor's office. At the time, I wanted to be a litigator, whether it was the prosecution or defense, because ... you pick up aspects of litigation by being in the courtroom. Tom Fortner came over to city court and made a motion for me to give him a call when I finished court, and I was excited, because I knew that he must have a position open, and I took the job very soon after I met with him.
What kind of cases do you try as a city prosecutor? This is how ignorant I am.
As a city prosecutor, you try misdemeanor offenses. Some drug offenses, traffic tickets, some assaults, DUI's, shopliftings, and some of those cases are bench trials, and some of them are jury trials in county court.
And to make you repeat yourself: You did this for how long?
Less than a year.
What other prosecution have you done beyond your prosecution experience with the city?
I have not done anything beyond the prosecution I did with the city. I immediately went to the public defender's office after that.
Why would you want to be a DA?
My Mom and Dad live in West Jackson. I have a lot of relatives and friends. If we don't believe that leaving is an option, then it doesn't matter how well you're doing here. If you have an overall progress of your society then you will render yourself to public service. I think most people who are in a business or some service-related career had an interest in serving the public at some point. There's only so much you can do as a private citizen, and when the public is in need, from what I've been hearing, the public has been crying out for good representation in that office. I thought that with my experience as both a prosecutor and a general litigator, that I can make a difference. The idea of serving the DA's office would be an honor.
What drives you to pursue the DA's office? You're saying the neighborhood cries out for it? What is the state of the neighborhood?
We've all been a victim of crime. I've been a victim of crime, my parents have been a victim of crime. Everyone has a right to a fair trial, but when people have the perception that they can no longer live here, then that deteriorates the neighborhood, like the one I live in. The overall effect of not getting involved ends up hurting you more than it helps. It hurts to just sit there and watch the deterioration.
Are you ready for the street level criticism that comes with it? When crime goes up, the third thing they point to, after the mayor and police chief, is the DA. Why would you want to bear that?
Again, I think that I can make a difference. That's what I believe I can bring to the table.
What kept you from pursuing the office before now?
Four years ago, I was just starting my private practice.
You're a very successful defense attorney. Are there any cases that you've been particularly proud of?
I was very pleased about a tax evasion case in federal court that we won against the Not Here Foundation. The Not Here Foundation is a non-profit organization that helps thousands of youths. Many governors, presidents, even (former Attorney General) Mike Moore was a big supporter of the Not Here Foundation. Many people recognize the value of that organization, and they were charged with tax evasion for 1999 and 2000. They had paid back the money from 1999 but they still indicted them for 2000. The government entered into a payment plan, and they were paying on 2000, and I couldn't understand why they were being treated differently than others who had entered into similar agreements. Because of the value of that organization to my community I was determined to try my best to clear them of something that I didn't think they did (on purpose.)
Did they call you, or you called them?
They called me. I was also proud of the first case I tried as prosecutor because that case had resulted in at least one mistrial by the time I got there. So, as a new prosecutor, it was a case that had gone either way. It was a shoplifting case where this guy had a very good reputation. I obtained a conviction on that case.
Do you think there's enough of a similarity between the prosecutor's office and defense that you can make the changeover? It seems a bit of hard work to affect this kind of role reversal. There's a big difference between composing a case, and picking it apart and establishing reasonable doubt, right?
When you take a case, whether it's a civil case ... if you defend a company you prepare that case to represent that company and prepare a defense for that company. If you are representing an injured person, you prepare a case representing that person injured. If you are prosecuting a case, you prepare that case for conviction, and the rules of evidence, which is what is really important--the rules of evidence are the same for both defense and prosecution. We have the same manual for the rules of evidence. There is a difference in terms that the prosecutor has a burden to prove their case, but if you have to prove your case that's what you do. You prepare the case to prove that the person is guilty of a crime, and it involves knowing the rules of evidence, and being able to communicate with witnesses and the jury. When you take an oath to represent one side or the other you prepare your case accordingly.
So, am I accurate when I characterize the difference between the two as building a case versus picking somebody else's case apart?
There are many prosecutors who have defense trial experience. There are lawyers in the DA's office right now who were public defenders, and there are former prosecutors who are making a good career in criminal defense. So to have that knowledge helps to understand both sides.
So, for example, you're trying to put a top on a gang-related murder—knowing how shady these gang-related cases can be with their unreliable witness testimony and so on—you think you've got the experience to put something together that would convince a jury.
Absolutely. When you're preparing a case for defense you're talking to the same witnesses as the defense, and then you have your own witness. A witness is a witness, period. If you identify a witness as a prosecutor or defense attorney that's not good for you then you're not going to use that witness.
What kind of changes do you want to make in the DA's office?
I would want to restore the reputation as a prosecutor who will litigate cases and the reputation of a litigator who is well prepared and who strive to win every case in order to put fear in those in the streets who have a mind to commit a crime. The same reputation that some of these same guys have in other counties. Some (criminals) fear committing crimes in other counties simply because of the reputation of law enforcement and the district attorney's office.
I'm not going to say the surrounding guys don't do their job well, but they do seem to have less of a docket than Hinds County, meanwhile, we only have about 11 ADAs. How do you plan to handle that kind of situation--11 ADAs, 2,000 cases on an average docket?
I think that you take what you have and you improve on that as you work with the Legislature and the board of supervisors and the sheriff's department, but you make sure that all of your assistants are well prepared to carry that caseload and move the docket accordingly.
Is there anything you can do to affect the relationship the office has with the local police force and the sheriff's office? If you could point your finger, what's the incumbent doing wrong?
I don't think I have a problem working with the sheriff's department or police departments. When we're trying cases, even on the defense side, I try to communicate with just about everyone else involved. So, I don't have a problem communicating with law enforcement and making them feel comfortable and confident that their case will be handled properly, for the hard work that they do.
How do you plan to help local police assemble their cases for prosecution? Did you make such a claim at Schimmel's recently?
If you are working alongside law enforcement as much as possible on that case before it goes to trial then you'll be well prepared ahead of time to deal with some of the things that--in order to avoid last minute preparation.
Do you have any experience in accounting? The DA's office seems to be just as much about making ends meet as it is prosecuting cases. You virtually have an annual fixed income from the state upon which to base your whole office.
I have a degree in economics, and I have had some accounting at Tougaloo.
I didn't know that. Was there a time when you were considering being something other than a lawyer?
Actually, I had planned to be both an attorney (and an accountant). I had always been interested in business and economic development as well as being a lawyer.
So, you're ready then to sit down and work out the DA's budget every year, distributing the money where it needs to go and so forth?
Absolutely. We do that every day in my office.
You own your own business, right?
Absolutely.
Did you have any ideas yourself on better making ends meet?
It depends on what you're applying the money to. If you're talking about existing cases where the police department has worked the case for prosecution, I mean, they have done their part in gathering the evidence and preparing the case for a grand jury. Again, because that's such a broad question, it depends on which area you're trying to apply the funds.
You're saying it's more a matter of better applying the funds you have instead of bringing in new funds?
Well, that also, but bringing in new funds is always some thing the district attorney can do. A DA can and will be acting as a lobbyist to bring in more funds and to assist other agencies in kind to improve the judicial system.
So, you're hoping to make some decent connections on the county and state level?
Absolutely. It's about locating sources of funding applicable to that office, whether its state, federal. It doesn't matter as long as there is funding available and it is implemented toward prosecution.
Is the backlog of cases still too high for you?
I know that there's always room for improvement. If there are others in the jail who have been incarcerated for a number of years without trial then, yes, there is definitely room for improvement there.
What can you do about it?
I think you can prioritize some of your older cases, and divide those among the judges that you have and expedite those first.
How do you feel about the court facilitator? Are you ready to replace that with a new system?
Sure, like I said, any manpower that assists in tracking the caseload is helpful, but I would also say that the police department and other law enforcement agencies could use a liaison, a particular attorney who could assist with questions at the preliminary stages of the case.
You'll be trying to keep a facilitator system, then, yes? We've gotten a warning from the incumbent that she's probably taking her system with her when she leaves. Are you ready to replace it? Because it sounds like you'll have to.
Well, sure. There are always creative ways to--you're saying that will no longer exist?
It might not. There's always a risk when losing a department head that many aspects of the retiring system jumps out the window.
But what I'm saying is that if it's helpful to the county then it will remain there.
What's your relationship with Ed Peters? How long have you known him?
I've known him for a good long time. He was a good friend of the family when they had the Byron De La Beckwith Case. My grandfather was a witness in that particular case.
Was he a good DA, you think?
Yeah. Someone did the research that he had a 90 percent success rate and it appears that he pleased a lot of the constituents. He had no opposition, so that speaks a lot to his abilities.
(Smith later attributed the "90 percent" figure to The Clarion-Ledger, but didn't know what it entailed.)
What's your reaction to Peterson's criticism of Peters' abilities? She likes to parade the 4,000-case backlog waiting for her when she walked into the office. She claims that he cherry-picked his cases (for cases easy to win).
I would say that it was probably unwise to criticize someone who helped her get that office and helped her to understand the operation of that office.
Did you say at the Schimmel's forum that you were coaxed into running by Ed Peters?
Let me say this: I wouldn't say coaxed. The Indian community (of Jackson), for instance, expressed to me a desire for better representation in the office. The person they would go to often would be the former district attorney. And so, in general conversation with many people, including Mr. Peters, he's just one person with whom a majority of citizens would go to.
...
In response to the accusation that Mayor Frank Melton put you up to run, you had said that you had decided to run before Melton was elected mayor. What's your reaction to the mayor shouting out an endorsement of you at public events?
That's what he's doing?
I've heard it described to me. Do you think he's hurting or helping your campaign in this?
My support is so broad. It consists of people who have confidence in me as a trial lawyer, it is the people understand the legacy of our involvement in civil rights, it is the people who are crying out for better representation in office, business owners, community leaders. It just so happens that Melton is a pretty prominent figure in the news these days and so I'm not finding, other than maybe a strategic distraction by Miss Peterson to try to put that out there, but as far as someone being able to say that he's heavily involved in my campaign, that can't be further from the truth. I don't see anything of the sort. I represented one of his bodyguards recently, but I don't see Frank saying, 'Robert, go run for DA.' That's ridiculous.
Do you find your career as a defense attorney affecting the race? I'm sure people point to your defense of one of Melton's bodyguards in the Ridgeway case as an indication of an alliance with the mayor. What's your reaction?
I was hired, just like I was hired in any other case, because a person believed that I could do the job. Nobody hired me because of a religious or political reason. Marcus Wright wanted me to represent him. He didn't want anyone else to represent him because he believed that I could be the person to successfully represent his case.
You'd said at Schimmel's that if you were presented with a believable case against the mayor, you wouldn't hesitate to put it before a grand jury. Do you stand by that still? Suppose we had a felony case with multiple witness accounts. Would that be a "believable" enough case?
If the sheriff's department or the police department signs an affidavit saying that they believe a crime has been committed and that case is to be presented to a grand jury, then you have an obligation to go forward on that case.
Ed Peters once refused to prosecute an abuse and corruption case regarding the city juvenile facility presented to him by police Chief Jimmy Wilson. That case also contained allegations against Melton. Some alleged an alliance between Melton and then-facility head Frank Bluntson. Any thoughts? Should anybody be suspicious that Peters' endorsement of you is an indication of any alliance to Melton?
That was way before my time. I totally don't know about the background on that. I wasn't even an attorney then.
The suspicion is that Melton is not above having friends in the DA's office, and Peters' endorsement of you weaves a slight connection, I guess.
Let me ask you this. Here's the thing. Who do they expect for them to endorse? That's the thing about places like Jackson. We can't move forward if we can't determine who's the best candidate. All of these issues that distract from the real issues only hurts us. Who is the best candidate for this job? That's the question. Any other collateral issues that don't help with making the community safe is a deterrent.
This is the part where you get to bring up the things I didn't ask about. Consider it free time to speak on issues that haven't come up yet. Anything you want to throw in there?
I'd like to address that issue of me being at Melton's house (the night) before the 'Batman' trial. No. 1, that was a case where Melton was the opposition. Okay? I was going against what obviously he wanted. He wanted a conviction and I defended a client that he very badly wanted convicted.
I represented James Benton, and Randy Harris represented Batman. (Melton) had a witness at his house that could have been a witness against us. As a lawyer, when you have a witness that could be key to your case or hurt your case you have an obligation to interview that witness. That witness was staying at his house. My understanding that that was the only way I could interview that witness because he was supposedly under some kind of protective custody under the mayor.
Was that really bona fide protective custody?
I don't know. That was the only circumstance that I was presented to speak to him, and that meant going to the mayor's house or the jail or a particular area of town then that's where I'm going to go.
And the witness was?
Christopher Walker.
Did your conversation with the witness or Mr. Melton change the trial in any way?
Well, you interview the witness and you determine if he will harm or help your case and you notify your client. You have an obligation to your client to explain the evidence and the witnesses ...
I see. Any other issues or goals you want to bring up?
I think working with law enforcement on tracking certain defendants when they get out and are not qualified to be out of jail.
Would you like to expound on that?
If somebody is not eligible for bond and they bond out, there will be a means to track them.
...
You had mentioned earlier wanting to focus on property crime cases. Any idea how to redistribute more property crimes onto dockets?
You distribute among your assistants and yourself which cases will be handled and try to expedite those that are assigned.
...
The following is a portion of a conversation Donna Ladd had with Robert Smith on July 24. She called to ask him why he was listed as Michele Purvis' campaign manager as recently as January 2007, and whether he had actually planned to run two years before as he had previously stated. The conversation picks up from there.
Definitely, oh man, way before. My consideration came years ago. That was not a secret, and so like I said I was going back and forth with different practice, whether wanted to do other things, considering everything. She came and asked me, I will do it not really as your campaign manager. I don't have the time really. She said, no, I just want your name. And I say, I'll tell you what I will do. If I can find the support, then I'll do it. I'll go ahead and do it. Some of the others are saying, "No, you shouldn't do it. If you decide to run, it's going to be a big mess later."
Who (was saying that)?
Oh God, everybody. Family, friends, supporters. One day (Purvis) came and said, "OK, sign here." I signed it. Listen, if I can't find support, I'm going to have to get out. … I could not find the support, OK. Then others who have talked to me about my candidacy, hey you'd be a good guy to do it, tried cases, been on both sides, yada, yada, yada. So eventually ... I didn't particularly agree with the way they were going to run their campaign. Totality of circumstances, didn't want to be a part of that campaign.
They? You're the campaign manager—who was Purvis' support base?
The same people you see in her camp.
Carolyn Redd? (Melton's sister-in-law)
No, hang on. Watch this. When first started, there was nobody in the room but me and (Purvis). I didn't know anything about where her support base was going to come from … not talking to anybody in her camp. Later on, others (supporters) came from mostly the city, like Stephanie (Parker-Weaver). Carolyn has never been in my office. I can't say Carolyn because I don't know.
You know that many people say that Redd is helping her campaign?
Yeah, I'm aware of that.
You were head of her campaign, you obviously know who is supporting her. If she's being supported by people from the city, I'd think you would tell me that.
You know Winston, police officers, detectives, (I attended) no meetings in the very beginning. There was nothing there. She just wanted me to be her campaign manager, wanted my name to be down there. Not to manage her campaign, but have my name down there.
What did Mr. Peters think about you becoming her campaign manager?
There again, I don't think many people who supported me thought it was a good idea. I thought I was helping. I was undecided about jumping in at one point of the other, I kind of succumbed to the pressure. She came in and said, "Sign here." I don't think anybody thought it was a good idea.
You've made it clear that Ed Peters asked you to run two years ago.
I don't want to say, he solely said ... most persons who are dissatisfied (with the DA) would come to the former district attorney, he's been in that office. It was a number of people who were not satisfied with the current administration who came to him and there were others, like detectives and people in general.
Any names?
(Laughed.) I don't want to necessarily …
Why is all this such a secret? That's what I don't get.
There is no secret. You call some detectives' names, and you have to work with that officer …
OK. So you've telling me that there were detectives not happy with Peterson going to the former district attorney to get him to get somebody to run against her.
No. No, no, no, no. Donna.
That's what you just said.
I'm simply saying to you that the fact that my interest was out there in general, the fact that I was contemplating it, there were others coming saying, that's a great idea. I'm not saying that this person, or that person, tried to get me to run against her. That did not happen. OK? So, don't …
I'm trying to sort it out. You did say that they went to Peters because they wanted to get somebody to run against her.
There were a number of people, ordinary people … I'm saying people in general being unsatisfied, they would most likely go to the former DA.
Why?
He ran that office. And obviously they would come to him about things that could be improved in that office …
Previous Comments
ID

81843

Comment

The other two transcripts on the way. And I may have more to add to this one.

Author

DonnaLadd

Date

2007-07-31T18:52:30-06:00
ID

81844

Comment

God told me to take tomorrow off from work. He's cool like that!

Author

pikersam

Date

2007-07-31T20:33:28-06:00
ID

81845

Comment

Are you the haggard owner of a 3-year-old, or the financially defunct owner of a teenager? That sounds so, so - Adam. LOL Are you ready for the street level criticism that comes with it? When crime goes up, the third thing they point to, after the mayor and police chief, is the DA. Why would you want to bear that? Again, I think that I can make a difference. That's what I believe I can bring to the table. Was the question answered?

Author

LatashaWillis

Date

2007-07-31T21:30:26-06:00
ID

81846

Comment

That's what we call an "Adamism" around here.

Author

DonnaLadd

Date

2007-07-31T22:23:13-06:00
ID

81847

Comment

Good interview. Made me feel like I wanted to vote for Mr. Smith

Author

dpsmith

Date

2007-08-03T09:19:35-06:00
More like this story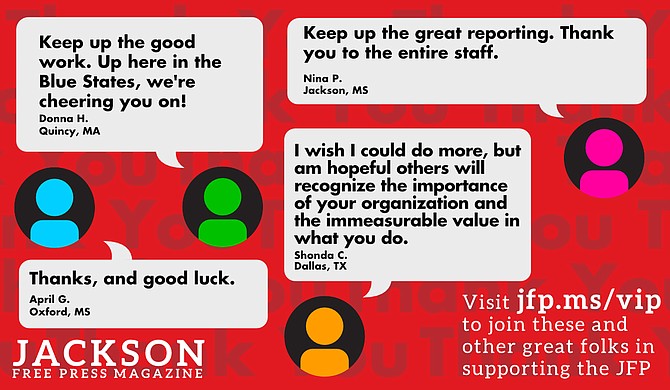 Thanks to all our new JFP VIPs!
COVID-19 has closed down the main sources of the JFP's revenue -- concerts, festivals, fundraisers, restaurants and bars. If everyone reading this article gives $5 or more, we should be able to continue publishing through the crisis. Please pay what you can to keep us reporting and publishing.