The GOP candidate for attorney general talked to the Jackson Free Press in his offices in Ridgeland. This is the full transcript of the interview.
Web Exclusive
by Jesse Yancy
Nov. 3, 2003
When Mississippi Attorney General Mike Moore announced this past February that he would not seek re-election to a fifth term, his decision opened up yet another statewide elected seat that had been vacated by a Democratic incumbent; State Treasurer Marshall Bennett had said he would not run for re-election the previous month. As the race for Mississippi's chief legal officer and advisor for the state comes down to the wire, the race has been marked by a series of claims and counterclaims between the Democratic candidate Jim Hood and Republican hopeful Scott Newton. The latest disputes include accusations of distorting court records and a fracas over campaign signs.
Republican candidate Scott Newton is a sixth-generation Mississippian who began his career as an FBI Agent, and later served as a Federal Prosecutor. A graduate of the University of Mississippi and the UM School of Law, Newton is a member of the Greater Jackson Law Enforcement Association, the Mississippi Leadership Council, the National Rifle Association, and a Board Member of the Mississippi Leukemia & Lymphoma Society. He and his wife of 10 years, Kathy, live in Madison County with their two daughters.
Newton maintains that his experience both as a federal prosecutor and an FBI agent gives him a "two-dimensional" edge as a candidate for Attorney General. He also stresses his ability to perceive the "big picture" when it comes to investigating and prosecuting crimes. Newton's proposals include the establishment of satellite offices of the AG's office around the state to aid in the prosecution of drug and drug-related crimes (which he maintains are by far the majority of violent crimes committed in the state), a five-year mandatory enhancement for any felony involving a firearm, the defense of tort reform legislation against constitutional attack and the establishment of two positions in the AG's office which would address the needs of the victims of crime.
The Jackson Free Press spoke with Newton at his campaign headquarters in Ridgeland.
JFP: As Attorney General, how would you work to improve the lives of the people in the state?
Newtton: That's the very reason I'm running. I'm running because I believe it's government's top responsibility to insure the safety of the people it serves. We have said throughout the campaign that our top priorities are violent crimes and drug trafficking, so we will prosecute those cases vigorously.
We'll do that by doing several things. We're going to initiate satellite offices throughout the state. They will be manned with prosecutors and investigators, and they will be used to support local law enforcement and district attorney offices. The idea comes from the fact that FBI offices and U.S. Attorney offices use the same system effectively. So I don't see why we can't use it within the state. We have 115 lawyers (in the AG office) in Jackson; we can better utilize those lawyers and offer more accountability to the public by having them spread across the state.
The idea is driven by the fact that eighty to ninety percent of crimes are drug-related. Various studies will say eighty percent, but drug court judges have told me it is closer to ninety percent. So we have to have a focus on that, on crime and drugs.
How are you going to go about setting those up, and what about funding?
I have talked with some local municipalities who have told us they would be willing to give us the space for free. I'm not aware of the state law on that issue and how we can do that, but I don't think we're talking about something that's going to require a lot of funding, because we're talking about people who are already in the office. I'm aware of a couple of guys who commute every day from an area we'd like to do on the coast. Those special assistant attorney generals would love to drive from their homes on the coast to the Gulfport of Biloxi areas and have their offices right there. I don't believe we're talking about a large expenditure here.
The concept is that where often the local law enforcement is putting together a case that involves a drug dealer on a corner, what we're trying to do is to take that up several levels by having someone who has not only state contacts but federal contacts to make bigger cases on the drug front.
You've said you want to make better use of private prisons in the state.
That's going to be more of an issue for the governor, but I've addressed that in regards to the issue of prison overcrowding. One thing we want to do, particularly in the Jackson area, Haley Barbour made a similar announcement about ten days ago, and we've been talking about the same concept for the whole campaign, and its two different ways to address the problem. He's been talking about requiring the AG to prosecute cases, and we've been talking about that the whole campaign. How we would do that would be under the state grand jury authority that we have to prosecute drug and related crimes. We can come into areas like Jackson and prosecute violent crime and drug cases under that authority. But we will work with the DA offices in these areas to do it.
So how would that work out?
Same idea; we would use the satellite office with the state grand jury authority, and by doing that, we can help anywhere in the state. I'm not talking about having a satellite office in every location; we're going to regionalize them so that one office will cover several counties. This (distribution) might be based on crime rates, population, I don't know yet. I just think it's a system that could be effective. We would use this state-wide grand jury authority in Jackson. I've been out to the detention center here; I didn't go out with the media, I wanted to see the problem for myself. The problem right now in Jackson, the city is one of the most unsafe cities in America. We have a backlog of cases at the detention center that need to be prosecuted and we're going to do that.
The statewide grand jury authority that allows us to do this only applies to drug and related crimes. But like I said, eighty to ninety percent of crimes are related to drug activities. We're talking about having an AG office that prosecutes violent crime. That's somewhat of a different approach. I believe that the AG is the state's chief law enforcement officer, and I believe the priorities of the office should reflect that, but also the experience of the person who is elected AG should reflect that. If he's the state's chief law enforcement official, he should have law enforcement experience, which I have.
Your opponent said that he was pushing for crime prevention through the drug courts, so you're taking a similar approach.
You have to talk about attacking the problem on two fronts. One thing we've asked for is a five-year mandatory enhancement for any felony involving a firearm. Where that idea came from is a project called Project Exile that was a federally initiated, cooperative local, state and federal effort investigating and prosecuting gun violence in Richmond, Va. Richmond had an incredibly high murder rate. I believe within one year it cut murder rates in Richmond by fifty percent, maybe a little more than that. Part of that project was the five-year mandatory enhancement. The idea is that if a guy has a nine millimeter and nine rocks of cocaine, he's the guy we need to lock up. We're going to do that by asking the legislature for that enhancement. We're going to fight crime.
I grew up in a single-parent household, and that has clearly influenced my thinking on this matter. I believe crime is caused, more than anything else, by family breakdown. Now, I'm not discounting the roles that poverty and a lack of education play at all; I understand that they are also involved. But I believe, based on things that I've read, that the leading indicator of criminal conduct is the breakdown of families. Because I believe that, I believe that our prevention efforts need to focus on single-parent households. That will be a priority for me. That means that we will use girls' and boys' clubs and similar programs, which can be incredibly effective and they can have a long-term impact on the prevention of crime.
A continuation of that are drug courts. If you believe that the primary cause of crime is family breakdown, then we have to look at the situation. Let's say we have a father in a two-parent household with a child and the father in that home is a first-time, non-violent user. Then what benefit is that to the public to send him to prison for three years with the result that you have a child being raised by a single parent who might have to go get a second job. All of a sudden in that household, there is a huge spike not only in the likelihood of juvenile delinquency, but also school failure, alcoholism, drug use, homelessness and suicide, all of these social ills that come out of that. By locking this guy up for three years, it's not in the interests of the community or society. So what I would like to see is an expansion of drug courts. Keith Starrett, whom I've talked to, is a circuit judge in south Mississippi, a drug court judge, and he has had incredible success with these. If you talk with him for five minutes, you believe you can accomplish anything. Why would I want to tear apart this family? What you would rather want to do is to get the father, in this example, off of drugs, and get him into parenting classes and change him for the benefit of the children who are following behind him.
It's easy to talk about crime, but you have to know what causes it. We're the only ones in this race talking about this issue at a comprehensive level. I'm talking about working with single-parent households through the drug courts and prioritizing violent crimes and drugs.
Seeking this position is not about become AG for me. It's about a continuation of public service. I served as an FBI agent and a federal prosecutor, and I miss that sense of making a difference in our communities and in our state. That's what running for this office is for me.
What is the legal basis for the AG office and prosecutorial work through the grand jury?
There is a law on the books, has been for a few years, and as I'm aware, it has not been used extensively, and I'm talking about using it extensively. They're (the AG's office) is to be commended for helping get it passed. What this law allows is for the AG to come in and help prosecute drug and related crimes. To do it, the AG has to work with the Director of Public Safety and the Director of Mississippi Bureau of Narcotics. Right now, the state of Mississippi has the second-highest murder rate and the twelfth-highest rape rate in the country. Those are the FBI's most recent crime statistics. With that, we need to be focused on prosecuting violent crime. When I saw those statistics, I felt a calling to run for AG so maybe I could make a difference in this area.
And this will not involve an increase in funding?
No, we had the AG from South Carolina here, and he told me he had 62 assistant prosecutors in his office, and we have 115 here. I think that's plenty. Obviously, we have to defend state agencies, and there are some personnel who are dedicated to certain areas, but we can make a priority of violent crime just by shifting resources. I don't think we're going to have to expand the office to do that.
What's the AG's role in civil justice reform?
The AG's office can play a significant role in this area. This is an area where my opponent and I completely disagree.
He doesn't believe that it should be of concern to the AG's office?
That's what he said, also that there's no role. Well, I've addressed specifically how there is a role and what we can do.
One, the statute that was passed last year has not been tested in the courts yet. In other states across the country, when there has been civil justice reform measures passed, the trial bar has attacked those reforms on constitutional grounds, essentially in order to have the statutes thrown out or torn apart. What I will do is defend that statute against constitutional attack in every case throughout the state of Mississippi. It's not something that's a large-scale effort; it's a matter of having someone in the office who is responsible for following the filing of litigation across the state. We file a brief, a friend of the court brief, in those cases, which will do a couple of things. One, it may help preserve appeals rights. Secondly, it will send a message to trial court judges in those venues where we have unconscionable verdicts that we're not going to stand idly by and watch lawsuit abuse continue. We're talking about filing the same brief; we might update it, but essentially it's the same brief in every case, so it doesn't take a lot of effort.
Ultimately, the question of civil justice reform coming from the legislature is a question of constitutionality. So I believe the best place, the most appropriate place, for civil justice reform to occur is in the Supreme Court in how they handle the rules of civil procedure. The AG can work with the Supreme Court to reform the rules of venue and joinder and maybe put some class action protections in place and maybe address the bond issue. And do that through the Supreme Court.
Now, I think a Supreme Court is going to be less susceptible to political influence than a legislative body just by its nature. I understand that they are elected, but they're also going to be looking at the issue from a perspective that is fair to all the people in the state. That's important, because I think it's going to be more even-handed there.
We can also work with the legislature, the governor and the lieutenant governor to draft constitutionally sound legislation. We have an incredible amount of expertise on Mississippi law in the AG's office.
But I want to be clear on what I'm talking about. I'm not talking about . . . I have a good friend, an attorney, who had a one-man shop in Louisville for six years. He would handle plaintiff's cases. I'm not talking about the situation of a guy like that who is handling plaintiff's cases for people who have been injured through no fault of their own. So I'm not trying to close the courthouse doors. In that situation, some of those people (plaintiff's attorneys) are some of our finest public servants; they're looking out for the little guy. And I'm not even talking about situations where they get the little guy millions of dollars. It's not the money side; if that's what they deserve, great.
The kinds of cases I'm talking about that I think we need reforms on are the kinds of cases I think that have gotten us the reputation for jackpot justice. In Mississippi, we should have a reputation for justice, and I don't know if we have that. Nationally, we're viewed for what are called "legal hell-holes," places like Fayette. What I'm talking about is having reforms in place that will address one certain kind of case in particular, the mass tort case where we file a case against an entire industry in Jefferson County, which we can probably do more rightly so in some other venue, but we want to be in Mississippi because we realize we can get a big verdict here. But we file suit against an industry like gun manufacturers, or trans-fat cases against Wendy's or McDonald's or Burger King because our plaintiffs have ordered one too many "biggie sizes" and now they're overweight, they have to blame somebody and they might can recover from those industries. I know of no legal precedent that would allow for those kinds of cases to be filed, and certainly not where they're state-sponsored.
All too often, a guy who handles plaintiff's cases is called a trial lawyer, and that's a misnomer. Some of those lawyers are our best public servants. I'm talking about these mass tort situations that I believe have no legal precedent. Tort reform for me is an effort to protect our small businesses and our health care.
That rather flies in the face of the logic of the tobacco suit, doesn't it?
Well, the tobacco suit was filed to reimburse the taxpayers for Medicaid costs, and I think all the money should be going to that. The legislature shouldn't divert it to the general fund, the money should be going towards the health care needs of the people the suit was originally filed on behalf of. The tobacco litigation . . . clearly they were deceptive. On that one, we should have had more accountability to the public. As it came out, there was no contract with the lawyers. Well, I think we should have had a contract that the world could have seen. Generally speaking, if you tell the public what you're doing and why you're doing it, they'll support it. If they don't, maybe you should reassess. On a public policy ground, I believe we should . . . Now, I understand the case was not a contingent-fee arrangement; we had a little misunderstanding with one of the media outlets. I understand the case was not a contingent fee. But as I said once, I am opposed to paying contingent fees to counsel to address public policy issues. That's just a philosophical point for me that I believe we should not do. There are plenty of lawyers, good lawyers, who would have handled that case on an hourly rate such that the public could have seen that they paid "x" dollars for a certain amount of work, and I think that's important.
I think other than the Partnership for Health in Mississippi, its time to move away from tobacco litigation. Under me, the top priority of the office will be making sure people are safe and prosecuting violent crime.
Your opponent has accused you of distorting the facts about his record as a prosecutor; how do you respond to that?
We need to make sure you get the press release we issued last Monday. Last Monday, we issued a press release from a guy named Steve Kirchmayr, who was with me on the initial phone call I made to the administrative offices of the Supreme Court. Kirchmayr listened to the whole conversation, and what we were told, which is what we have said the whole time, is that records prior to 1997 were unreliable, so we didn't ask for those records. What Kirchmayr said, based on the notes that he had, was that he recommended that we use records from 1997 forward to 2002, and that's what we did. What you have to realize is that these records, as I understand it, these records from the administrative office of the court, are used by the legislature. If these records are used by the legislature for budgeting purposes and personnel decisions, why can't we rely on them? That's been the issue here. What the press release basically says is that we relied on records that we were told were reliable, records from 1997 to 2002. You have not heard (the Hood campaign) say much about it ever since that letter came out.
But it's more than that. The easiest way to make an attack is to say that somebody talked to an unnamed person at this place on this date. And they did that in their account of this. The problem with that is that they used the day August 31. And that was the Sunday before Labor Day. We responded with the Kirchmayr letter, and the issue has gone away. They don't like to talk about August 31 being the day before Labor Day. They're saying I called the offices of the court on August 31, and the only call I had was to Steve Kirchmayr and that call is the one he had the dates for in his letter.
So it's just not believable that state employees would have been in their offices on Sunday, August 31. They should have checked their calendar first.
Musgrove has said that he may call for legislative hearings to look at the insurance industry's role in high insurance premiums. Would you support such fact-finding hearings?
Here's the issue for me. High insurance rates in this state are driven more than anything by lawsuit abuse and the need for civil justice reform. I had a conversation with (a representative of) one of the largest insurance companies in southwest Mississippi. Homeowner rates have skyrocketed over there. Northeast Mississippi Medical Center in Tupelo did not get their policy renewed. Physicians across the state are having a hard time finding insurance, and small businesses across the state are having a hard time with rates. Those rates are driven by our legal climate, and the AG can play a significant role in helping to bring about civil justice reform in this state to reduce it. I think that's the key.
What's the focus of your campaign as you come down to the wire?
We developed a plan early on, and we think it's effective. We're pleased with where we are now. At the beginning, nobody knew me. I've spent 12 years as an FBI agent and federal prosecutor being discreet. I was comfortable in that role. We have come an incredible distance. We have out-raised our opponent, and that support is indicative of the support we have across the state and our message is resonating with voters. We have a better message because we are talking about crime and specific ways to address the problem. We have addressed how we will deal with the problems of crime and the legal climate with specific proposals. I would encourage you to look at my opponent's 10-point plan, and I would say that issue identification is not addressing the problem. But we're going to continue to work hard. We have worked incredibly hard.
Last week, your office accused your opponent's staff of taking down your campaign signs. How important an issue is that?
Let me tell you my concern with that. My concern is this, and I'm serious about this, is whether Jim Hood condoned that kind of behavior, that's the issue. Clearly it looks like he has, because I haven't seen any indication that Morgan Shands is not working over there. The issue for me is whether Jim Hood condoned it. This was not some over-zealous volunteer; this was an experienced operative, a campaign manager. I think he's making six thousand dollars a month. He's an experienced guy. I would fire my campaign manager if this had happened, and that would have been the end of that. Clearly, Jim is condoning this type of behavior. You know, a campaign manager's role is not being worried about stealing signs, and maybe that says something about the maturity of their campaign. Our efforts have been focused on offering proposals to address the second-highest murder rate and twelfth-highest rape rate in the country. When you've been an FBI agent and a federal prosecutor for twelve years, I think that connotes a certain seriousness. We have not been too concerned at all about their signs.
Running a campaign is indicative of how you would run an office. I would fire my campaign manager for that type of behavior, but obviously Jim has condoned it. I wouldn't have it around here.
Anything else?
A couple of things.
We want to have a position in the AG's office called a Victim's Advocate. This would be someone with a counseling background that's familiar with the judicial process. We would have victim assistance coordinators in DA's offices. What happens is that the DA prosecutes a case and if that case is successful and goes up on appeal, the DA office hands the file off to the AG's office and they handle the appeal. The DA moves off to something else. The family gets lost in the shuffle. We came up with these idea months and months ago because it's important for me that we address the needs of the victims of crime. What I envision is somebody on a state level who can have . . . let's say it was the breadwinner of a family that was murdered and that family needs income assistance right away. We're going back to the idea of protecting the family here. The Victim's Advocate can work with the family, work with state resources to see what is available to help this family. I can see charitable and civic organizations as well as churches playing a role here. First Baptist Church of Jackson has a huge counseling group. I guarantee that church, as well as charitable and civic organizations would be willing to donate time back to the community to help crime victims. Income assistance and counseling that is not available through the state could help these people.
You can't lose sight of the fact that when you're running for AG, and this all goes back to public service, which is what this is about to me, you can't lose sight of who's paying your salary. And so these crime victims are paying our salary and we need to give them the best service we can. We owe that to them.
I see us also having a Vulnerable Victims Unit to address the needs of seniors, children and the poor. Things like telemarketing fraud, elder abuse, medical fraud, and with children it's the usual child abuse, but also we brought in the AG from Michigan to talk primarily about child support cases. The census showed 106,000 female heads of households in Mississippi; DHS reports about a hundred thousand, and I've heard that it's as high as 130,000, but over 100,000 clearly. Children in the state of Mississippi are not getting the child support they deserve. Mike Moore is to be commended for starting the "You Can Run, But You Can't Hide" program. Child support is important because it protects these children in single-income households. Mike Cox, the AG from Michigan, told me that you can get federal matching funds, 2:1 federal match. So we can use federal resources to cure problems in Mississippi that have an incredible long-term benefit.
Understanding a national picture, if you will, of cases, from being in the federal system, is important. I think it's important that since the AG is the chief law enforcement official, hands-on law enforcement is essential. It's important because at the foundation of ever successful prosecution is a successful investigation; if you don't have a good case, forget it. It doesn't matter how good your prosecutor is, if your case is lousy when it gets to court, it's over.
But it's more important than that, even. I've worked with law enforcement at every conceivable level and of every conceivable type, and that's the kind of cooperation it's going to take to solve these problems. Because I've been in law enforcement, it made me a better prosecutor, but I also understand the day-to-day difficulties and challenges law enforcement agencies face. I see a need in this state for law enforcement to have an advocate, someone who will stand up when they're trying to cut the budget of the Mississippi Bureau of Narcotics by forty percent and say, "No." I mean, stand up visibly and do it. You have to understand, if you cut MBN's budget by $6 million, is that you're transferring the problem to the local law enforcement agencies, to our sheriffs and our police departments. It could shift it more the other way, too, to the federal side. So we need an advocate for law enforcement. This sends a message to law enforcement, but it also sends a message to the people of the state about the pledge of protection and how I believe government's top responsibility is to see that people are safe.
I led a $520 million dollar corporate scandal investigation. This was a huge, publicly-traded company, like Enron. This was in 1992, before Enron, before WorldCom. The company was Bonneville-Pacific. This was the precedent to all those corporate cases, a scandal where the insiders used fiscal year-end and related party transactions to inflate stock prices to meet projections. They sent millions of dollars from every one of those transactions to one of five off-shore bank accounts in Switzerland, the Bahamas and the Isle of Man. So when the next WorldCom comes to Mississippi and shareholders are defrauded, I have experience that can't be matched in this area. I led the FBI effort in this matter; it was a task force effort with the SEC and the IRS. I also got to work on the Unabomber case, in a small role. I worked in supporting role in the first telemarketing case in FBI history, a case that set the set the stage for prosecuting subsequent cases. I have worked on food stamp fraud cases in Utah with the Department of Agriculture.
I worked with the FBI for six years, and I left for a chance to prosecute in the federal prosecutor's office. I prosecuted one of the largest drug dealers in the country, according to the DEA, the largest methamphetamine trafficker in Los Angeles County. We prosecuted him here because he was sending the drugs to Meridian and the Forrest County area. It was MBN's case of the year in 2001.
This is the kind of big-picture thinking that federal experience brings: international corporate scandals and international drug dealers who can be prosecuted here. Let's not stop on the street corner, this guy is going to be replaced in 24 hours by somebody else. What we have to do is to go after the large-scale traffickers. We have to prosecute them to make a difference.
I have received the Integrity Award, an award given for prosecutorial excellence, twice. Jim talks about his experience as a prosecutor, but his is one-dimensional. Mine is two-dimensional.
The important thing to realize is that the job of AG involves four things: investigating crime, which I have done in the most respected law enforcement agency in the world; prosecuting criminal cases; prosecuting civil cases; and defending agencies. I have not only done all of those, and I am the only candidate in the race that has, and I'm the only candidate that has done all of them in trial. This race is about experience, but it's also about vision as well, and this gets back to our specific proposals and the direction we want the office to take.
More like this story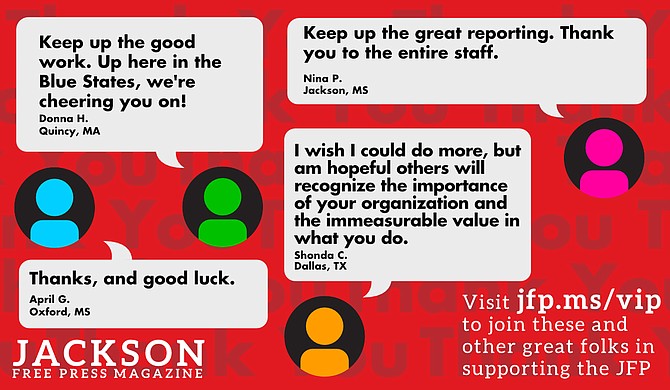 Thanks to all our new JFP VIPs!
COVID-19 has closed down the main sources of the JFP's revenue -- concerts, festivals, fundraisers, restaurants and bars. If everyone reading this article gives $5 or more, we should be able to continue publishing through the crisis. Please pay what you can to keep us reporting and publishing.