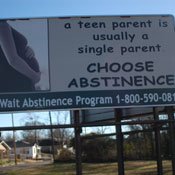 School advocacy groups and parents are beginning to talk about how they can influence Jackson Public Schools' sex-education policy next year.
The state Legislature passed a bill in March that requires Mississippi school districts to adopt either an abstinence-only or abstinence-plus sex-education policy. House Bill 999 gives school boards until June 30, 2012, to adopt a policy and requires them to implement it in the 2012-2013 curriculum.
Sanford Johnson, deputy director of Mississippi First, an education policy group, spoke yesterday at a Parents for Public Schools lunch at the Jackson Medical Mall. He said his organization was somewhat blindsided by how watered down and vague the bill was when it came through the House and Senate. Neither policy allows schools to teach students how to use condoms, although they are allowed to discuss condoms and contraceptives if the presentation includes information about their risks and failure rates.
"[Students] come away from the program going, 'Well, if condoms don't work, why am I wasting my time?' Especially when there's a two-for-one sale on Mountain Dew at Walmart," Johnson said.*
Even though the bill does not provide funding for school districts to implement a sex-education policy, Johnson said districts that choose abstinence-plus policies can get federal funding for curricula and training. Mississippi First worked with the state Department of Health to get $2 million in grants for schools that implement curricula from its Creating Healthy and Responsible Teens Initiative. Mississippi First began creating this material last year, but has now adapted it so that it will be in line with House Bill 999's requirements. The Department of Health has approved a list of abstinence-plus curricula, but the Department of Education will still have to approve them.
Johnson said Benton, Marshall, Coahoma and Tunica counties have already adopted abstinence-plus policies.
Susan Womack, executive director of Parents for Public Schools of Greater Jackson, said her organization is encouraging parents to let school-board members know what kind of sex-education policy they want in their district. As far as JPS is concerned, Womack said the local Parents for Public Schools chapter supports an abstinence-plus policy.
"So far we don't have any data that ... abstinence-only works," she said. "The data shows in some cases that with abstinence-only, the numbers go up. In other words, it accomplishes exactly the opposite of what it's meant to accomplish."
Tonja Murphy, a parent who was at the lunch and is involved with Parents for Public Schools, said she wants to see Jackson schools adopt curricula with a component to get parents involved, in part because students are not the only ones who need to know about safe sex.
"Parents are going to need to know some of the same information," she said.
The Women's Fund of Mississippi released a study last month that shows the state's high teen birth rate costs the state's taxpayers $155 million each year. In 2008, the Centers for Disease Control found that Mississippi's teen birth rate was the highest in the nation.
The Women's Fund report suggested comprehensive sex education, mentorships and youth employment opportunities as tactics for reducing the teen pregnancy rate.
*CLARIFICATION: Apparently there is a rumor that drinking Mountain Dew lowers sperm count and therefore prevents pregnancy. That may have what Johnson was referring to.
Previous Comments
ID

165122

Comment

"IT'S UNPROTECTED SEX, STUPID!" There should be no further study of the need for the youngsters to know how to protect themselves, if the answer is "YES". We have lived through the failed attempt of Nancy Regan's "Just Say No" strategy. Teen and preTeen pregnancies have only increased. Sex Education Plus should include referral services for therapeutic clinical interventions to deal with root causes of teen and preteens engaging in sexual experiences that result in unplanned/unwanted pregnancies. Far too often, these pregnancies are the result of men, to include mother's boyfriends, who sexually abuse these children and these egregious acts become family secrets and the victim becomes a part of that never-ending vicious cycle. Mississippi's teen/preTeen pregnancy rate is one of the highest in the Nation. We are also faced with a high incidence of STDs to include HIV/AIDS. So, let's take our heads out of the sand and start addressing the reality of this situation: Let's apply educational and therapeutic strategies that are designed to promote remedy.

Author

justjess

Date

2011-10-06T12:28:42-06:00
ID

165123

Comment

@justjess - Contact your school board and tell them what kind of policy you want! Or go to a board meeting and sign up for public comment. I go to most of the JPS board meetings, and I've only seen one person get up and say anything about what kind of sex-ed policy they want JPS to adopt.

Author

lizwaibel

Date

2011-10-06T12:36:38-06:00
ID

165124

Comment

Hey! We are in a drop-down drag-out fight here to keep our Highest Teen Birth Rate title! Texas is gaining on us! We've got to use their tricks to keep our edge! We may not be the highest in teen pregnancy rate, but we are the highest in teen birth rate, with this policy, we can take Both! If we pass 26 (the Personhood Amendment) then we are sure to be the highest in both since we will be outlawing most birth control pills. To heck with Texas and New Mexico! We CAN be the worst state in the Union! (For more info, see The National Campaign website or the Kaiser State Health Facts site.)

Author

BobbyKearan

Date

2011-10-06T12:38:42-06:00
ID

165125

Comment

No disrespect to you for your suggestion, lizwaibel, but in the words of Sarah Palin, "Thanks but No Thanks!" LOL! @BobbyKearan Can you believe in this kind of stupidity. What is wrong with these folks? I am so afraid that many people will not understand what exactly "personhood" really means and will vot yes to 26. We can depend on us to do the worst possible thing at the most inopportune time.

Author

justjess

Date

2011-10-06T13:07:00-06:00
ID

165130

Comment

Elizabeth has a really good point. I can't tell you how often I hear from readers about controversial issues -- who want us to speak out so they don't have to. They're scared because their spouse has political aspirations or they're afraid someone is going to think they're ... wait for it! ... to liberal. Or some such. People, if it's important, you, you and you need to show up and speak up. Posting here is fine, but it's not enough from you.

Author

DonnaLadd

Date

2011-10-06T13:29:11-06:00
ID

165131

Comment

Elizabeth just added a clarification about the Mountain Dew quote to the article above.

Author

DonnaLadd

Date

2011-10-06T13:41:35-06:00
ID

165132

Comment

At the lunch, someone made the point that some school boards are going to assume their district wants abstinence-only sex ed, when parents really want their children to be more informed. Board members can't make an informed decision, though, unless more parents and community members speak up and let them know this issue is important to them.

Author

lizwaibel

Date

2011-10-06T13:50:49-06:00
ID

165137

Comment

@JustJess - I'm trying to do my part to inform people. Bought my own "No on 26" yard sign, blogged and am going to the Occupy Mississippi event on the 15th with flyers and an "Every Child" "Vote No on 26" T-shirt. @lizwaibel The State Law says the school boards have to pick between "Bad Policy" and "Really Bad Policy" for Sex Education. Abstinence+ is still required to basically teach kids that condoms and birth control don't work, so why bother with them. So its, "no sex till marriage" or a load of misinformation. From what I understand, there is now no legal option to actually teach kids in a manner that will decrease teen pregnancy - at least not in public schools.

Author

BobbyKearan

Date

2011-10-07T13:36:53-06:00
ID

165138

Comment

@Bobby - Which means that community groups are going to need more volunteers to teach programs that are actually educational outside of schools (and organize and fund them, of course). So, never fear! Even though the legislation is unbelievably whimpy, you can still get involved. :)

Author

lizwaibel

Date

2011-10-07T15:18:13-06:00
More like this story
More stories by this author
Support our reporting -- Become a JFP VIP.
The news business has changed dramatically in the past year, and we need your help more than ever to keep bringing you important stories about Jackson and the Metro. Become a JFP VIP with an annual membership or you can Sign up as a monthly supporter. Thanks for anything you can do to empower our journalism!