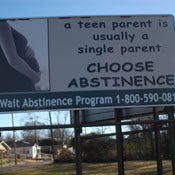 Mississippi school districts must include abstinence-only or abstinence-plus sex education in their curriculum for the 2012-2013 school year.
Stories this photo appears in:
School advocacy groups and parents are beginning to talk about how they can influence Jackson Public Schools' sex-education policy next year.
Monica Cannon, who has a daughter in a Jackson high school, is part of a teen-pregnancy prevention coalition in the Jackson area. During a Jackson Public Schools board meeting Aug. ...
Politics
The Mississippi Tea Party tried to target immigrants once again in a bill that would have charged $5 for out-of-country wire transfers exceeding $500, plus 1 percent of the amount ...