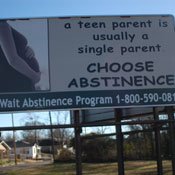 Monica Cannon, who has a daughter in a Jackson high school, is part of a teen-pregnancy prevention coalition in the Jackson area. During a Jackson Public Schools board meeting Aug. 18, Cannon told the board she feels that JPS could adopt a policy on sex education quickly because people and coalitions in the area have already been researching possible curricula for quite some time. She offered her group's services as part of a task force or committee to explore the district's options.
Gov. Haley Barbour signed a bill in March that requires Mississippi school districts to adopt either an abstinence-only or abstinence-plus sex education policy. House Bill 999 gives school boards until June 30, 2012, to adopt a policy and requires them to implement it in the 2012-2013 curriculum.
Neither policy allows schools to teach students how to use condoms, although they are allowed to discuss condoms and contraceptives if the presentation includes information about their risks and failure rates. The bill also requires schools to provide written notice to parents of any instruction or presentation on human sexuality at school, and give parents the option to request that their child be included or excused from the lesson.
The bill includes a list of suggested guidelines for abstinence-only sex education. Although programs do not have to include each components, they may not teach anything that contradicts them.
Cannon said later that she is comfortable with the Legislature's timeframe, but she wants to put the issue at the forefront of the board members' minds.
"We want a lot of time to have the policy in place and then train individuals who would be able to implement it with our children," she said.
Mississippi's teenage birthrate was the highest in the nation in 2008, a Centers for Disease Control and Prevention study found. Preliminary data show that the state's birthrate for teens ages 15 to 19 was 65.7 per 1,000 births. That number was down from 71.9 births per 1,000 in 2007. The national average in 2008 was 41.5 births per 1,000.
Cannon said that from a parent's perspective, times are different than when she was in school. Looking at the statistics, Cannon said students need information about topics such as sexually transmitted diseases and the proper use of contraceptives.
"There is a misconception that abstinence-plus is anti-abstinence, but that's not the case," Cannon said. "Many abstinence-plus programs have a strong abstinence (component), but it's fused with other research-based information ... that our children need to know so that they're not making foolish decisions."
Lisa Karmacharya, superintendent of the Brookhaven School District, said her district has adopted the abstinence-only policy and has already hired a health teacher to implement the curriculum in its junior high school next year.
"We just felt like it was the best approach for our community, especially in light of the fact that there are very minor differences between the abstinence-only and the abstinence-plus (policies)," she said.
Karmacharya said Brookhaven adopted the policy in part because the bill says the state prefers abstinence-only sex education.
JoAnne Shepherd, counsel for JPS, said the district has just begun the preliminary work to adopt a sex-education policy. Shepherd said officials are looking at both abstinence-only and abstinence-plus policies, but it is too early to say when they might decide on a policy. They have not yet determined whether they will put together a task force or committee to solicit input from the community.
Even though some school districts in the state are already starting to consider and adopt policies, they will still have to go through the process of selecting a curriculum approved by the Mississippi Department of Education. MDE is accepting submissions from vendors for potential sex-education curricula. It will then compile a list of approved curricula from which school districts can choose.
Raising the bar
Mississippi has begun to implement new standards for education designed to put students on par with the rest of the country.
The Common Core State Standards Initiative is an effort of government leaders and educators from different states to develop common expectations in English language arts and math curricula. Each state chooses its own curriculum, but most, including Mississippi, have now signed onto the initiative.
Judy Johnson-Evans, state leader for the initiative with the Mississippi PTA, said a common core is especially helpful for families who move often. Instead of possibly having to repeat a grade when moving to a state with a more rigorous curriculum, students will find similar academic expectations whether they live in Mississippi or Massachusetts.
"The standards are designed to give a concise measurement so all the states will be on the same page," she said.
The initiative's standards will be phased in over a period of several years so students can grow with the program. This fall, they are being implemented in kindergarten through second grade, and new assessments are expected to be ready by the 2014-2015 school year.
Previous Comments
ID

164710

Comment

Great. This is a Texas sized mistake. Texas put in such measures (abstinence-only or abstinence+) and saw teen pregnancy increase. Read http://www.chron.com/opinion/outlook/article/Focus-on-abstinence-alone-is-failing-Texas-1593100.php "Throwing kids under the bus" to protect an ideology that has proven to be overall harmful in reality is totally unacceptable. "Abstinence education is not a bad thing. Abstinence from education is." The "Raising the bar" section should not be included in the same article. I'm not sure what the CCSS entails, but having moved to Mississippi from Tennessee in the middle of fourth grade, I can say some standards would be great. I think I was actually behind when I got here.

Author

BobbyKearan

Date

2011-08-24T12:11:05-06:00
ID

164714

Comment

For anyone who is interested, you can view the entire bill here: http://billstatus.ls.state.ms.us/documents/2011/pdf/HB/0900-0999/HB0999SG.pdf

Author

lizwaibel

Date

2011-08-24T16:28:44-06:00
More like this story
More stories by this author