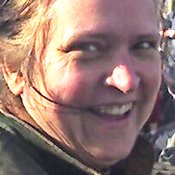 I was not about to lie down in a body imprint left in the grass no matter how much the artist encouraged me. Looking at the impression of a fallen body in a bed of violets was enough for me to feel raw. I didn't want to feel more real than that. At least not on that Sunday afternoon.
FIGMENT, a huge project displaying interactive art that invited playful participation, was in Jackson May 14-15. I only spent an hour or two there. I miss it already.
By all appearances, FIGMENT embodied the anti-children's museum. It wasn't that it was anti-children. Far from it. In many ways it was a child's paradise that adults dipped into if only for a moment before becoming self-conscious and pulling back. If anything, it was anti-museum. It was free. I didn't see a single exhibit with a corporate sponsorship. (Although, many people did work hard to pull it together and might have had their feelings hurt that they didn't get enough credit.)
At first glance, it looked like a mess, with boxes and plastic bins strewn around the grounds of the old Coca-Cola plant. Dancers moved through martial arts in slow motion, or maybe it was martial artists dancing to the steady drumbeat. A small girl in a red leotard ran through the middle of the nearly mime-like dancers. Her spontaneous part was unscripted, yet it went together beautifully with timed choreography.
Kids wrote their names with their fingers on the floor of a room covered with cinnamon instead of sawdust. The scent enticed me to hang around a few minutes longer. Nearby, kids skated up and down ramps in one of the empty plant structures. A group of crazy people in white walked around silently, prophesizing an artistic event. Kids naturally climbed on the sound-and-color monkey bars while adults watched before they would tentatively hit a button to change the beat or add a layer of music.
It was a lot to take in. What seemed so minimal at first actually had depth. I initially had walked through quickly, and was actually leaving when Debby, one of the producers from New York, led me back into the complex like a quest guide. This time, I went into the buildings and saw so many living, breathing definitions of art and was pulled in without even realizing I had crossed over. I walked away energized with creativity.
I was ready to renovate a strip mall and maybe paint a seascape.
At the other end of the spectrum from FIGMENT's large cardboard box facsimile of the Pearl River and the like is the stately Mississippi Institute of Arts and Letters. At first, I had some cold notion of what this entity was. Something elitist, I suspected.
The institute awards poets, novelists, painters, photographers and composers. Many of them are academics who already have made a mark in their field. All of them have strong Mississippi connections, although many have moved away to prestigious positions in other states.
Natasha Trethewey, one of my favorite poets, is a good example. Born in Gulfport, she won the 2007 Pulitzer Prize for Poetry. The Mississippi Institute of Arts and Letters honored her in 2001, 2003 and in 2007. Now a professor at Emory University, the institute again will award her this year for her book, "Beyond Katrina: A Meditation on the Mississippi Gulf Coast" (University of Georgia Press, 2010, $22.95).
The institute's awards come from a juried competition. Judges, who are also at the top of their game but are from outside the state, review the nominees' work. Politics, loyalty and sentimentality don't play a part in picking the best work. The institute gave the first awards in 1980. Every winner gets $1,000.
This year, the awards gala is June 4 in Ocean Springs. Mary Anderson, daughter of Walter Anderson, will emcee. Nine artists will get awards. The Lifetime Achievement Award is going to Mary Garrard, an Indianola native, for her feminist perspectives in art history. Her book, "Artemisia Gentileschi: The Image of the Female Hero in Italian Baroque Art" (Princeton University, 1991, $49.95), is classic art criticism.
The institute seeks out the best of the best, the Mississippians who have proved to the world they are spectacular artists. Often, we look outside the state for validation. Sometimes, inside the state, we don't value the arts we already have here.
We have so many opportunities to be artists, inside and out. This arts and events preview issue of the Jackson Free Press is jammed with opportunities for you to experience life artistically. That doesn't mean anyone is going to make you bang a drum or write your name in cinnamon. It does mean you should grab these chances not only to see paintings and hear music, but to learn to cook an exotic meal or dance a new step you usually wouldn't. Go out of town and touch an outdoor sculpture, smell a rose garden, taste a town festival. Stay in Jackson and go to one of those museums you've never been to although you have lived here for years.
Go hear a band that plays a genre that you haven't really listened to before. Join a book club. Buy a piece of art from a Jacksonian, even if it is just a little acrylic painting, a piece of jewelry or some unusual yard art. Take lessons. Learn to draw. Teach your children to observe nature and capture that moment in a poem.
Get out a red pen or a green one and circle the places you want to go and the people you want to meet. This is me pulling you into an interaction with this copy of the JFP. Experiences are waiting for you. You don't have to have a doctorate. You don't have to be rich. You do need to be alive and willing to grab what is right here waiting.
More stories by this author
Support our reporting -- Become a JFP VIP.
The news business has changed dramatically in the past year, and we need your help more than ever to keep bringing you important stories about Jackson and the Metro. Become a JFP VIP with an annual membership or you can Sign up as a monthly supporter. Thanks for anything you can do to empower our journalism!