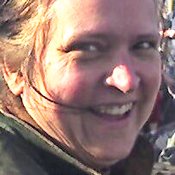 Stories this photo appears in:
Editor's Note
Men who care about children, who stand fast to protect them, who work hard to make this world better and safer and even a little bit more fun are absolutely ...
Editor's Note
I was not about to lie down in a body imprint left in the grass no matter how much the artist encouraged me. Looking at the impression of a fallen ...
Editor's Note
As I walked through the parking lot in front of the Mississippi Museum of Art on a cold, wet Monday morning, it was hard at first to visualize the same ...
Her desire to make a difference in the world instinctively drew Valerie Wells to the field of journalism.