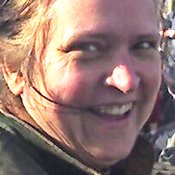 The small hallway just outside the courtroom buzzed with potential energy. It was family court a couple of years ago somewhere south of Jackson, and sparks were possible. Two divorced parents came to resolve custody of their child. Everyone waited on the judge to show up. A few people sat inside the courtroom, but most paced in the hall, getting a sip of water and going to the restroom. The mother's family and friends clustered in a group while the father and his supporters stood closer to the door. Sideways glances and nervous over-the-shoulder glimpses ricocheted between the two camps.
An older woman wearing pale blue pajamas worked her way down the hall to the ladies' room. Nearby, the father spoke to friends about the challenges of his job, his plans for the future. He was a tall man, well over 6-and-a-half feet, towering above everyone else who was there that day, strong with wide shoulders and a solid build. He was a working man, but on that day he wore a new, dark suit that accentuated his large presence.
He remained calm and steady, polite even, as he made small talk about football teams and cold fronts. The older woman wearing pale blue slowly crept back up the hall and stopped briefly when she noticed the tall, strong man.
"Hello," she said, calling out his name. She paused waiting for the deference, the respect, the homage she thought was her due.
She didn't get it.
The father stood there without looking at the older woman who had gone to great lengths and expense to hurt him. She was on the mother's side in this legal battle. He ignored her, which to many may seem rude, but in this complicated family saga, it was the kindest thing he could do. He continued speaking to his friends in his slow, steady voice, never getting loud or talking faster. He did, however, start to turn red.
She stood a few seconds longer, seemingly shocked that he didn't respond to her. She had lost her power. She waddled off and the tall man's feet grew roots into the hard floor of the courthouse. He stood even taller and the air around him seemed to respond. It was as if his force field surrounded all of us standing near him, protecting us.
The moment struck me with awe. This 30-something giant, who deeply loved his child and was determined to protect her, stood here now as a man of conviction, sturdier than any oak tree. I almost didn't recognize him as my younger cousin. When I was 13, he was a goofy baby who could barely stand up in his crib on shaky legs. He'd smile at me and I'd sing, "I'm Your Boogie Man" to him. He would dance in that side-to-side rocking way babies dance in cribs, hanging on the rail.
To see him become this strong protector, this oak tree, amazed me. He prevented his daughter from living in a dangerous, maybe abusive, scenario. My love for him was so intense in that moment. His restraint tempered his strength.
Men who care about children, who stand fast to protect them, who work hard to make this world better and safer and even a little bit more fun are absolutely men we love. So many men fit that description here in Mississippi. I've had a chance to meet them: the hardworking bureaucrats who get grief from every side but still do their best, the dreamers who dare to say the unthinkable and push us to the next stage of advancement, the calm intellectuals who take their time planning and thinking.
Consider Dr. Herman Taylor, lead 
investigator for the Jackson Heart Study, a huge deal in medical history and the local economy. We met at Broadstreet Bakery for a breakfast meeting a few months ago, and he ordered granola. As he patiently explained his work and its implications for future generations, I couldn't help but think how lucky his children are to have such an intelligent and generous father. I wonder how many great men and fathers we meet all the time without noticing that quiet strength.
In this issue of the Jackson Free Press, we acknowledge just some of the Men We Love. You'll find profiles of several men we admire who are good people doing great things. Life is better because they are here.
Obviously, it's not only men who create this vivacious society of ours. The men in my life know I prefer to focus on women who make a difference but rarely get credit. Every once in a while, it's good for me to stop and pay attention to these silent, strong men in my midst.
I'm also one to quickly point out the Men Who Disappoint Us: the priests who abuse children, the politicians who think with the wrong head, the fathers who don't care, the guy in an oversized pick-up truck who cuts me off, the good old boys who want to control our thoughts and bodies. We often pay attention to the bullies and the sensational screw-ups. Take time with me to reflect on the Good Guys.
I spent a weekend with my family recently, catching up with my grown sons and their exploits. My husband and I sat with them outside way past twilight as they dissected culture and politics. My younger son, who works in the film industry, sees artistic nuances everywhere. My older son, a lieutenant in the U.S. Air Force, told us about his challenges mentoring middle-school students who need help with math as well as the presence of an adult male. The idea humbled me that my baby could be that man.
As he talked, we heard a kitten mewing. The poor creature was stuck in an odd hole near the roof line of the house and kept peeking its fuzzy head out. My sons jumped up, grabbed a ladder and went into action, stopping everything to rescue her. I was still sitting in amazement at their energy, youth and compassion. It turned out to be a complicated retrieval.
Their dad chuckled. I looked at him and was glad he was their father. He smiled back at me, and I felt washed over with love for this oak tree of a man who is always steady, always there, always carrying that potential energy.
More stories by this author
Support our reporting -- Become a JFP VIP.
The news business has changed dramatically in the past year, and we need your help more than ever to keep bringing you important stories about Jackson and the Metro. Become a JFP VIP with an annual membership or you can Sign up as a monthly supporter. Thanks for anything you can do to empower our journalism!