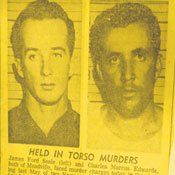 James Ford Seale, 76, has died in prison in Terre Haute, Ind., where he was serving three life sentences on federal kidnapping charges in 2007, the Associated Press is reporting. In 1964, he was a Ku Klux Klansman who helped kidnap and murder two teenagers, Henry Dee and Charles Moore. The Jackson Free Press accompanied Moore's brother, Thomas, and a cameraman from the Canadian Broadcasting Corp. in 2005 back to Meadville and Roxie, Miss., where the team discovered that Seale was still alive and living openly next to his brother in a trailer in Roxie. Other media, including the Associated Press and The Clarion-Ledger, had reported him dead.
Seale and other Klansman picked the two young men up in Meadville where they were hitchhiking, then took them into the Homochitto National Forest where they tied them to trees and beat them with bean sticks. They then took them to an offshoot of the Mississippi River, tied them to Jeep engine parts and dumped them into the water to drown.
Read an archive of coverage of "The Road to Meadville" here and see a timeline of the apprehension of James Ford Seale here.
Support our reporting -- Follow the MFP.