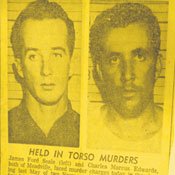 James Ford Seale, left, has died in prison. His 1964 accomplice, Charles Marcus Edwards, right, testified against him in 2007, and apologized to the families of Charles Moore and Henry Dee.
Stories this photo appears in:
Justice
James Ford Seale, 76, has died in prison in Terre Haute, Ind., where he was serving three life sentences on federal kidnapping charges in 2007, the Associated Press is reporting. ...
Justice
Also see: JFP investigative archive/timeline of Dee-Moore case
See full JFP coverage of the Dee-Moore case.
Talk
In a rare move Nov. 14, the 5th U.S. Circuit Court of Appeals for the Fifth Circuit granted federal prosecutors an en banc rehearing on the court's Sept. 9 decision ...