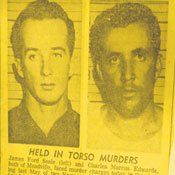 In a rare move Nov. 14, the 5th U.S. Circuit Court of Appeals for the Fifth Circuit granted federal prosecutors an en banc rehearing on the court's Sept. 9 decision that overturned the conviction of James Ford Seale. In that decision, the court ruled that the statute of limitations had expired on the federal kidnapping charges prosecutors used to convict Seale.
To rehear an appeal en banc requires all active judges on the court, taking an enormous amount of the courts' time and resources. The decision suggests that the issue is of great societal importance.
Seale, whom FBI informants identified as a member of the White Knights of the Ku Klux Klan, was among several men who allegedly abducted and murdered Charles Moore and Henry Dee in 1964. The men suspected the two 19-year-olds of civil rights activity. After kidnapping them, they tied Dee and Moore to trees in the Homochitto National Forest where they severely beat them, then crossed the state line into Louisiana before drowning them in an offshoot of the Mississippi River.
Divers discovered the youths' bodies tied to a Jeep engine block during the search for civil rights workers Chaney, Schwerner and Goodman. Based on FBI evidence, authorities arrested Seale, but prosecutors did not bring him to trial.
A lower court convicted Seale of federal kidnapping and conspiracy charges in 2007, based mainly on the testimony of co-conspirator Charles Edwards. Seale's defense attorneys brought up the statute of limitations, but Judge Henry Wingate found for the prosecution.
In 1964, federal kidnapping became a capital offense if the victim(s) died. However, because of specific, flawed language in the law, in 1968 the U.S. Supreme Court ruled that application of the death penalty for the crime was unconstitutional. Congress took the additional step of completely striking the death-penalty language from the law in 1972, and then reinstated the death penalty in 1994 under the Violent Crime Control and Law Enforcement Act.
Seale's defense attorneys argued again on appeal that because the crime was not punishable by the death penalty between 1968 and 1994, it was no longer a capital crime and a five-year statute of limitations applied. The 5th Circuit Court of Appeals agreed with the defense, and Seale's attorneys requested his immediate release. The court denied the release request pending further appeals, and to date, Seale remains behind bars in Terre Haute, Ind.
More like this story
More stories by this author