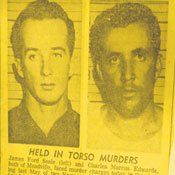 James Ford Seale will remain behind bars pending a May 2009 en banc hearing before the 5th U.S. Circuit Court of Appeals, which denied Seale's latest motion for release Tuesday. Convicted in 2007 on federal kidnapping and conspiracy charges in the 1964 murder case of Charles Moore and Henry Dee, Seale received three life sentences for his alleged role in the crime. FBI informants identified Seale as a member of the White Knights of the Ku Klux Klan, and although authorities arrested him for the murders at the time, along with fellow conspirator Charles Edwards, they released them after Franklin County refused to bring the case to trial. Edwards testified against Seale in the 2007 trial.
According to testimony, the Klan suspected Moore and Dee, both 19 at the time of the killings, of working with local civil rights groups. Divers located their badly beaten, drowned and decomposing bodies tied to a Jeep engine block in their search for missing civil rights workers Michael Schwerner, Andrew Goodman and James Chaney. Seale has been in prison in Terre Haute, Ind. since his 2007 conviction.
Last September, the 5th U.S. Circuit Court of Appeals overturned the conviction, agreeing with Seale's defense team that the statute of limitations had run out on the kidnapping charges. The court, however, has granted the prosecutions subsequent request to rehear the case en banc, which requires a full panel of all 17 of the court's active judges, and has scheduled that hearing for the week of May 18, 2009.
The question before the court is not whether Seale is guilty; defense attorneys are not arguing that point. Instead, the hearing is about an unusual technicality.
In 1964, federal kidnapping was punishable by death when the victim died, making it a capital crime without a statute of limitations. In 1968, the U.S. Supreme Court held that the statute was unconstitutional, and in 1972, the U.S. Congress removed the death-penalty language from the amendment, arguably making the crime non-capital and automatically attaching a five-year statute of limitations. Congress reinstated the death penalty for the crime in 1994.
Seale's defense team successfully argued on appeal that because the death penalty did not apply between 1968 and 1994, the statute of limitations applied, and they have repeatedly unsuccessfully filed motions for Seale's release based on his poor health. Federal prosecutors maintain that the Department of Justice never removed the crime from their list of capital crimes, and that a statute of limitations does not apply.
Regardless of whether the court upholds their September ruling in the upcoming rehearing, their decision will likely become precedent for pending and future civil rights cold cases.
More stories by this author
Support our reporting -- Follow the MFP.