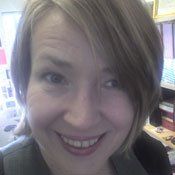 When Todd and I used to live in Belhaven, we'd often walk in the mornings. Nearly every morning, we would watch a harried mother--often in a big SUV talking on a cell phone with at least one kid in the car--screech through the streets, presumably taking the child to school. Almost every day, we watched moms run stop signs, and more than once, had to jump out of the way to keep from getting hit.
It was clear that generations of bad driving were ahead; the little kids in those cars would likely be texting while driving and running stop signs in a few years. They might even die doing so.
Like it or not, kids model what adults do. And they don't always just copy the good stuff, or do what we say they should. When we drive poorly, they learn to drive poorly. When we abuse, they learn to abuse. When we whine a lot, they whine a lot.
As I read the cover story this issue by Valerie Wells, this bald-faced fact struck me: Children are learning to bully from adults. And in a world where technology is making it easier to hurl weapons of personal destruction from a distance, and often anonymously, bullying is booming among both kids and adults.
It is great that the country is suddenly abuzz about bullying; I mean, how many dead kids does it take to figure out that we have a problem? When little girls are texting the word "whore" to another little girl on the playground, the world is freaking upside down.
And it's not going to be set right by putting all our bullying attention on kids. We must consider how we are contributing to the public discourse, as well as how we talk about other people--especially those we disagree with--in front of young people.
Public discourse is at its most coarse these days. Twenty-four hour cable news that has people on either extreme yelling personal insults at each other has sent it down the toilet. (I don't watch FOX News or Keith Olbermann, as a result). We live in a world where people disagree with a political view and call each other the worst kinds of names as a result; for women, it's especially horrifying because these kinds of men always resort to words like "whore," "slut" and "bitch" when they can't think of anything intelligent to say.
On one local blog, where these kinds of words are frequently used for people with different views, a man writing under one of several pseudonyms asked if our own Ronni Mott is "a liar, hack or just plain stupid?" in a blog headline. Why? Because she had blogged something positive (and rather innocuous) about the White House launching a website to track distribution of stimulus funds. Now every time someone does a search for Ronni's award-winning work on domestic abuse--The New York Times plugged her exposé on the governor's clemency for woman-killers last week--they turn up the ugliest kind of personal insult.
It's as if people have lost the ability to disagree without being disagreeable, as Todd likes to say.
Of course, we've always had jerks in our midst and on our playgrounds bullying other kids, long before current tech tools. But most disturbing now is how many people now lap it up like they're watching a raunchy burlesque show or a snuff film in the frat house. Adults actually egg it on.
Fortunately, some people--like Ronni--are strong enough to take it, and are inspired to even better work as a result. Others, though, disengage. They might unplug by keeping their thoughts to themselves in the future, or they might check out by jumping off a bridge or shooting themselves.
In our country and in our city, we need a movement toward civility--and not fake politeness that means you do not challenge hateful comments or that you don't express unpopular opinions. I mean the kind of civility that does not mean putting devil horns on your "opponent"--or how about not thinking of someone you disagree with as an "opponent" at all? He or she is just a person with different views. You may disagree vehemently with those views, but you don't have to demonize the person.
No one said this is easy. When I see someone being a bigot (or, frankly, launching personal attacks on my staff members), I want to rip them to shreds with my words. But, for the most part, I have learned to resist over the years, now usually choosing never to engage with an apparent bully in any way. They show up; I leave.
But I also see the problem with always ignoring bullies, as Valerie discusses in her cover story. Often, the attacks get more vicious, and they cast about for someone they perceive as weak enough to be really hurt by their ugliness. Often, no one stands up for the victim.
Make no mistake, this lack of civility is hurting our nation, and it will take all of us to turn it around. On a recent episode of "Being" (formerly "Speaking of Faith"; now at http://www.being.publicradio.org), evangelical leader Richard Mouw talked about the need to restore political civility in these difficult times. He explained that the word "civil" comes from "civitas," which meaning learning how to live in the city--or finding shalom (peace) with others, especially those you disagree with.
Mouw drew a contrast between Glenn Beck (whom he said tries to unite people around hatred and fear of the other) and Jesus (whom he said told followers to concentrate on their own sins and on others' strengths). When you call someone "stupid," you back them in a corner. And, often, he said, people are spewing anger at others without actually knowing what they believe in, or by twisting their words into someone they want to hate (such as people falsely calling the president a Muslim). He warns that we should avoid having "false devils," as G.K. Chesterton called it.
Perhaps most inspiring, Mouw pointed to 1st Peter, which he says many Christians use as a scriptural basis for their need to proclaim what they believe in. But, he said, people too often ignore the postscript in 1 Peter 3:15: "yet do it with gentleness and reverence."
Being civil, Mouw said, is to "care about our common life." Stop yelling and accusing, he said; instead, "think some new thoughts."
And if you don't do it for yourself or for "the other," do it for the young people who are modeling your every move.
Previous Comments
ID

160455

Comment

:) Jackie Warren Tatum

Author

J.T.

Date

2010-10-20T20:47:38-06:00
ID

160467

Comment

Donna, I read your editor's note, (re: Gentleness and Reverence), with a little wry pleasure. I agree with your observations. I especially agree with your astute observation that bullied people often disengage. You see, the one (and only) time that I ever made a comment here before now, I was verbally berated by not only the writer I had commented on, but by you, yourself. Mind you, my comment was not a personal attack, which I consider uncivil and unacceptable. The reply on the other hand, amounted to a person attack on me, my nome de plume, (which happens to be my horse's nickname) and my ancestry. It was at first hurtful, then hilarious. Your defense of the writer was not exactly bullying, more dismissive and elitist. It appeared to me that unless you were as hip and cool as YOU and your regular commentators, then don't bother joining the party. As I instructed my children, if someone won't play nice, don't play with them again until they WILL play nice. I decided not to enter this arena again, that is until now...because it is important that civil discourse be encouraged and bullying in any form be exposed. I really don't think you thought you were encouraging bullying. I think you you seen and heard so much uncivility, you are immune to the effect it may have on someone who may be less exposed. Bullying IS a learned behavior. Once upon at time, bullies were ostracized. Now they are given a public forum and encouraged. The Glen Beck's of the world are shouting down the Charlie Rose's more and more. As a mother and grandmother,it especially distresses me that women and girls are becoming both the targets and the perpetrators of too much of this vitriol. Maybe I am sexist but I have always harbored the hope that women, given the power and the opportunity, could lead us to a saner, less combative future. Instead it seems, some us have become the predators we loathed and often feared. So, risking ridicule,I will join the fray once more, hoping my voice will be heard. I will not disengage again. On this issue, is too important.

Author

sassy

Date

2010-10-21T12:36:15-06:00
ID

160626

Comment

Thank you ("With Gentleness and Reverence") and especially the Mouw reference. I heard it (listening to npr online at KCRW from LA...pretty handy as they're two hours earlier and you can catch what you've missed on CST) but couldn't remember the man's name, Mouw. http://www.netbloghost.com/mouw/ blog worth following That particular npr show is well worthy of a rebroadcast, over and over, until all those calling themselves "Christians" start reading scripture, the full scripture, and then living it out. (don't throw Jesus and apostles out with the 'denomination/religion'bathwater! It's ALL about Jesus.

Author

ezekiel

Date

2010-10-31T14:04:10-06:00
Support our reporting -- Become a JFP VIP.
The news business has changed dramatically in the past year, and we need your help more than ever to keep bringing you important stories about Jackson and the Metro. Become a JFP VIP with an annual membership or you can Sign up as a monthly supporter. Thanks for anything you can do to empower our journalism!