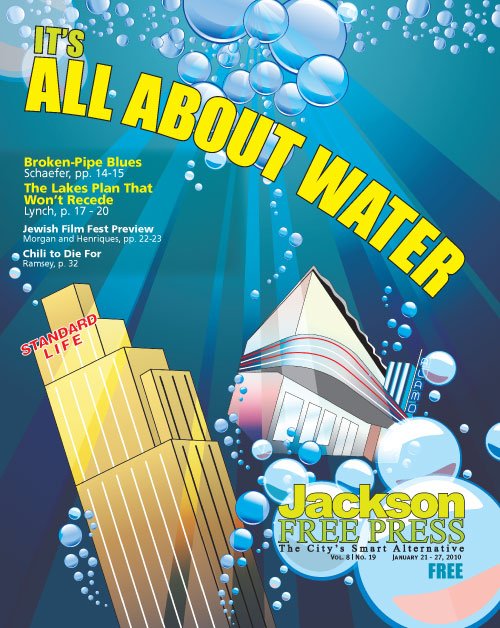 When the water in their sinks and showers slowed to a drip last week, many Jacksonians found their thoughts turning subterranean. Following five days of freezing temperatures, water mains across the city began to burst Sunday, Jan. 10. By Friday, the city had seen more than 150 breaks in its water system. Jackson Public Schools and area colleges were closed most of the week, along with state offices and many businesses.
City work crews, along with others loaned from neighboring municipalities, repaired breaks around the clock, tearing up portions of road and exposing the city's innards to a population that rarely considers the 4.7 million feet of water pipe running underground. In daily press briefings, Mayor Harvey Johnson Jr. tried to explain why something most Jacksonians took for granted had failed so thoroughly and so visibly.
Why They Broke
In his briefings last week, Johnson portrayed the crisis as an unfortunate confluence of local geology, freezing temperatures and outdated infrastructure. That assessment was right, more or less. While some parts of Jackson, including parts of downtown and South Jackson, escaped the crisis largely unscathed, there was no overall pattern in the location of breaks, city spokesman Chris Mims said.
Deputy Public Works Director David Willis said Friday that he is still reviewing repair tickets, but it appears that the vast majority of the breaks occurred in sections of pipe made out of cast iron. Still, there were breaks in relatively young, 20-year-old pipes below recently annexed portions of South Jackson, Mims noted.
Until the mid-1970s, cast iron was the preferred building material for water mains. Willis estimates that at least 30 percent of the city's pipes are still cast iron. Cast iron is durable stuff—some of the pipes below downtown's streets have been in service for more than 100 years—but it tends to be brittle. The material of choice these days, which city workers used to replace breaks during last week's crisis, is ductile iron, which responds more flexibly to changes in temperature.
"If you take a piece of cast-iron pipe, and you hit it with a sledgehammer, it will break," Willis said. "But if you hit a piece of ductile iron, it will just dent. It can tolerate some movement."
But sledgehammer-wielding moles didn't wreck the city's water lines. Instead, the hundreds of water main breaks were the result of a combination of forces acting on mostly weak material. Yazoo clay, the unstable soil responsible for Jackson's cracked building foundations and lumpy roads, can expand up to 50 percent when saturated with water. Johnson suggested at a Jan. 12 press conference that expansion of the clay was squeezing the pipes until they burst.
Hibbett Neel, president of Neel-Schaffer Engineers, told the Jackson Free Press that Yazoo clay was probably not the primary culprit, however. Rains from earlier in the week may have saturated the ground before freezing temperatures descended on Jackson, but he noted that there was no rain when pipe breaks started appearing. There was also minimal expansion due to freezing. Jackson's Yazoo clay is buried deep enough below ground that it is unlikely to freeze, even when the air above is below freezing.
More likely, the pipes burst initially because the metal in them contracted as the temperature of the water rushing through them dropped. Made from brittle material—and weakened by the shifting clay around them—the pipes could not withstand the rapid change.
"Once you get a leak in the pipe, it saturates the Yazoo clay around, and you've got both of them working against you," Willis said. "So it's a little of both."
Paying for Pipes
Last week's massive failure, while dramatic, was not particularly surprising to those with knowledge of the city's water system history. At the beginning of his first term as mayor, Johnson commissioned a master plan for the city. That document, finished in 1997, estimated that the city's water and wastewater system needed $300 million worth of repairs to be able to meet existing and future demands.
On the master plan's recommendation, in 1999 the city passed a $35 million bond issue for water and sewer upgrades. The bond money was roughly split between sewer and water projects, with the water money largely devoted to design work for the system and for line replacement.
Another $50 million bond issue followed in 2002, this time entirely devoted to replacing large distribution lines and building an "express lane" large-transmission line to connect the city's old J.H. Fewell treatment and pumping plant and its newer plant, named O.B. Curtis.
Built in 1991, the O.B. Curtis plant is intended to eventually replace the Fewell plant, which is nearly 100 years old. The city has had to increase the newer plant's capacity in steps, however. In 2004, the city issued a third round of water-sewer bonds for $54 million, most of which went to doubling capacity at O.B. Curtis to 50 million gallons per day. In addition to local money, the Johnson administration also secured $10 million for water infrastructure through various federal grants, the first of which came in 2000, Willis said.
Much of the momentum for improving the city's water system dissipated after Mayor Frank Melton took office in 2005, though. Melton was partly to blame for this. Never a strong planner, he tended to bounce from one major project or controversy to the next. His leadership also failed to inspire confidence in Jackson's congressional and state legislative delegations, both of which could work to supplement local funding for upgrades.
"The breakdown was probably during the Melton administration when there was not the same level of emphasis on infrastructure matters," former-Councilman Leslie McLemore said. The city still included infrastructure needs in its requests to the state congressional delegation, but Melton diluted the force of those requests when he tried to ditch the city's longtime lobbyist in Washington.
Hurricane Katrina also derailed the city's improvement efforts, hampering progress on pre-existing projects for nearly a year.
Together, the three Johnson administration bond issues, along with federal grants, paid for roughly $144 million of the estimated $300 million in upgrades recommended in the 1997 city master plan. Even with Johnson's bond issues, however, the city has not improved enough of its old water lines fast enough. Most water pipes have a design life expectancy of 60 years, and industry associations recommend replacing between 1 percent and 2 percent of a city's water lines every year, Willis said.
Since 1986, Jackson has only replaced 300,000 feet of its 4.7 million feet of pipe, which amounts to 6.3 percent over 24 years. Accounting for price increases and further deterioration of the city's oldest infrastructure, Willis guesses that the city's water infrastructure needs will cost more than the $156 million remainder from the 1997 estimate. In updating the city's master plan, the Johnson administration will have to revise that estimate upward, Willis said.
The city paid for its three bond issues in part by incrementally raising rates on citizens' water bills. Prior to the 1999 bond issue, the rate was $1.08 per 100 cubic feet; after the 2004 issue, it had more than doubled, to $2.20. Rate hikes are a politically difficult way to pay for improvements, however, and they cannot cover the full cost. To pay off past bond issues, as well as any future ones, the city also needs increased tax revenues from development.
While necessary, the past three bond issues are taking a significant chunk of the city's water budget for debt service. Of the roughly $26 million Public Works receives for water every year, nearly a third goes to debt service on bonds. Less than a third goes to operations and maintenance, which covers regular repairs but not massive efforts like last week or line upgrades. Another third to a half covers the cost of water treatment.
Wet, But Not Sexy
Like all cities, Jackson has historically faced a shortage of public and political will for addressing infrastructure needs. "The issue, primarily, is that infrastructure issues are not sexy," Leslie McLemore said. "You're talking about under-the-ground issues, issues that are not as visible."
Last week's crisis in miniature may change that, McLemore noted: "This may be the best public opportunity that the city of Jackson has had in the last 50 years, because if this water crisis says anything to anybody—an average consumer of services or a public figure—it is that there are critical needs that ought to be addressed."
Jackson must draw state and federal money to support its own infrastructure funding, McLemore says. Economic-development projects can generate the increased tax revenues necessary to fund infrastructure improvements, but those projects depend on infrastructure themselves. In 2009, the city received two boosts for the city's water infrastructure—a $20 million loan from the Mississippi Development Authority and a $5.71 million grant through the federal stimulus package—but both were specifically tied to the Old Capitol Green downtown-development project.
Citing the example of other cities like Atlanta, McLemore said that city leaders must forge a closer—and more lucrative—relationship with state lawmakers and Mississippi's congressional delegation. That means visiting state legislators in their home districts in between sessions, and making a more compelling case in Washington, he said.
"If there's a plus in all the frustration and inconvenience that we've experienced over the last several days, it is that perhaps we can get—in a much more profound way—the attention of the Mississippi congressional delegation, to really help the capital city address these long-term infrastructure needs that should've been addressed many years ago." McLemore said.
Johnson will plead Jackson's case with the state's Congressional delegation this week, city spokesman Chris Mims said Monday. The mayor is in Washington, D.C., for a meeting of the U.S. Conference of Mayors.
"Since this happened, he's made arrangements to speak to the congressional delegation, and at the top of his list is certainly going to be upgrading our water system," Mims said. "He's going to speak to them and urge them to provide some assistance."
One city priority will be upgrading or replacing the 500,000 feet of water line still remaining from the sections targeted for improvement in the 1997 master plan, Mims said.
"But of course, the problem has always been funding," Mims added. "(Johnson) is going to ask for as much as he can get."
More stories by this author
Support our reporting -- Become a JFP VIP.
The news business has changed dramatically in the past year, and we need your help more than ever to keep bringing you important stories about Jackson and the Metro. Become a JFP VIP with an annual membership or you can Sign up as a monthly supporter. Thanks for anything you can do to empower our journalism!