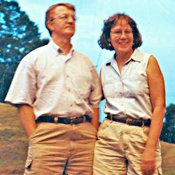 Known for his gentle nature and unique story-telling skills, Jacksonian Guy Cavett Taff passed away Saturday Sept. 26 at the age of 60.
Taff developed his career as a museum exhibit designer. According to his close colleague, Gretchen Cook, he ran Zibitz, a business specializing in museum exhibits design and consulting, specializing in history and the south.
"As far as I know he didn't have a business card or a published office phone number," Cook told the Jackson Free Press. "He stayed off the radar but was known throughout the industry because of his good work."
Cook, editor and publisher of Parents and Kids Magazine, recalled stopping by Taff's office regularly to consult him for business advice.
"He never told me what to do, he just asked thoughtful questions that would lead me to the right direction, very few people could do that," she recalled " He always took time for the people in his life, even if it was my sales people. I never saw him turn away a human being away."
His wife, Carol Boydstun Taff, and their four children—Emily, Philip, Lila and Ryder—survive Taff.
Even after his children were too old to participate, Taff was an active cub scouts leader.
"He worked with those kids well after his kids went to college, he really had a heart for it," Cook said. "He was also a brilliant parent. The expression on his face was priceless when he would talk about them."
Visitation is tonight from 5 to 7 p.m. and Wednesday, Sept. 30, at 10 a.m. followed by a memorial service at 11 a.m. at Northminster Baptist Church, located at 3955 Ridgewood Road.
More stories by this author
Support our reporting -- Follow the MFP.