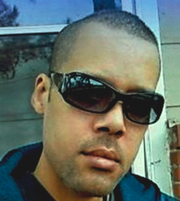 On December 5, 2012, Gregory Miller, aka DJ Razzle K, passed away from complications associated with pancreatic cancer. Miller was 43 years old.

After Razzle K's death, I was talking with poet and hip-hop journalist Charlie Braxton who suggested I write a piece about the late DJ. I reached out to Brad "Kamikaze" Franklin who put me in touch with a guy named Tony B. Tony B, also known as Anthony Marcel Bryant, told me the story of DJ Razzle K, which, as it turns out, is the story of hip-hop itself in Jackson.
Back in the early '80s, before MTV played rap videos (or, to be real, hardly any videos by black artists at all) and before hip-hop was a fixture on pop radio stations, kids outside New York and a few other major cities relied on each other to hear hip-hop. These were the days in Jackson when most rap was heard on playgrounds and in cafeterias.
As Tony B, 37, and Kamikaze both told me, these schoolhouse sessions moved into parks like Battlefield and Riverside, where the kids in various Jackson neighborhoods threw weekend parties. Because Razzle K had the necessary equipment (turntables, a mixer and big speakers), he went to the parties to DJ and provided the music for the young rappers to get down to.
But Razzle K was more than just a DJ. He was also a mentor. Being well aware of the burgeoning hip-hop scene around the country, he stayed a step ahead of the young rappers and gave them guidance as they built their craft and developed their own voices.
"He taught us about cadence, song structure, hooks and how to count bars. He helped teach us how to legitimize what we were doing," Kamikaze says. Razzle K was working on his own skills as well.
Tony B says that DJ Razzle K, no matter what else he did, always wanted to be known as a DJ first. Yet, Razzle K's background in music goes much deeper. He played keyboards on occasion with Freedom and other Jackson based funk groups of the '70s.
"He could play the keyboard by ear. He could play any song off the radio after hearing it once," Tony B says. This skill, combined with his understanding of hip-hop music, pushed Razzle K into the next step: production.
Razzle K's second phase as Jackson's hip-hop godfather was as producer for many of the rappers involved in the park's hip-hop scene. "Razzle K took hip-hop from the streets and started a movement with those park jams," Tony B says. "Then he took hip-hop from the park and into the club and radio."
Razzle K went on to produce singles and albums for a host of Jackson and Mississippi-based artists such as Mississippi Mafia, Wood Street Players, Boo da Boss Playa, Reese and Bigelow, and Tony B's group Valley of the Dry Bones.
"He was where you went to get quality music," Tony says. Razzle K's radio show in 90.1 FM was the only place in Jackson playing local hip-hop.
The rest is Mississippi hip-hop history. Tony B and Kamikaze both agreed that without Razzle K there would maybe be no DJ or hip-hop culture in the city. He mentored the generation of DJs making noise in the city now such as Finesse, Scrap Dirty and Phingaprint. He paved the way for every hip-hop artist in Jackson working today. And, I certainly wouldn't be able to do the things I do if it wasn't for his vision.
But, more importantly, everyone I talked to agree that he was a great guy, and that is what he should be remembered for most. "He was a great father and had a strong relationship with God," Tony B recalls. R.I.P. DJ Razzle K.
More stories by this author
Support our reporting -- Follow the MFP.