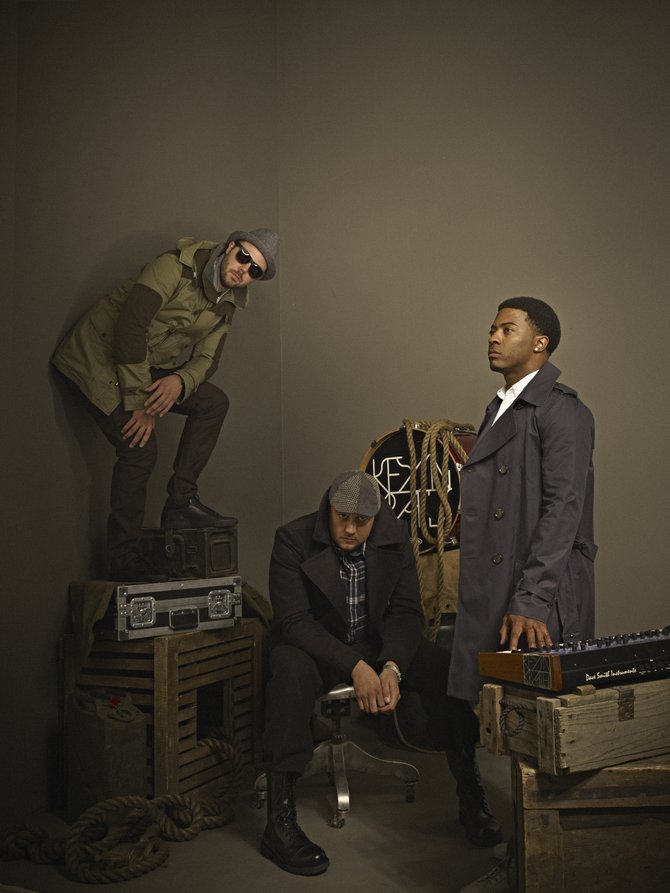 The past few years have seen resurgence in the popularity of electronic music. Dubstep is used to sell cars and computer operating systems. Artists performing with instruments like MacBook Pros, samplers, and intense visual and light shows sell out iconic venues like Red Rocks with their high energy, bass-heavy, psychedelic dance music. Bassnectar, one of the underground's luminaries, rocked a packed Convention Center in Jackson on a Monday night earlier this year. Electronic is the music the "kids" in high school and college are listening to, and the support of this very large and vocal group is what has allowed this scene to take over.
Chris Rybolt at Martin's has been bringing in this kind of music for a while now, often booking smaller or lesser-known groups who, in all actuality, are usually the ones making the most interesting music. On Dec. 29, one of the more compelling electronic groups, Toronto-based Keys N Krates, will perform at Martin's.
What sets Keys N Krates apart is their approach. Most DJs do some kind of remixing, and these new-wave electronic artists do the same on stage with computers. Keys N Krates does it all with live instrumentation. The three-piece band turns songs by everyone from Drake and Florence + The Machine to Jay-Z and pretty much anyone else they want to, into floor-pumping bassy dance songs using drums, keys, and turntables. The result is, according to the band's website, "a blend of hip-hop, electronica and jam that truly shows off the artistry of the live remix."
The re-emergence of electronic music, at least in part, can be traced back to the "late-night" scenes that followed around "jam-tronica" (drop that term on a hipster and watch their head explode) bands such as STS9 and the Disco Biscuits in the late '90s and early 2000s. These bands and others were combining the tenets and live instrumentation of jam-based music (think Phish) with effects and new technologies to make live electronica music that does very well on the hippie-traveling-circus touring circuit. The shows are often epic, and, at least early on, the music was groundbreaking.
The spectacle these kinds of bands created with their shows would often spill into all-night after-parties at nearby clubs. This is where Bassnectar, already a well-known DJ, especially on the west coast with the Burning Man crowd, got a great entrée into the live "jam-tronica" scene. Others, such as Pretty Lights and Big Gigantic, have gone on to wild success, often outselling the very bands they used to open for or play late nights after.
What is great about the scene now is the ridiculous amount of people to listen to, as this kind of music is very well suited to people who are good with computers and have a good amount of free time. Sure, there is a lot to wade through sometimes, but when it is good, it can be real good.
Many are calling Keys N Krates the next big thing in the underground, so I would suggest catching these guys soon, as secrets aren't well kept in the electronic music scene at all.
Keys N Krates performs at Martin's Lounge (214 S. State St., 601-354-9712) on Dec. 29. Tickets are $10 at the door for the 10 p.m. show. Visit keysnkrates.com for more info.
More stories by this author
Support our reporting -- Follow the MFP.