Birmingham's Earthbound blends lush instrumentation with down-home, everyman vocals. Like Widespread Panic's first cousin twice removed, the five-man group provides a sound that is a bit more "put together" than some jam bands that have been on the scene in the last few years. Earthbound consists of Scott Hudson (guitar and vocals), Clinton Mann (guitar and vocals), Myron W. Scott (percussion), Marcus London (percussion) and Ed Meredith (bass).
Earthbound's first album, "Somewhere In Between," includes bluesy numbers like "Sun Went Down" and Grateful Dead-tinged tunes like "Had It All the Time." "Frost on the Vine," a song from the band's 2004 demo, starts with an almost Danny Gatton-ish guitar riff played over an energetic rhythm section, then slows down into a 6/8 groove when the lyrics kick in. With vocals reminiscent of both Jerry Garcia and Panic's John Bell, the band's musicianship encompasses all the ear-pleasing elements of the jam-band genre. It's feel-good music to noodle dance to (you know, that dance you see at most WSP shows), or you can just sit back and enjoy it, frosty brew in hand. Despite the death of one of the band's founding members and keyboardist, Kent Donovan, in 2005, Earthbound is still going strong.
Do you mind being described as a "jam band," or is another term more suitable?
Scott: We don't mind it. We know we fall under the jam-band umbrella. "Jam band" is a very loose term. In certain situations, we play mostly short, structured songs. But we are really a rock 'n' roll band that happens to love improvisation.
Myron: We are really a grass-roots rock band that likes to flex our wings!
Tell me about how Earthbound came to be.
Clinton: After a thunderstorm knocked out the electricity, Scott and I went on the porch to play our guitars. From a couple streets over, Kent heard the guitars, grabbed his and headed our way. After the first night we met him, we asked him to come back, and slowly but surely, Earthbound was formed. We decided to go into the studio and added Ed Meredith on bass. After several different drummers, we found Marcus London, who had been playing in Dead Hand System in New Orleans. That year, Wes (Keith), our manager, introduced us to Myron Scott from Chattanooga. After performing with Myron on many occasions, we knew the chemistry was there. He recently moved to Birmingham to join the band full time.
How have you coped with the loss of Kent?
Myron: Coping with death is hard for anybody, especially when it is your family, and Kent was part of our family.
Scott: Time heals all wounds. We knew the best way to cope with the loss was to keep the music going. We knew we needed to continue, and that is what Kent would have wanted. We miss him musically and personally, but the music itself pulled us through it.
What can we expect from a live Earthbound show?
Clinton: Rock 'n' roll with good instrumentation, rich harmonies and just a good ole time.
Scott: We really feed off the audience, and the music could be rock, reggae, folk, country, bluegrass or jam band.
Myron: We have over 50 original songs, and we like to sprinkle in a couple covers, and even break off into drums.
Who does the songwriting?
Clinton: Scott writes about 70 percent of the songs. I also have written several songs, and Ed has added his touch. We have been collaborating lately.
What is next for Earthbound?
Myron: We are working on our second CD, and I can't wait until it is finished. The first three tracks sound great. We are working with Jeff Coppage, who engineered Widespread Panic's first two albums, and has also worked with the Dixie Chicks and Robert Earl Keen.
Scott: Our outlook is very positive, and I would like to continue to grow musically and build off the groundwork we have laid. We would love to complete our lineup with keys and take the next stop down the line.
Earthbound performs at Martin's Friday, Nov. 10, at 10 p.m. You can also check them out at earthboundweb.com
More like this story
More stories by this author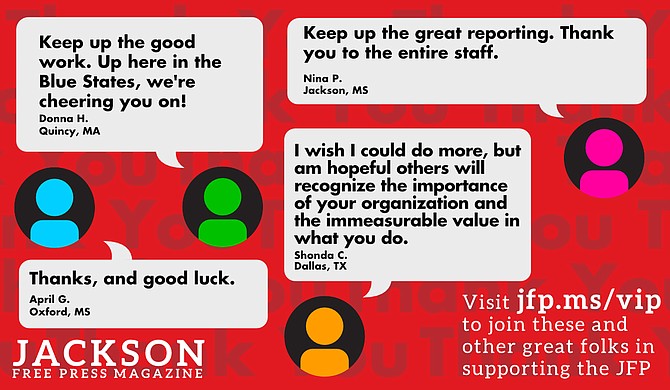 Thanks to all our new JFP VIPs!
COVID-19 has closed down the main sources of the JFP's revenue -- concerts, festivals, fundraisers, restaurants and bars. If everyone reading this article gives $5 or more, we should be able to continue publishing through the crisis. Please pay what you can to keep us reporting and publishing.