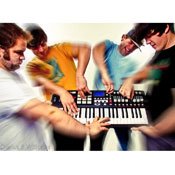 Zoogma. It's a word that on the surface doesn't make a whole lot of sense. To some people, the word represents absolutely nothing. To others, it's a misspelling of the literary device Zeugma, a Greek word meaning "to bond." And to an increasing number of people, it's a guaranteed good time on a Saturday night.
The band Zoogma got its start in Oxford, Miss., a town that is no stranger to jam bands (or really any act geared toward the red Solo cup crowd). Band members are Justin Hasting on guitars and synth, Matt Harris on drums and sequencing, Ryan Nall on bass and synth, and Brock Bowling on guitar and sequencing.
Known for its seizure-inducing live shows, Zoogma mixes trance beats with a live rock sound akin to jam and funk bands. It has developed a following due to its shows, which often feature spur-of-the-moment instrumentation. Although the band plays original songs for most of its set, it also covers a bizarre array of songs ranging from "Eleanor Rigby" to the "Ghostbusters" theme song.
Bowling describes the band as somewhere between a live rock band and a DJ-oriented electronica act. Indeed, the sound is as unique as the band's name, and the Greek derivative almost perfectly describes what Zoogma is all about: bonding different genres to produce something new.
The band has played Wakarusa, a camping and music festival in Ozark, Ark., and Camp Bisco, held in Mariaville, N.Y., both of which are well-known names to many college-aged festival-goers. The group also played a show at this year's Beale Street Music Festival, a part of Memphis in May. Bowling estimates that they have played at least 300 shows in the last three years.
With increased exposure comes new fans, including some unexpected ones.
"Definitely what surprises me is the amount of older people that come to our shows," he says. "There will be a 45- or 50-year-old man who says that our music took him back to the psychedelic rock he listened to. He doesn't understand electronic music or listen to it, but he or she may take something else away from it."
The group will start their "WTF is Zoogma?" tour this summer, with a stop in Jackson at Martin's June 23, just before playing places such as the StereoTerra Festival in Michigan and the Mint Green Music Festival in New Jersey, among others.
Zoogma is no stranger to playing shows in Jackson; it is one of the first places the band performed outside of Oxford.
"Martin's was on the first tour we ever did (in 2007). So we've been playing there for the longevity of it. It's one of the first clubs we ever played, out of town," Bowling says.
Zoogma will be handing out a free summer mixtape to coincide with its tour. The mixtape features original material heavy on DJ and beat-making talents, along with some vocal remixes of others' works.
"It is a concept we have been thinking about for a second and wanted to try out and see how it works," Bowling says. "It's like a hip-hop mixtape. It's an idea we got from the hip-hop culture, taking songs and reworking them our way."
Zoogma is releasing the mixtape as a teaser for the band's second full-length album, a follow-up to "Recreational Vehicles."
Bowling says the band plans to start recording in August and release the album this fall. The follow-up won't be much of a departure from the eclectic mix of rock and electronica fans love them for.
Whatever the future holds for Zoogma as its popularity continues to grow, Bowling says the musicians don't plan on letting any outside pressures affect the sound they've carefully cultivated.
"We just pretty much play and write what we want to write," Bowling says. "We just hope (fans) like it."
Zoogma performs in Jackson with Space Capone at Martin's (214 S. State St., 601-354-9712) June 23.
More stories by this author
Support our reporting -- Follow the MFP.