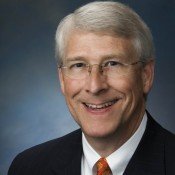 Passed by a 68-to-30 Senate vote, an amendment authored by Mississippi Sen. Roger Wicker, mandates that Amtrak allow passengers to carry handguns in their checked baggage. The amendment is an addition to a $122 billion housing and transportation bill, of which $1.2 billion is for Amtrak, and would deny funding for the carrier if it doesn't comply by March 2010.
"In our country today, airline passengers may transport firearms and ammunition in secure, checked baggage when declared during the check-in process," Wicker said in a statement. "Amtrak passengers are not permitted to do the same. Americans should not have their Second Amendment rights restricted for any reason, particularly if they choose to travel on America's federally subsidized rail line."
Amtrak stopped allowing guns after the Sept. 11, 2001, terrorist attacks, and says it doesn't have the money or security infrastructure to make the changes required by the amendment.
The New York Times quoted a letter from Amtrak's Chairman of the Board Thomas C. Carper to the leadership of the Senate Appropriations Committee Transportation Subcommittee. Unlike airlines, Carper said in the letter, Amtrak did not already have a uniform system in place for screening, and added that Amtrak's baggage cars are more easily accessible.
"As a result of these significant differences with the airline industry, Amtrak would need a significant amount of time and funding to properly address this congressional mandate," Carper wrote in his letter.
Majority Whip Richard J. Durbin , D-Ill., agreed with Carper.
"Amtrak doesn't have the security infrastructure, the processes or the trained personnel in place to ensure that checked firearms would not be lost, damaged, stolen or misused," Durbin told CQ Politics. "I know the political force behind gun amendments, but this just goes too far."
Washington-state based Citizen's Committee to Keep and Bear Arms flexed their political muscles in a statement threatening Sen. Patty Murray, D-Wash., with her Senate seat. Murray chairs the panel that crafted the transportation spending bill, and voted against the Wicker amendment.
"Patty Murray evidently has a short memory span," said CCKB Chairman Alan Gottlieb in a statement. "Has she already forgotten what happened to her friend, Seattle Mayor Greg Nickels, in the primary because of his extremist anti-gun philosophy? ... Amtrak has been losing money for years. Maybe it's because American gun owners won't travel with a carrier that treats them like outcasts. Maybe gun owners will return that sentiment when Murray runs for re-election next year."
Wicker's amendment is one of several pieces of congressional legislation seeking to expand gun rights. Already this year, the Senate has approved a provision allowing guns in national parks and loosened the gun laws in Washington, D.C. Because the House has already passed the bill without Wicker's amendment, there's a chance it may not make it to the final version.
Wicker's support of Amtrak has been mixed. In budget votes for fiscal years 2006 and 2007, he voted against defunding Amtrak for '06 and for defunding for '07, according to the International Brotherhood of Electrical Workers.
Previous Comments
ID

152219

Comment

Lord, what a dipshit.

Author

KnoxBallard

Date

2009-09-23T04:52:28-06:00
ID

152228

Comment

I recently received a mailer from Wicker's office opposing healthcare reform that stated it was paid for by taxpayer dollars. I wonder what something like that cost and why no one is objecting to that sort of spending during a cash strapped period.

Author

Goldenae

Date

2009-09-23T09:46:21-06:00
ID

152231

Comment

I recently received a mailer from Wicker's office opposing healthcare reform that stated it was paid for by taxpayer dollars. Will he propose ending Medicare and Social Security? They're both taxpayer-funded.

Author

golden eagle

Date

2009-09-23T10:54:54-06:00
ID

152235

Comment

Goldenae, did Wicker's mailer say the mailer was paid for with taxpayer dollars, or that health care reform would be paid for with taxpayer dollars? In the meantime, no one's talking about the fact that the health insurance industry is spending $700,000 a day to oppose reform. It boggles my mind that they have the disposable income to mount this kind of campaign, yet have raised rates 80 percent and continue to drop policy holders like hot potatoes when they get sick. These corporations (and the politicians fronting for them) are craven.

Author

Ronni_Mott

Date

2009-09-23T12:22:02-06:00
ID

152240

Comment

"I don't get it, does he remember what happened on September 11, 2001!?" Was there a train involved? Or guns? Transporting firearms on airplanes in secure, checked baggage was legal before and after 9/11. Implementation aside (I do think the time necessary to ensure safe, trained employees should be allowed), why shouldn't this same option be extended to train travel?

Author

Mark Geoffriau

Date

2009-09-23T12:37:11-06:00
ID

152243

Comment

Ronni, the mailer says "Prepared, published and mailed at taxpayer expense" on the bottom of page 1. It's one 11x17 sheet folded into a 4-page 8.5x11, 4-color "newsletter" that has lots of "articles" that trash health care reform. I just got it in my mailbox today and called the Senator's Jackson office to register my complaint that it's not a very prudent use of taxpayer funds.

Author

darren

Date

2009-09-23T13:06:22-06:00
ID

152245

Comment

Geo, the problems are that Amtrak does NOT have the security infrastructure in place to allow gun transport now, and does not have the funds to put the necessary security and personnel into place before the March 2010 deadline in the Wicker amendment. That leaves a couple of options for Wicker's pushing the amendment: He's either grandstanding for the gun proponents sake, and/or he wants to put Amtrak out of business. As far as I'm concerned, the Senate's passing this amendment is about as thoughtful a move as denying ACORN federal funding (which has been pointed out as unconstitutional). Neither piece of legislation is anything more than a bunch of bluster and noise.

Author

Ronni_Mott

Date

2009-09-23T13:24:00-06:00
ID

152247

Comment

Out of curiosity, why do my posts take so long to appear? In this case, darren's post appeared before mine, and then my post was inserted into the timeline before darren's when Ronni M replied to me. Am I on some sort of moderative probation or something? I don't see anyone else's posts being inserted into discussions ex post facto.

Author

Mark Geoffriau

Date

2009-09-23T13:27:38-06:00
ID

152257

Comment

You're in moderation mode, as are most people here whose identities we don't know, or who like to hug to the edge of the user agreement. On that point, don't try to start a discussion about our site rules on this thread; going off-thread to complain about our policies is, well, against the user agreement. The user agreement is what keeps our comments from turning into a tablog swamp of hate like so many of the other ones, so don't even bother trying to complain about it. Won't change anything, and we've all heard it before. ;-) Back on topic ...

Author

DonnaLadd

Date

2009-09-23T15:58:27-06:00
ID

152263

Comment

Ronni: It is called "Report on Health Care" and at the very bottom of the first page, it says, "Prepared published and mailed at taxpayer expense". This just seems like the type of wasteful spending that conservatives rail against.

Author

Goldenae

Date

2009-09-23T18:11:13-06:00
More like this story
More stories by this author