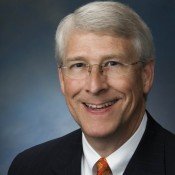 U.S. Sen. Roger Wicker defended President Barack Obama against accusations questioning the president's citizenship during a tea-party forum last night.
Stories this photo appears in:
United States Sen. Roger Wicker, R-Miss., found himself defending President Barack Obama against some of the more conservative elements of the tea party during a forum last night. The Central ...
Person of the Day
Passed by a 68-to-30 Senate vote, an amendment authored by Mississippi Sen. Roger Wicker, mandates that Amtrak allow passengers to carry handguns in their checked baggage. The amendment is an ...