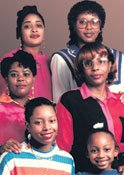 Henry Lee Phillips pleaded guilty today to murdering his former girlfriend, Doris Shavers, 40, on Sept. 17, 2007, as Shavers combed her 12-year-old daughter's hair before leaving for work. The day of the murder was Jessica's birthday.
Hinds County Circuit Court Judge Winston Kidd sentenced Phillips, 52, to life in prison, according to WAPT.
Family members told the Jackson Free Press the week of the killing that they had called Jackson police officers to the scene twice the day Phillips shot Shavers in the head with a .038. A mentally handicapped teen called Shavers his girlfriend--the same thing the boy said to all of the neighborhood women, who knew him and went along with it. Phillips, known by the family to be a jealous man, pointed one of his guns at the boy, prompting Shavers' family to call the police.
Police responding to the first call took one of Phillips' guns, but returned it, and officers on second call took only one of Phillips guns, according to Shavers' brother Clifton Hopkins. That left Phillips with the murder weapon, which he used on Shavers before the officers got more than a block away.
Shavers was one of two domestic murders that week. See the JFP story on the Shavers and Heather Spencer murders here.
On June 23, 2008, Shavers daughter Shalandria, then 21, filed a wrongful-death lawsuit against the City of Jackson, the JPD, Henry Phillips and John Does 1-8. The complaint claims gross negligence, reckless disregard for the rights and safety of the plaintiff, assault, battery and infliction of emotion distress among other charges.
Previous Comments
ID

144549

Comment

So, the question now becomes: Will Phillips become a gubernatorial trusty and be early paroled in a few years!?! This also brings to mind the criticism that critics of former District Attorney Faye Peterson lobbed against her for daring to plead murderers to life. It sounds like a pretty good option, if the powers-that-be will leave them in prison to serve out their terms.

Author

DonnaLadd

Date

2009-03-10T14:04:45-06:00
ID

144552

Comment

So, the question now becomes: Will Phillips become a gubernatorial trusty and be early paroled in a few years!?! At the rate Barbour's going, Phillips better hope it'll be within a couple of years (when Barbour's term is up). I just don't get Barbour's stance with giving such dangerous criminals trustee status. I can see giving such status to a non-violent criminal who may only have to serve a few years and has a chance to turn his or her life around, but it sends an extremely bad message to citizens, especially to women, to let violent criminals out or giving them trustee status.

Author

golden eagle

Date

2009-03-10T14:31:16-06:00
ID

144554

Comment

Golden Eagle - What? Everyone knows its easier to trust someone who kills women and children than someone who smokes that marry-wanna stuff. Heck, those people may... like... eat your cheetos. ... Murders, well, we're sure it was an accident, really... right? They're just excitable is all. (sarcasm off)

Author

BobbyKearan

Date

2009-03-10T14:47:47-06:00
More like this story
More stories by this author