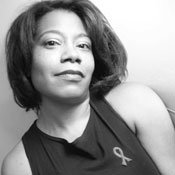 Mississippi native Renita Martin will venture from New York City to Jackson this weekend to perform her one-woman show "Five Bottles in a Six Pack" at New Stage Theatre. Martin graduated from Crystal Springs High School and briefly attended Tougaloo College before moving to Boston, and later to New York. When she's not on stage, Martin, 40, leads artistic workshops for at-risk youth through her non-profit production company, Rhythm Visions. The event, in conjunction with the fifth annual Unita Blackwell Young Women's Leadership Institute, begins at 7:30 p.m. Saturday, June 27.
• When did you decide to become an actress, and why?
Well when I was little, I used to make up a lot of stories, and I knew early on that I liked to perform. We would go up to church and would come back and perform everything that had happened. It was kind of early that I decided that I wanted to do it. But I think later, when I went to college, I started thinking about how I would sustain myself. ... When I first went to college, I was in pre-med; I loved the medicine and the lab and everything, but I was still missing the artistic component, and so I just took the leap of faith and knew that it was something I that I would have to do.
• Where does your inspiration come from when developing a new play, and what is that process is like?
My ongoing inspiration is my family and growing up in Mississippi, as far as the culture of the South and the love of the language. That's my ongoing inspiration, and then things that I see you know around. For me, theater has both a social function and an entertainment value. You know, for me definitely I'm sort of inspired by what is going on socially, or politically, and if there is something that needs to be changed and how to go about changing it.
• Why do you think it is important to give back to the community?
One is because of the community where I got much of who I am. From teachers to family members, I learned how to treat people, the basic "do onto others." I come from a family that is really about education and about taking care of family—which the community is an extension of—and I also think that art in its purest form comes from the community. You know, before it gets commercialized, it comes from sort of a grass-roots base. … It's a continual learning process and particularly working … with young people, it's an overwhelming spirit of wanting to see change, wanting to see how things will be better. It helps me grow as an artist. And I don't necessarily see them as separate, the things that I do on stage and television. I put as much effort into that as I put into the community.
•What message do you hope to send during your performance at New Stage?
I guess the main one is that you can make it through anything and that we've been given everything that we need in this world to succeed. And the characters have all gone through their own personal trials. You know, you always have a choice when you go through trials, whether you are going to wallow in it or take what you learn from the particular trial and become a better person.
• As a successful African American woman, in what way do you hope to inspire other women?
For me, I'm not sort of a big talker or adviser in terms of "you should do this" or "you should do that." I hope that my life sort of inspire others to do similar work, and I think the main thing that work inspires is that it isn't one or the other—you can be a successful artist or successful whatever you do and have an impact in relation to your community.
• Who is your biggest influence?
My mother—she has taught me so much about love and redemption and forgiveness. Also my sister has influenced me. I think, artistically, Toni Morrison, Dr. Otrie B. Hickerson and Virgia Brock-Sheadd—she taught at Tougaloo when I was there. She has passed on now; she was a big inspiration.
• In one word, how would you describe yourself and why?
I think, "hopeful," because you know if you ask most people they would say, "crazy," if they had to say the one word; but I feel like I always see the potential in people.
Renita Martin performs at New Stage Theatre Saturday, June 27 at 7:30 p.m. Free, but donations to the Children's Defense Fund accepted. Call 601-948-3531.
More stories by this author
Support our reporting -- Follow the MFP.