/09winners/best-change-Fondren.jpg" style="margin-right: 5px; margin-top: 5px;" />
BEST CHANGE TO THE CITY
FONDREN GROWTH
Have you been to Fondren lately? Because if you have not in, oh let's say, the last week, you've missed something new and cool there. That's not hyperbole. It could be the gorgeous Duling School renovations across from the Fondren Beverage Emporium, Jackson's own Boardwalk with a hotel. You've also missed friendly neighbors committed to Jackson and its community. You've missed some really cute dogs. Where else can you walk to Sal and Mookie's or buy a cheap hobo bag at Orange Peel? Nowhere. That's where. However, Downtown is close to Fondren's heels with chatter about Farish Street projects picking up again along with the grand opening of the Jackson Convention Complex.
—Emily Braden Knight
Second: Downtown Revitalization / Third: King Edward / Good showing: Convention Center
BEST SLOGAN
"A CITY WITH SOUL"
Yeah. A slogan is like a "Get Out of Jail Free," which I was quite surprised did not make the list along with other Frank Melton references such as: "Our Mayor Can Beat Up Your Mayor and Get Away With It" and "We Don't Tear Down Houses With Sledgehammers Anymore."
There are many that reflect our hopeful cynicism, like "Come Back Pansies," "Jackson: At Least We Sell Alcohol," "We Suck Less Than You Think," "Ask Us About Our Dormant Volcano," and "Meh. It Ain't That Bad."
Amid the references to change and forms of "yes" (we can and did) were very catchy variations of the positive connotation. There was "It's Where Your Friends Are," "Jackson is the New Jackson" and "That's What I'm Talking About."
We also received clever puns and double entendres. There was "Let's Kick It." (Are we playing in Jackson or armchair quarterbacking from the suburbs?) However, writer's choice goes to "You Know You Love It" because, well, you do.
—Emily Braden Knight

BEST ALIBI (FRANK MADE ME DO IT) • BEST PUBLIC FIGURE • BEST THING TO GET RID OF • MOST UNDER-APPRECIATED JACKSONIAN • BEST CURMUDGEON
FRANK MELTON
The devil must stand aside as humanity's greatest enabler this year. "The Devil made me do it" has nothing on the JFP's version. Here's to those unfortunate souls who drank Frank's Kool-aid and followed his every order. Still, as a curmudgeon it might be easier just to go along with his program than bring out his crusty, ill-tempered side.
Many argue that Melton makes for a visible public figure because laws don't expect people like him to get elected. The Jackson City Council can't, for example, use state law to legally push the mayor into appointing an interim mayor while he's too ill to work. Why? Because state law expects leaders to follow it and provides no easy way to oust politicians who refuse to do so. Some lawyers argue that Mississippi laws are fashioned to protect an unpopular minority that wants to stay in power. Unfortunately, sometimes that minority checks the ballot box labeled "Nut." We did it to ourselves, really.
"Best Thing to Get Rid Of" is another category where the mayor continues to dominate our annual readers' poll. It goes without saying that Melton's leaving office is foremost on the minds of many people—it wins greater appreciation than the dearth of both the No. 2 winner, crime, and No. 3, potholes. Unfortunately, the mayoral election this year (along with the Melton administration's inability to pour concrete and hire cops) makes it clear that Melton stands a greater chance of leaving office before the crime or the potholes.
As for under-appreciated, bloody hell. When will this guy stop winning these categories? Truth be told, the JFP distribution team attests that copies literally fly from the shelves whenever Melton's mug is splashed on the front page. (Hot women would work, too, but nobody ever takes my advice. Sigh.) We're not sure if this is a fit of sarcasm voters share. (One reader did follow his vote with "hahahaha.") Could they be envisioning the sheer dullness of a Jackson news scene that makes no mention of Melton shenanigans? Truly, it chills a reporter's soul. See ya in court, chumps. —Adam Lynch
Best Alibi
Second: I was with Vince. / Third: It's a crack house. / Good showing: I thought I was at WC Don's.
Best Public Figure
Second: Malcolm McMillin / Third: Haley Barbour / Good Showing: Ben Allen; Jeff Good; Margaret Barrett-Simon
Best Thing to Get Rid Of
Second: Crime / Third: Potholes / Good showing: Smoking in bars, restaurants and public places; Racism
Most Under-appreciated Jacksonian
Second: Quint Withers (Millsaps College) / Third: Harvey Johnson Jr. / Good showing: Jeff Good; John McGowan; "Me"
Best Curmudgeon
Second: Ed Lowther / Third (tie): Chip Matthews; Todd Stauffer / Good Showing: Bert Case, Bill Minor, Chip Sheppard, Leland Speed, Mac Osborne, Vince Falconi
Best Jackson Architecture: Fondren Place
3100 N. State St.
This brand new addition to Fondren has the feel of the 1930s with Art Deco touches inside and out. The building sits on what used to be a parking lot, next to the historic Duling School. Sam Peters, from Peters Real Estate, says they saw an opportunity to develop the property and blend it with the style of the Duling School. The common areas of Fondren Place feature design elements reminiscent of the Empire State Building, but also includes modern energy-saving items, like lights tied to motion sensors. It's free to take a look inside, but go during the Bank Plus lobby hours: Monday through Thursday, 8:30 a.m. to 5 p.m.; Friday, 8:30 a.m. to 6 p.m.
—Dawn R. Dugle
Second: Old Capitol Museum (100 S. State St., 601-576-6920) / Third: Greyhound Bus Station (300 W. Capitol St., 601-353-6342) / Good showing: New Capitol Building (400 High St.)
Best College Band: Jackson State University
On Saturday afternoons during football season, it's not hard to spot an overwhelming number of cars parked in every nook and cranny along Woodrow Wilson Avenue leading up to the Veterans Memorial Stadium, home of the Jackson State University Tigers. Some fans are there to see the game. Some, however, are there to see halftime. Known as "The Sonic Boom of the South," the JSU Marching Band excites crowds with its sheer mass, impressive drum line and tight, intricate formations. Playing everything from classic tunes to the most current popular R&B hits, the Sonic Boom puts on one of the South's best field performances.
—Maggie Neff
Second: Mississippi State University / Third: University of Mississippi / Good showing: Belhaven College; University of Southern Mississippi
Best High School Band: Murrah High School
With a 189-strong field show, the Murrah High School "Sound of Perfection" Marching Band is the best in Jackson. Under the direction of Bryan Jefferson, the band has increased the entertainment in its show, this year adding actors in costume. Students dressed in full Batman and Joker costumes accompanied the band's rendition of the "Gotham City" theme song. The theatrical element hasn't tainted that "perfect sound," though. The Mustangs continue to advance their sound each year and reach new fans with every game and performance.
—Maggie Neff
Second: Madison Central High School / Third: Pearl High School / Good showing: Callaway High School; Clinton High School; Provine High School
Best Non-Profit Organization: Stewpot Community Services
1100 W. Capitol St., 601-353-2759
Stewpot feeds lunch to 150-200 people daily—no questions asked. Its three shelters for women and children offer sanctuary from two weeks to 90 days. Stewpot operates a men's shelter, a day shelter, a food pantry, a clothing closet and an after-school program. For more info, contact Michelle Bingham or Frank Spencer.
—Jackie Warren Tatum
Second: CARA (960 N. Flag Chapel Road, 601-922-7575) / Third: HeArts Against AIDS (P.O. Box 13371, 601-853-9357) / Good showing: Blair E. Batson Children's Hospital (2500 N. State St., 601-984-1000); Good Samaritan Center (1119 West St., 601-355-3070); Habitat for Humanity (P.O. Box 55634, 601-353-6060); Operation Shoestring (1711 Bailey Ave., 601-353-6336); Salvation Army (110 Presto Lane, 601-982-4881)

Best Community Activist: Rims Barber
Rims Barber started his career as a Presbyterian minister in Iowa. In 1964, he volunteered in Mississippi during Freedom Summer. He was overcome by the need for activists to support the state's civil rights efforts, he made an appeal to the Delta Ministry (a project funded by the National Council of Churches) to return to Mississippi. Barber moved back in 1965 and has been a tireless advocate for civil rights for all Mississippians ever since. Among other efforts, he helped found the ACLU of Mississippi and worked to advance Jackson State University and the Jackson Public School system. Currently, Rims and his wife, Judy, work for more just practices in Mississippi. They are two watchdogs that we dearly appreciate. —Sara Cohan
Second: Jeff Good / Third: Kamikaze / Good showing: Ben Allen; Daniel Johnson; Frank Melton; Malcolm White

Best Radio Station: Y101
Best Radio Personality: Nate & Bender Y101
Catching up on today's chart-toppers is as simple as tuning your car radio to Y101, and Jackson is obviously loving it. This mixed-genre station will have you singing along shamelessly whether you know the words or not. But don't be surprised if the guy in the car next to you is pointing and laughing. I think we've all been there.
No radio show can take a half-asleep, tedious drive to work and make it hysterically enjoyable better than Nate & Bender, whose "Morning Showgram" airs from 6-10 a.m. on weekdays. Whether they're catching Jacksonians up on the latest (and most ridiculous) celebrity gossip or giving traffic reports, these two are definitely the best guys to start off a long day.
—Rosalie Nolan
Best Radio Station
Second: Jack FM 94.7 / Third: Mississippi Public Radio / Good showing: Z106; MIX 98.7; WLEZ
Best Radio Personality
Second: Brad Stevens, Rock 93.9 / Third: Rick & Kim, MISS103 / Good showing: Carson, Y101; Mandy Scott, Rock 93.9
Best Local Musician: Scott Albert Johnson
scottalbertjohnson.com
You'd never know Scott Albert Johnson has only been playing the harmonica just a few years. Around the time he turned 30, he picked it up. "I messed around with the harmonica. Very quickly I got addicted to it, and realized … that's my instrument," he said. You notice the harmonica first in his songs, and then the lyrics. This down-to-earth musician channeled himself into what he called an "intensely personal" debut album, "Umbrella Man." These days he is working on his second album, and expecting baby number three with his wife, Susan Margaret. You can catch him at Hal & Mal's Jan. 30. —Dawn R. Dugle
Second: Chad Wesley (chadwesley.com) / Third: Raphael Semmes (601-957-2130, e-mail [e-mail unavailable]) / Good Showing: Johnny Bertram (myspace.com/johnnybertram); Sherman Lee Dillon (shermanleedillon.com); Brian Jones (myspace.com/fullmooncircus); Ezra Brown (myspace.com/ezrabrown)

Best Local Live Theater, Best Stage Play of 2008: New Stage Theatre, "To Kill a Mockingbird"
1100 Carlisle St., 601-948-3531
Located in Belhaven, New Stage Theatre consistently offers Jackson a wide variety of stage plays, complete with superb acting and production. While New Stage brings in some out-of-town actors, the majority of the actors are local. Highlights of 2008 include the plays "Doubt," which recently transitioned to a film of the same name, and the annual favorite "A Christmas Carol." The best play, however, was "To Kill a Mockingbird," based on Harper Lee's Pulitzer Prize-winning novel. The play was a favorite for Jacksonians, and several of its showings sold out. Madeline Parker beautifully portrayed 6-year-old Scout Finch in the coming-of-age story, and John Maxwell's Atticus Finch was wowing. Look for New Stage's next production, "Gee's Bend," in late January.
—Maggie Neff
Best Local Live Theater
Second: Fondren Theatre Workshop (4094 Pine Hill Drive, 601-982-2217) / Third: Black Rose Theater (103 Black St., Brandon, 601-825-1293) / Good showing: Thalia Mara Hall (255 E. Pascagoula St., 601-960-1537)
Best Stage Play of 2008
Second: "The Rocky Horror Show," Fondren Theatre Workshop / Third: "No Good Come To Those Who Do Wrong," Jimmie Lee / Good Showing: "A Christmas Carol," New Stage Theatre; "The Foreigner," Actor's Playhouse; "Rain," Kessler Broadway Productions

Best (Living) Jackson Writer: Beth Kander
Lifetime Achievement Award: Eudora Welty
No one can top Miss Eudora, who leads this category regularly and gets the lifetime achievement award every year.
As for living writers, Beth Kander could possibly have a Mary Chapin Carpenter song in her future. Kander is known mostly as the award-winning screenwriter, playwright and actress-about-town; now, her current Eyevox venture into creative-writing instruction for young people has created much buzz.
Congratulations to returning winners Donna Ladd, Orley Hood, Jill Conner Browne and Rick Cleveland, with a welcome to new columnist Queen Folayan. I can't imagine a better guest list for a dinner party than these six writers.
—Emily Braden Knight
Second: Donna Ladd / Third: (tie) Orley Hood, Jill Conner Browne / Good showing: Queen Folayan, Rick Cleveland

Best Visual Artist: Josh Hailey
2906 N. State St., Suite 333, joshhaileystudio.com
You may find him in a golden leotard prancing through the streets. You may find him wearing barely more than a sombrero singing you a song. But you never find him sitting still. Josh Hailey has a reputation for new inspiring adventures, and his art spans photography to performance art. If we took Gandhi's simple message seriously about "being the change we want to see in the world," then I think Hailey wants the world, or at least Fondren, to be as eccentric and unique as possible, fully expressing itself in all areas of life. Amen to that. —Sage Carter-Hooey
Second: Wyatt Waters (307 Jefferson St., Clinton, 601-925-8115) / Third: Ellen Langford (305 Taylor St., 601-316-2944) / Good showing: Anthony Difatta (761 Gillespie St., 601-353-7898); Ginger Williams (2906 N. State St., 601-954-3046), Marshall Ramsey (marshallramsey.blogspot.com); William Goodman (2906 N. State St., 601-331-5142)

Best Local Professor: Dr. William Storey, Millsaps College
Dr. Storey is an associate professor of history at Millsaps College, focusing on comparative world history. As his former student, I know he is an advocate for improvement in academic writing. Storey recently published "Guns, Race and Power in Colonial South Africa," focusing on that country's ties between technology and politics. His knowledge of history is astounding, and I certainly count his classes as inspiring. —Neola Young
Second: Dr. Stan Baldwin (Mississippi College) / Third: Brian Barnes, (Mississippi College School of Law) / Good showing: Jean Powers (Holmes Community College); Katie McClendon (University of Mississippi Medical Center); Walter Neeley (Millsaps College)
Best Local Columnist: Orley Hood
If there's one thing virtually every Jacksonian can agree on, it's that The Clarion-Ledger was really, really, really stupid to lay off columnist Orley Hood. He has long been a thorn in the side of us JFP columnists; no matter what, he wins this contest every single year. We've made jokes about the rest of us splitting the votes (but so do the Ledger's better columnists, Rick Cleveland and Sid Salter (better on certain Sundays, anyway). Truth is, Orley is a Jackson institution, reminding people of the day when they had a decent daily newspaper. He knows that good column-writing is about more than having an opinion; it's about telling vivid stories in print. We miss Orley's columns, and we hope he turns up at the Best of Jackson party so we can give him an ovation.
—Donna Ladd
Second: Rick Cleveland / Third: Sid Salter / Good showing: Donna Ladd

Local Cop: Malcolm McMillin
When Hinds County Sheriff Malcolm McMillin came on as Jackson police chief in 2007, he was very clear that Mayor Melton would not be running the police department anymore. Indeed, McMillin reversed two of Melton's most recognizable JPD promotions—that of his bodyguards to assistant chief and sergeant—before the federal indictments against the two ever came down.
Major crime has yet to take a plunge under his one-year tenure, but it has only been a year. At the very least, the department is no longer inundated with sensational embarrassment. —Adam Lynch
Second: Wess Schneider / Third: Lee Vance / Good showing: John Yeager; Frank Melton
Best Local Web Site: www.jacksonfreepress.com
Refusing to rest on its laurels as perennial best local Web site winner, jacksonfreepress.com underwent a significant upgrade in 2008. The result is a cleaner interface and more room for breaking news, weather, sports, wellness and style. The new events calendar ensures that I know what's going on, and the slick venue listings ensure I know how to get there. The real highlight of the site, though, is the hub for sophisticated discussion of issues and the crowd sourcing for community insights. Embrace the Internet, people; it's here to stay. Here's a tip for Marshall Ramsey's blog readers: If you get The Clarion Ledger "Zagform" that requires your zip code and age (creepy!) hit the 'Back' button and re-click the link to bypass the form.
—Darren Schwindaman
Second: www.WLBT.com / Third: www.Jacksonncrowd.com / Good showing: www.Loungelist.com, Marshall Ramsey's blog (marshallramsey.blogspot.com)

Best Local Filmmaker: Opie Cooper
Opie Cooper insists that he is merely a collaborator on the myriad projects connected with him, but JFP readers voted him the best this year. Cooper is currently the creative director for Eyevox, "Mississippi's largest and most prolific (film) production studio." Steven Spielberg selected Cooper, who has worked in film since he was 18, as one of 50 unknown filmmakers worldwide for the competing cast of reality show, "On the Lot." Even with his personal success as a filmmaker, Cooper is most excited about collaborating with and furthering opportunities for Mississippi's artists. One such project is "Yeah, Write, Whatever!" an educational project in development that could mean mountains of success for Mississippi schools and the production artists Cooper hopes to encourage.
—Neola Young
Second: Anita Modak-Truran / Third: Edward St. Pé / Good showing: Damien Blaylock; Jim Dollarhide
Best View of the City: University Club
210 E. Capitol St., Suite 2200 601-969-4011
"Evening is the best time to look out the windows. It's beautiful," John Hardy said. Hardy has worked at the University Club since high school and is now the club manager. He loves the view anytime, saying it gives you a taste of Jackson's history. Look north to see: the State Capitol and old Greyhound Station. East: Governor's mansion, Old Capitol Museum and Lamar Life Building. South: Jackson Convention Complex, Roberts Walthall Hotel and Thalia Mara Hall. West: Pinnacle, King Edward Hotel and Standard Life Building. You have to be a member of the University Club or attending a special event to go up there, but Hardy doesn't mind you coming by for a look; just go before the lunch or dinner rushes.
—Dawn R. Dugle
Second: The Capitol Club (125 S. Congress St., Suite 19, 601- 969-7101) / Third: Plaza Building (120 N. Congress St., 601-354-4255) / Good showing: Regions Bank Building (210 E. Capitol St.); Fondren Corner (2906 N. State St.)

Best News Anchor: Maggie Wade, WLBT
When most people think of Maggie Wade, warm sentiments involving sunshine and daisies well up into consciousness. And it's not just because her smile could melt the hearts of the coldest criminals. It's because Wade is not only a successful, intelligent journalist, but she also gives back to the community. In addition to her role as a news anchor, Wade does a weekly segment called "Wednesday's Child," in which she features a child or group of siblings awaiting adoption. There's something genuine about Wade's commentary that makes you believe she cares about the things she reports, and that's why people love her.
—Maggie Neff
Second: Howard Ballou, WLBT / Third: Bert Case, WLBT / Good showing: Linda Allen, WJTV; Brad McMullan, WAPT; Wendy Suarez, WLBT

Best Local TV Preacher: Stan Buckley, First Baptist Church of Jackson
431 N. State St., 601-949-1900, fbcj.org
Beyond the stereotypical image of the hellfire-and-brimstone sermons broadcast nationwide from mega-churches, going to church via the airwaves is a boon for shut-ins and those whose families and schedules simply can't accommodate a ride to church Sunday morning. As pastor of Jackson's own mega-church, fresh-faced Stan Buckley has certainly won the hearts of many Jacksonians. Tune in to Buckley's sermons on Sundays at 10 a.m. on WJTV, Channel 12; 11 a.m. and 8:30 p.m. on NRB (Direct TV channel 378); live on the radio on 1180 AM at 10:30 a.m.; and on the Internet at fbcj.org. He also broadcasts Saturdays on WUFX at 5 a.m. If a conservative Baptist sermon isn't your thing, check out the runners-up.
—Ronni Mott
Second: Keith Tonkel (Wells Memorial United Methodist Church, Sundays, 8 a.m. on the Methodist Hour, WAPT) / Third: Connie and Joey Shelton (Galloway United Methodist Church, Sundays, 11 a.m., WAPT, gallowayumc.org) / Good showing: Ligon Duncan (First Presbyterian Church of Jackson, Sundays, 10 a.m., WLBT, fpcjackson.org), Paul Williams (Metro East Church of Christ, Sundays, noon, PEG)
Best TV Station: WLBT
Apparently NBC's insistence on airing "Knight Rider" hasn't put a dent in WLBT's popularity, perhaps thanks to its wall-to-wall news branding and massive signal. WLBT emerges on top of our Reader Poll again. We know the names: Bert Case, Maggie Wade, Howard Ballou, Walt Grayson, Wilson Stribling, and Barbie Basset—many of them are runaway winners in the Ice Cream Safari at the Jackson Zoo every year. (JFP management seethes at the past losses.) And, of course, they've got a helicopter, so we can see things crashing and burning from above the action. This is key, as is NBC's new hip credה30 Rock," "The Office," "SNL" election coverage and...wait for it...in '09, Chevy Chase is coming to "Chuck." The Golden Age of Television starts ... now. —Todd Stauffer
Second: WAPT / Third: WJTV / Good showing: MPB
More like this story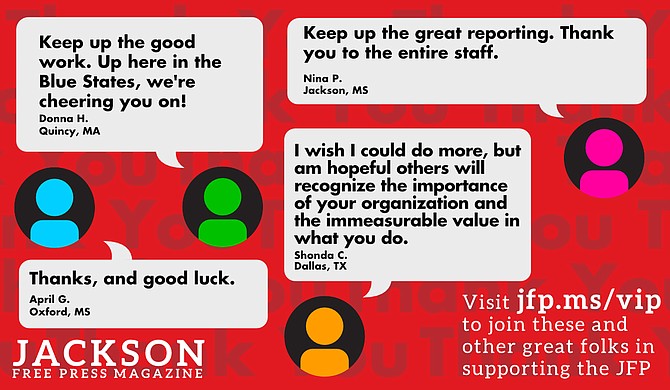 Thanks to all our new JFP VIPs!
COVID-19 has closed down the main sources of the JFP's revenue -- concerts, festivals, fundraisers, restaurants and bars. If everyone reading this article gives $5 or more, we should be able to continue publishing through the crisis. Please pay what you can to keep us reporting and publishing.