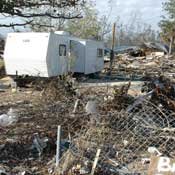 Four years after Hurricanes Katrina and Rita struck the Gulf Coast, and a month after the Federal Emergency Management Agency said it was going to end its temporary housing program necessitated by the storms, FEMA officials are offering victims a bargain: $1 will allow victims to own the trailers they've been calling home since August, 2005.
More than 3,400 people still live in the FEMA trailers in Mississippi and Louisiana, according to The Los Angeles Times, waiting for home repairs and rental units that have yet to materialize. All faced eviction at the start of yet another hurricane season, which began last Monday, June 1. The last residents of the trailers were to have moved by May 1, but without another place to go, those victims never moved out.
"We were going to have another homeless crisis on our hands," said Laura Tuggle of Southeast Louisiana Legal Services, a free legal aid program in New Orleans, to the LA Times. "The fear among people was that one day they were going to come back to the trailer they had been living in and it would just be gone. There was so much anxiety. People worried they would have to buy tents."
The story goes on to say that most of the people still living in the trailers are poor, elderly or disabled, and do not have the resources to find other housing. The current recession hasn't helped, either.
The sale of the trailers will end the most expensive emergency housing program in FEMA's history. The agency provided more than 143,000 households with temporary housing units, mostly mobile homes and trailers, after the two major hurricanes.
More like this story
More stories by this author