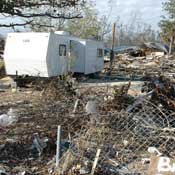 A federal judge has charged Rosemary Barbour's company with engaging in a fraudulent billing scheme for inspecting FEMA trailers after Hurricane Katrina.
Stories this photo appears in:
Hurricane
Four years after Hurricanes Katrina and Rita struck the Gulf Coast, and a month after the Federal Emergency Management Agency said it was going to end its temporary housing program ...
Hurricane
March 1 was to be the deadline when victims of Hurricane Katrina had to leave the temporary housing provided by the Federal Emergency Management Agency. After nearly five years, some ...