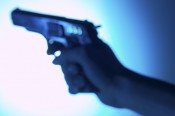 The Jackson Women's Health Organization is on high alert today after an assassin gunned down Dr. George Tiller, an abortion provider in Kansas yesterday. The Jackson clinic is the only place in the state of Mississippi that provides legal abortions.
"It really shakes you up when you know this extremism is back again, apparently, and it does make you fear for your life," Dr. Joseph Booker, a physician at the Jackson facility, told WAPT Sunday.
This battle is decades old but Booker says his fears of being attacked won't keep him from doing his job.
Tiller was in the foyer of his church Sunday—the Reformation Lutheran Church in Wichita, Kansas—serving as an usher, when a gunman fired once, killing him. Police arrested suspect Scott Roeder 170 miles away, after he fled the scene. He is being held without bond, according to the WAPT story.
Previous Comments
ID

148348

Comment

Once again the "pro-life" stance is undercut by some of its own proponents. And if the killer thought what he did was right, why did he run? Whenever MLK protested an injustice he took his punishment, in order to bring attention to the unjust law.

Author

footsy

Date

2009-06-02T06:09:04-06:00
ID

148362

Comment

Um... shouldn't they always be on high alert? Crazies apparently don't even take off Sundays.

Author

dd39203

Date

2009-06-02T13:12:19-06:00
ID

148374

Comment

Facing South has just released a report saying that Scott Roeder, the man charged in Sunday's fatal shooting of Dr. George Tiller, "suggest ties to a loosely organized domestic terror network known as the Army of God." News reports about Sunday's killing in Wichita say Roeder -- who was also part of the anti-government "sovereign citizen" movement -- contributed articles and subscribed to Prayer & Action News, a publication overseen by Dave Leach, an anti-abortion activist from Des Moines and a proponent of the concept of justifiable homicide of doctors who perform abortions. The story states that the Army of God "Manual" is a how-to guide for committing violence against abortion clinics. The final of the manual's three editions advocates murdering providers as the only way to stop abortion. The National Abortion Federation quotes the manual's opening declaration: Beginning officially with the passage of the Freedom of Choice Act - we, the remnant of God-fearing men and women of the United States of Amerika [sic], do officially declare war on the entire child killing industry. After praying, fasting, and making continual supplication to God for your pagan, heathen, infidel souls, we then peacefully, passively presented our bodies in front of your death camps, begging you to stop the mass murdering of infants. Yet you hardened your already blackened, jaded hearts. We quietly accepted the resulting imprisonment and suffering of our passive resistance. Yet you mocked God and continued the Holocaust. No longer! All of the options have expired. Our Most Dread Sovereign Lord God requires that whosoever sheds man's blood, by man shall his blood be shed. Not out of hatred of you, but out of love for the persons you exterminate, we are forced to take arms against you. Our life for yours - a simple equation. Among the many individual's cited in the story as belong to the Army of God is C. Roy McMillan, the executive director of the Christian Action Group of Jackson, Miss. and an oft-arrested clinic protester whose business cards say, "If you believe abortion is murder ... ACT like it's murder." The story links the JFP story No Apologies: Inside Mississippi's Pro-Life Movement as a resource.

Author

Ronni_Mott

Date

2009-06-02T16:38:31-06:00
ID

148375

Comment

Sh*t. Thanks, Ronni. And didn't Army of God come up in relation to Sarah Palin when you were doing your sovereignty-group research? Or was that Joel's Army? Clarify for us when you get a chance. Wonder if Mississippi groups will start condemning now? Some of our local-yokels need to learn to take this kind of stuff more seriously.

Author

DonnaLadd

Date

2009-06-02T16:41:14-06:00
ID

148377

Comment

Palin's connections are to the Alaska Independent Party and through them to the Constitution Party, which the Southern Poverty Law Center defines as a patriot group. (The AIP denied they were connected to the Constitution Party and it's more radical secessionist groups like the League of the South and the Second Vermont Republic, but they're still listed on the Constitution Party's website as an Alaska affiliate party.) Joel's Army is an anti-mainstream religion, anti-intellectual, anti-almost-everything, end-of-days militant group, whose members would "die for God." According to the SPLC, "Joel's Army is prophesied to become an Armageddon-ready military force of young people with a divine mandate to physically impose Christian "dominion" on non-believers." The Army of God seems to be specifically targeted against abortion; from what I can see, they are the ultra-radical, strong-arm component of the pro-life movement. They began by bombing abortion clinics in the '80s, and in an odd bit of symmetry, were started by a Reformed Lutheran pastor (Tiller was shot in the foyer of his church: a Reformed Lutheran Church). The problem with the "milder" patriot groups is that the SPLC also shows them to fund militia groups, i.e., it's just not a big leap to get from the Constitution Party to Jesus Camps to Joel's Army and the Army of God. Once you're convinced that your God is the only God who is right and that all unbelievers will die and burn in hell, it's not that tough to pull the trigger on a damned, doomed individual doing Satan's will. As the Constitution Party expert in Montana said: "The Constitution Party … takes these really radical right-wing ideas, and it repackages them as a political party, and that's the way that these really bizarre ideas find their way into the mainstream. That's why you find the League of South endorsing the Constitution Party candidate," McAdam said. "It doesn't take a whole lot to retool their rhetoric to make it less offensive." Like the recent 10th Amendment bills in the Mississippi legislature.

Author

Ronni_Mott

Date

2009-06-02T17:52:48-06:00
More like this story
More stories by this author