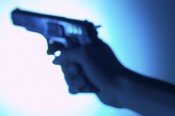 Stories this photo appears in:
National
Your daily look at late-breaking news, upcoming events and the stories that will be talked about today:
States like Mississippi with high gun ownership and weak gun laws lead the nation in gun deaths, concludes a new report by the non-profit Violence Policy Center based in Washington, ...
The Associated Press is reporting that a shooter opened fire in the Holocaust Museum in Washington, D.C., just before 1 p.m. today, fatally wounding a security guard before he was ...
This morning, Abdulhakim Mujahid Muhammad, 24, a Little Rock man formerly known as Carlos Bledsoe, pleaded not guilty to first-degree murder and 15 counts of engaging in terrorist activities. Muhammad ...
The Jackson Women's Health Organization is on high alert today after an assassin gunned down Dr. George Tiller, an abortion provider in Kansas yesterday. The Jackson clinic is the only ...